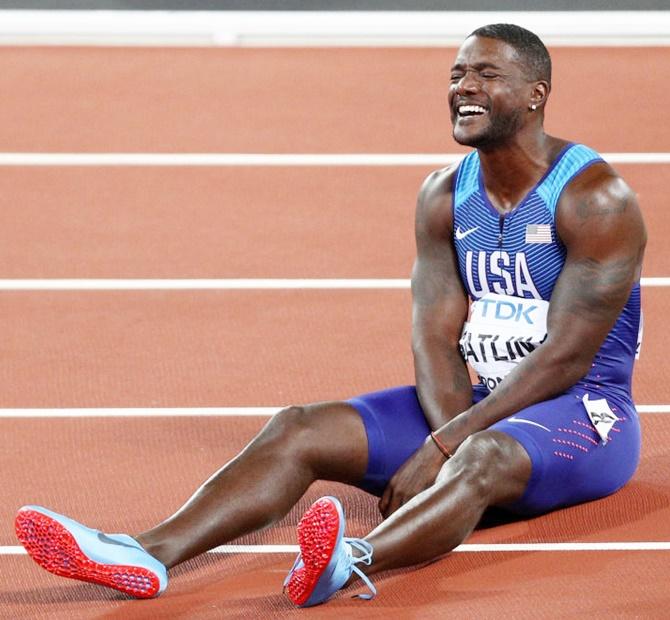 IMAGE: Justin Gatlin of the United States celebrates. Photograph: Paul Gilham/Getty Images
Justin Gatlin said it was sad that fans booed his victory in the world 100 metres final on Saturday, saying he had "done my time" for his doping offences - and Usain Bolt, the man he beat into third place, agreed with him.
Gatlin took the title in 9.92 but instead of acclaiming the remarkable success of a 35-year-old triumphing 13 years after he won the Olympic title, vast swathes of the crowd booed him in response to his two bans for drugs offences earlier in his career.
"It's kinda sad that my boos were louder than some of the others' cheers," Gatlin told reporters.
Factbox on American Justin Gatlin who won the 100 metres gold at the World Athletics Championships on Saturday at the age of 35.
Born: Feb. 10, 1982 in Brooklyn, New York.
Titles and performances:
* Captures U.S. and world indoor 60 metres titles in 2003.
* Sprints to 100 metres title at 2004 Athens Olympics, wins bronze in the 200 and silver in the 4x100 metres relay.
* Wins 100 and 200 titles at 2005 world championships in Helsinki.
* After returning from four-year doping ban in 2010, wins world indoor 60m title.
* Wins 100m bronze in London 2012 Olympics.
* Wins 100m silver in 2013 world championships.
* Wins 2014 Diamond League final in Brussels with a personal best of 9.77 seconds.
* Improves personal best to 9.74 in May 2015.
* Wins 100m and 200m silvers in 2015 world championships
* Wins 100m silver in 2016 Olympic Games.
* Wins 100m gold at the 2017 world championships.
Doping controversies
*In 2001 at U.S. junior championships, fails doping test for amphetamines found in prescribed medication he had been taking since a child for Attention Deficit Disorder. Is given an early reinstatement by the International Association of Athletics Federations (IAAF) the following year but warned a second violation would lead to a life ban.
* Tests positive for male sex hormone testosterone and its precursors at Kansas Relays in April 2006. Details of test do not emerge until Gatlin issues a statement on July 29, 2006.
Denies any wrongdoing and his coach claimed the positive test was the result of massage cream containing testosterone being rubbed into his buttocks.
* Accepts initial eight-year suspension, avoiding a lifetime ban in exchange for his cooperation with the doping authorities, and because of the "exceptional circumstances" surrounding his first positive drug test.
Ban was reduced to four years by an arbitration panel in December, 2007.
* Court of Arbitration for Sport (CAS) rejects further appeal in June 2008.
* Returns to action in July 2010 after suspension ends.