Factbox on Serbia's Novak Djokovic and Great Britain's Andy Murray who will contest his sixth Australian Open men's singles final on Sunday.
NOVAK DJOKOVIC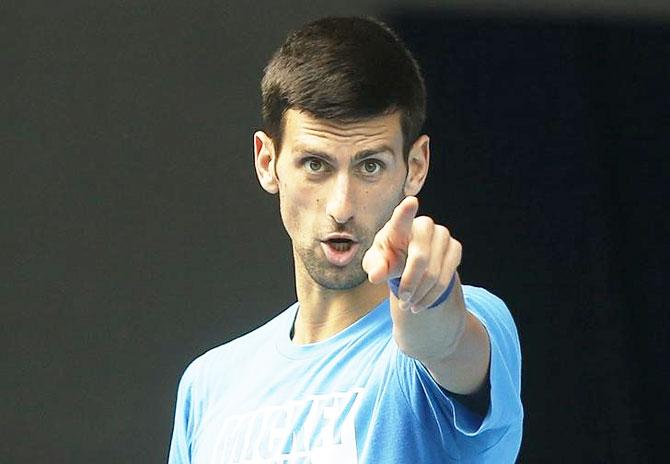 IMAGE: Serbia's Novak Djokovic gestures during a practice session on the eve of his final match against Britain's Andy Murray, at the Australian Open tennis tournament at Melbourne Park. Photograph: Brandon Malone/Reuters
Born:Belgrade, May 22, 1987 (28)
Seeding: 1
GRAND SLAM TITLES (10): Australian Open: 2008, 2011, 2012, 2013, 2015; Wimbledon: 2011, 2014, 2015; U.S. Open: 2011, 2015
BACKGROUND
Began playing tennis aged four. His father was a professional skier and wanted his son to be a skier or professional soccer player but changed his mind when Djokovic excelled at tennis from an early age.
PROFESSIONAL CAREER:
Had first full year on tour in 2005 and finished the season as the youngest player (18 years, five months) inside the top 100.
Won his first ATP tour title the following year at Amersfoort, followed that with second title indoors at Metz.
Made it to the 2006 French Open quarter-finals and the Wimbledon semi-final but retired in both matches against Rafael Nadal.
Won five titles (Adelaide, Miami, Estoril, Montreal and Vienna), in 2007 and made his first grand slam final at the US Open, losing to Roger Federer.
Broke the Federer-Nadal grand slam duopoly by beating Frenchman Jo-Wilfried Tsonga to win his maiden major title at MelbournePark in 2008.
Failed to defend his title in Melbourne the following year after controversially pulling out of his quarter-final against American Andy Roddick, citing heat exhaustion on a sweltering day.
Led Serbia to their first Davis Cup title in 2010 with victory over France in Belgrade.
Won his second Australian Open in 2011, beating Murray in the final.
Won his next six tournaments in Dubai, Indian Wells, Miami, Belgrade, Madrid and Rome before Federer ended his 41-match winning streak in the French Open semi-finals.
Secured the number one spot on July 4 by beating Jo-Wilfried Tsonga in the Wimbledon semi-finals, then beat Nadal to clinch his first Wimbledon crown, his first title on grass.
Won a record fifth Masters title in a season with victory in Toronto, one of the lead-up events to the US Open.
Defeated Nadal in the final of the US Open to become just the seventh man to win three grand slam titles in a year since tennis turned professional in 1968.
Won his third Australian Open title in 2012, and fifth overall when he beat Nadal in a grand slam final record five hours and 53 minutes.
Retained his Australian Open crown in 2013 with another win over Murray to become the first man in the professional era to win three successive Australian Open titles.
Defeated Federer for the 2014 Wimbledon title, his seventh grand slam.
Clinched his fifth Australian Open title with another victory over Murray, which sparked an impressive year when he won 11 titles in total which included his third Wimbledon crown and second US Open, defeating Federer in both finals.
PATH TO THE FINAL (prefix denotes seeding)
1st round bt Chung Hyeon (South Korea) 6-3, 6-2,6-4
2nd round bt Quentin Halys (France) 6-1, 6-1, 7-6(3)
3rd round bt 28-Andreas Seppi (Italy) 6-1, 7-5, 7-6(6)
4th round bt 14-Gilles Simon (France) 6-3, 6-7(1), 6-4, 4-6, 6-3
QF bt 7-Kei Nishikori (Japan) 6-3, 6-2, 6-4
SF bt Roger Federer (Switzerland) 6-1, 6-2, 3-6, 6-3
ANDY MURRAY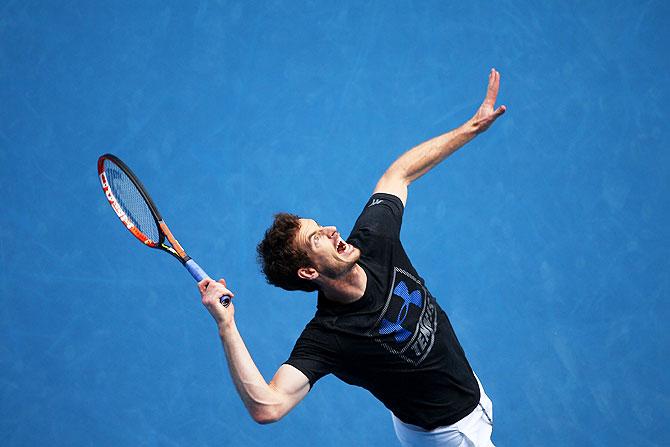 IMAGE: Great Britain's serves in a practice session on Saturday. Photograph: Cameron Spencer/Getty Images
Born:Glasgow, Scotland, May 15, 1987
Seed: 2
GRAND SLAM TITLES (2):U.S. Open 2012, Wimbledon 2013
EARLY LIFE
A survivor of the 1996 DunblaneSchool massacre
A talented all-round sportsman, turned down a promising career as a soccer player to focus on tennis, leaving his homeland at 15 to train in Barcelona.
TENNIS CAREER
Became the first British player since Greg Rusedski in 1997 to make a grand slam final when he played the 2008 championship decider in New York, losing to Roger Federer in straight sets.
Made the Australian Open final in 2010, losing to Federer, again in straight sets.
In 2011, reached the Australian Open final for the second straight year, but lost to Djokovic, also in straight sets.
In 2012, hired former world number one Ivan Lendl as his coach.
Became the first British man to reach the final at Wimbledon since Bunny Austin in 1938. Lost to Federer.
A few weeks later, he avenged the loss when he won the gold medal at the London Olympics.
Beat Djokovic in an epic five-set US Open final in 2012 to win his first grand slam title, making him the first British man to win a major title since Fred Perry won the US Open in 1936.
Lost his second Melbourne Park final to Djokovic in 2013.
Forced to pull out of the French Open with a back injury. Returned in style at Wimbledon to beat top seed Djokovic 6-4, 7-5, 6-4 to become first British man to win the Wimbledon singles title since 1936.
Linked with twice grand slam women's champion Amelie Mauresmo in 2014 after Lendl stood down in March.
Advanced to his fourth Australian Open final in 2015 only to lose to Djokovic in four sets.
Takes 500th tour victory with a 6-4, 3-6, 6-3 win over South African Kevin Anderson at Miami, becoming the 46th man in the Open Era to reach the mark.
Married long-term girlfriend Kim Sears in April 2015. Their first child is due next month.
Won first titles on clay, at Madrid and Munich.
Made the semi-finals at Roland Garros and Wimbledon, losing to Djokovic and Federer respectively before crashing out to Anderson in the fourth round at Flushing Meadows.
Almost single-handedly took Britain to the Davis Cup final for the first time since 1978, then clinched their first title since 1936 with a singles victory against David Goffin.
PATH TO THE FINAL (prefix denotes seeding):
1st round - bt Alexander Zverev (Germany) 6-,1 6-2, 6-3
2nd round - bt Sam Groth (Australia) 6-0, 6-4, 6-1
3rd round - bt 32-Joao Sousa (Portugal) 6-2, 3-6, 6-2, 6-2
4th round - bt 16-Bernard Tomic (Australia) 6-4, 6-4, 7-6(4)
QF - bt 8-David Ferrer (Spain) 6-4, 6-4, 7-5
SF - bt 13-Milos Raonic (Canada) 4-6, 7-5, 6-7(4), 6-4, 6-2