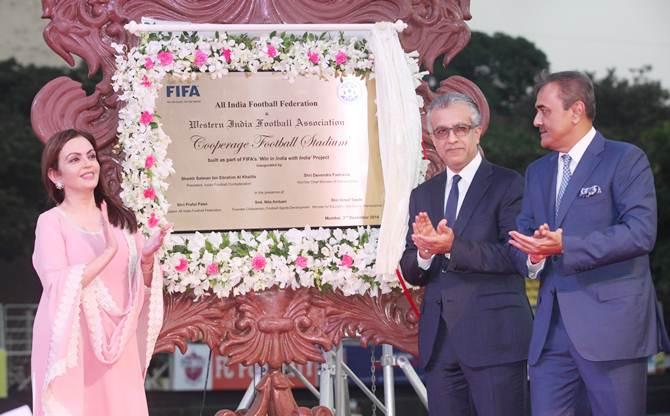 Mrs. Nita Amani, Shaikh Salman and Mr. Praful Patel during the inauguration of the Cooperage Stadium in Mumbai, on Wednesday.
Asian Football Confederation president Shaikh Salman bin Ebrahim Al-Khalifa inaugurated the refurbished Cooperage stadium in Mumbai on Wednesday and said hosting the Under-17 World Cup in 2017 will boost development of the game in the country.
The refurbishing of Cooperage was done under FIFA's 'Win in India, With India' project.
Talking about the history of the Cooperage stadium, Shaikh Salman said: "It is a great honour for me to be here standing on this football ground. I know that India has a lot to contribute to the game and under the leadership of Mr. Praful Patel AIFF has been targeting the right areas to promote the sport in India and the Asian Football Confederation will be continuing to support them.
"AFC and FIFA are confident that the successful hosting of 2017 FIFA Under-17 World Cup will further boost the development of football in the country."
Gracing the occasion were Nita Ambani, founder and chairperson, Indian Super League; All India Football Federation president Praful Patel and a host of past and present internationals, FIFA referees and coaches.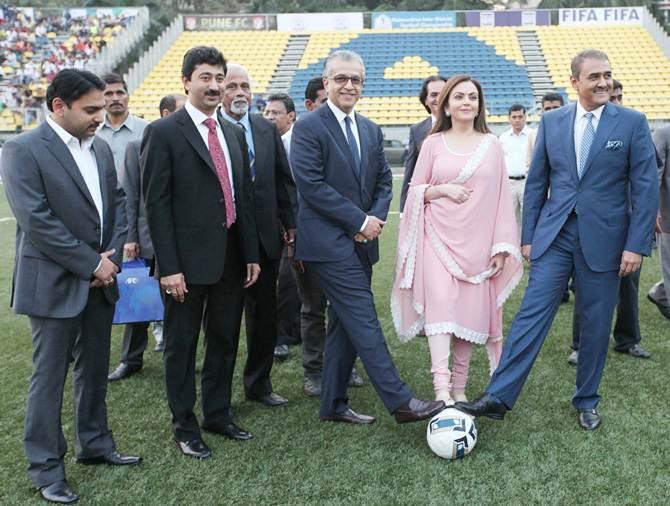 Shaikh Salman, Mrs. Nita Ambani and Praful Patel during the inauguration of the Cooperage Stadium in Mumbai, on Wednesday.
Mrs Ambani spoke about her personal connect with the Cooperage.
"It was on this ground that Mukesh (Mukesh Ambani) and I got married. After that we have come here many times to watch Mohun Bagan play East Bengal.
"This is a wonderful stadium. This stadium has been the ambassador for Mumbai football and is synonymous with Mumbai's football. My heartiest congratulations to WIFA and Mr. Praful Patel," she said.
The artificial turf being laid at the newly-built stadium is a part of FIFA's Goal Project.
Patel thanked FIFA for its "special interest in developing Indian Football".
"FIFA and AFC have contributed immensely to the rebirth of football in our country. India was always a great football-playing nation. On the occasion of the recently held 60th anniversary of AFC, Shaikh Salman honoured India as one of the 12 founding members of the AFC," Patel said.
"Football in India is developing for sure. The inaugural edition of Indian Super League was already the highest watched league in Asia within the first six weeks itself. Our next commitment stays to improve the FIFA rankings of the national team. I can assure you that with the support of all stakeholders, many a talented footballer would like to make a career out of football.
"FIFA has spent over US $2 million to get this stadium ready."