The I-League Professional Football Clubs Association (IPFCA) decided on a 6-member representation to meet the AIFF in response to their request for a meeting.
TheI-League club owners met in Mumbai on Tuesday and agreed to AIFF's suggestion for an across the table meeting.
The IPFCA, after its meeting, sent a letter to AIFF and set Wednesday to meet the national body and IMG-Reliance representatives.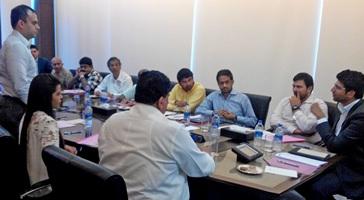 "A letter has come from Kushal Das (AIFF's general secretary) asking for a joint meeting with IMG (AIFF's marketing partners). We decided that six of our members would attend the meeting," said Pune FC's owner Nandan Piramal.
"Raj Gomes (president of IPFCA), Chirag Tanna (its secretary), two of our vice presidents, Valanka Alemao (CEO of Churchill Brothers) and Mustafa Ghouse (from newly formed I-League club JSW) will attend the meeting on our behalf," said Piramal.
Piramal said the meeting was basically to find out how the two-month long league proposed to be held early next year will benefit Indian football.
It was also revealed that none of the club owners have any idea about the contents of the 15-year agreement signed up by AIFF with IMG-R in 2010.
Churchill Brothers CEO, Valanka Alemao, said: "It is great that the clubs have come together. Now we have a one (unified) voice."
"We want to understand their (IMG-Reliance) plans and we will definitely meet them with an open mind."
"We need to focus on the I-League, and develop and improve football rather than spend time in some marketing gimmicks."
"We have being trying to get IMG-Reliance to talk to us however prior to the letter (AIFF) received last week we hadn't heard from them."
Image: IPFCA meeting
Photograph: Pune FC