Oldest Australian Open women's finalist in the professional era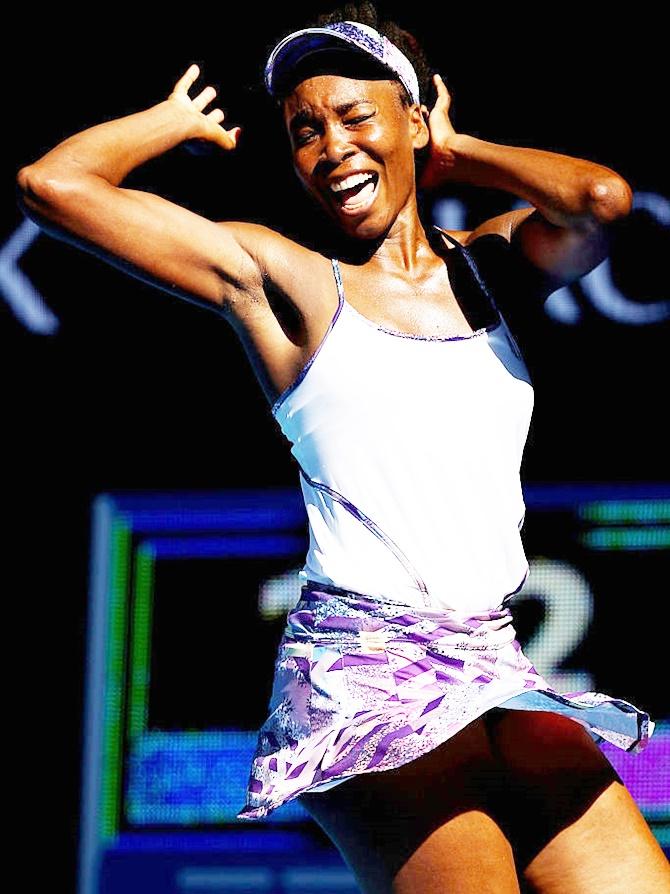 IMAGE: Venus Williams of the United States celebrates winning match point in her semi-final match against CoCo Vandeweghe. Photograph: Cameron Spencer/Getty Images
Venus Williams drew on the experience of 73 Grand Slam campaigns to rally from a set down for a 6-7(3), 6-2, 6-3 victory over fellow American Coco Vandeweghe on Thursday to set up a possible Australian Open final against her sister Serena.
The 36-year-old sealed the win when Vandeweghe went long after 146 minutes on Rod Laver Arena to reach her second Melbourne Park final, 14 years after she lost her first to Serena in 2003.
Venus danced around the court in breathless delight and gave the crowd an elaborate version of her traditional victory twirl, having ensured she would become the oldest Australian Open women's finalist in the professional era.
"Oh my gosh, it means so much, mostly because she played so well," said the 13th seed, who hit 11 aces and 30 winners.
"She played so unbelievable and I had to play defence the whole time it felt like."
Six-time champion Serena Williams faces Croatian Mirjana Lucic-Baroni in the second semi-final later on Thursday, looking to set up a ninth Grand Slam final between the American sisters.
"It's an unbelievable thing to watch Serena Williams play tennis, I have to say," Venus added. "I'd love more than anything to see her across the net from me on Saturday."
Vandeweghe, riding a huge wave of confidence after reaching the last four at a grand slam for the first time, had clinched a tight first set on a tiebreaker but only managed to convert one of 13 break points over the contest.
That single break gave the unseeded 25-year-old a perfect start to the match and even though the older American broke back, Vandeweghe raced through the tiebreaker to take the first set of the tournament off her compatriot.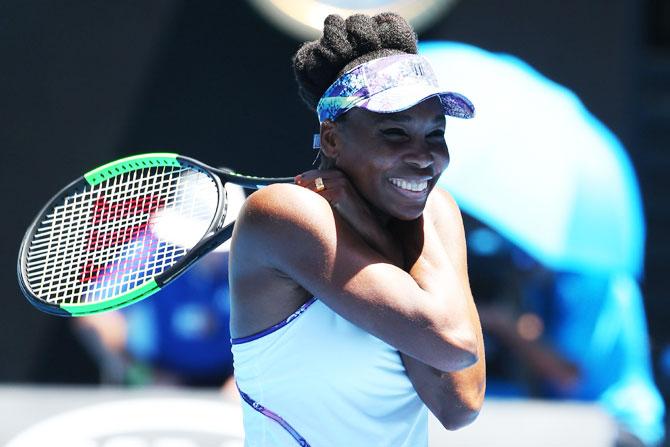 IMAGE: Venus Williams cannot hide her joy. Photograph: Michael Dodge/Getty Images
Venus has not won seven grand slam titles by crumbling after giving up a set and, knowing that the momentum was slipping away from her, struck back with two breaks for a 4-1 lead in the second stanza.
Vandeweghe still had a chance while she was rustling up regular break points but her difficulty was converting them and Venus saved all seven in the second set to even up the contest at 1-1.
The world number 35's hopes had relied on the accuracy of her serve and booming winners but her challenge faded as the unforced error count racked up -- she made 51 overall -- and her first serve percentage hovered around the 55 percent mark.
Venus, serving solidly and producing the odd winner out of the very top drawer, clinched a fourth break early in the deciding set and eased through to her first grand slam final since Wimbledon in 2009.
"Everyone has their moment in the sun," Venus added. "Maybe mine has gone on a while but I'd like to keep that going. I got nothing else to do, let's keep it going."