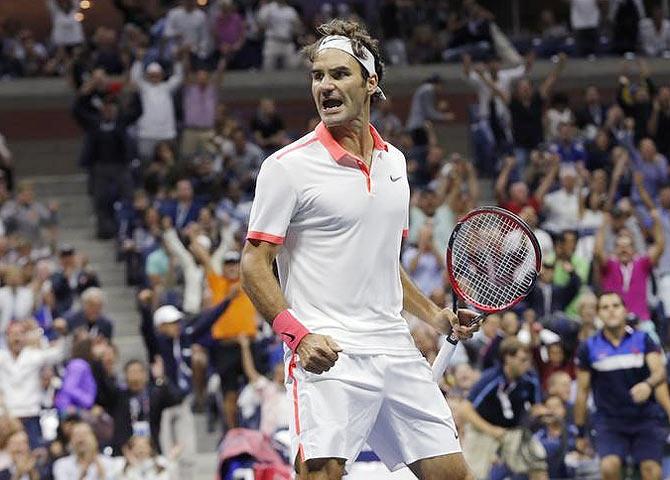 IMAGE: Switzerland's Roger Federer celebrates winning the second set against Serbia's Novak Djokovic during their men's singles final match at the US Open Championships tennis tournament in New York on Sunday. Photograph: Mike Segar/Reuters
Unlike the women's US Open final there was no centre court retirement announcement on Sunday with Roger Federer putting aside the disappointment of losing to Novak Djokovic in the men's final to tell fans he will be back.
- Djokovic overpowers Federer to win US Open crown
- In PHOTOS: Djokovic's rise ten years since Grand Slam debut
After winning the US Open on Saturday, 33-year-old Flavia Pennetta said she would not be back in Flushing Meadows and the crowd might have been concerned that 34-year-old Federer was harbouring similar thoughts.
While the Swiss is constantly asked how much longer he plans to play and the media on high alert for any hints of his imminent retirement, Federer made it clear he will return to New York next year still chasing grand slam glory.
"I'll see you guys next year," Federer told an adoring crowd following his 6-4, 5-7, 6-4, 6-4 loss. "I'm very pleased with where my game's at. I feel like it's moving in the right direction."
And that direction is full speed ahead for the Swiss maestro who continues to defy age and predictions of his demise by remaining near the top of the world rankings, piling up wins and titles.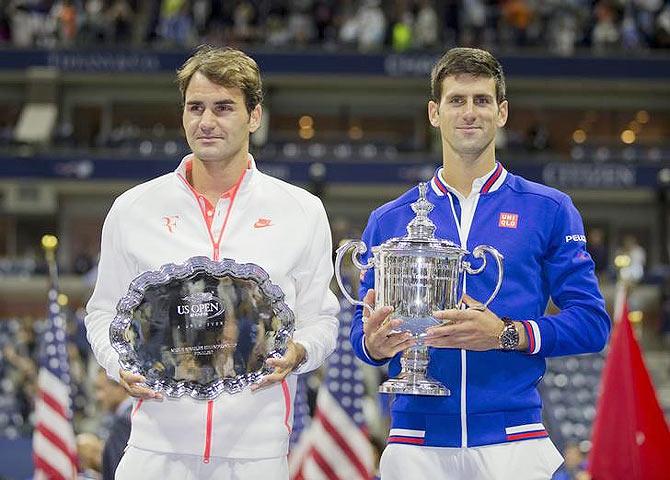 IMAGE: Novak Djokovic and Roger Federer at the trophy presentation after their US Open men's singles final on Sunday. Photograph: Susan Mullane-USA TODAY Sports/Reuters
While it has been three years since Federer celebrated the last of his record 17 grand slam titles, he has threatened to add to his total this season reaching the finals of both Wimbledon and the US Open while losing both time to his nemesis Djokovic.
Federer may have lost the US Open but the Swiss has not lost his smile, grace or hope that somewhere down the road there are more major wins.
"I am playing a good year. I'm playing good tennis," said Federer.
"I am happy with where my level is at. I'm able to be consistent, very consistent.
"Cincinnati obviously was a great feeling beating world number one (Djokovic) and world number two (Andy Murray) in the same week. I don't think I have done that before.
"Then of course it's also disappointment. Lost too many times in finals. But at the same time, I did win my tournaments, the ones I was supposed to.
"Year's not over yet. I usually do have strong finishes to the season, and I hope I can do that again."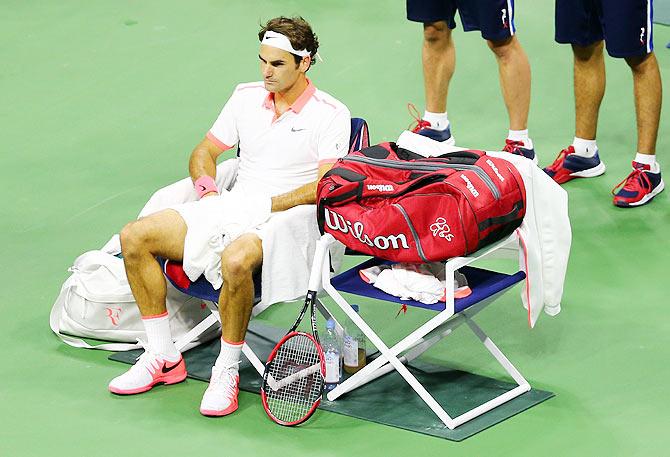 IMAGE: Roger Federer looks on from the sidelines. Photograph: Maddie Meyer/Getty Images
Having beaten Djokovic in Cincinnati, the second seeded Swiss had his chances again against the 28-year-old Serb but could only convert four of 23 break chances.
Even so Federer left the NationalTennisCenter more encouraged than discouraged by his performance.
"There were a lot of opportunities lost, I know why I lost," assured Federer.
"Yeah, surely I am very disappointed. I had my chances on my racquet. I should never been down in the score the way I was.
"But Novak did a great job of fending them off, and, you know, all of that.
"It was a tough night, but still, I don't know, thrilling at the same time.
"So something I will work on, and keep moving forward, you know. It's no problem for me."