Serena clinches record, no final major tally in mind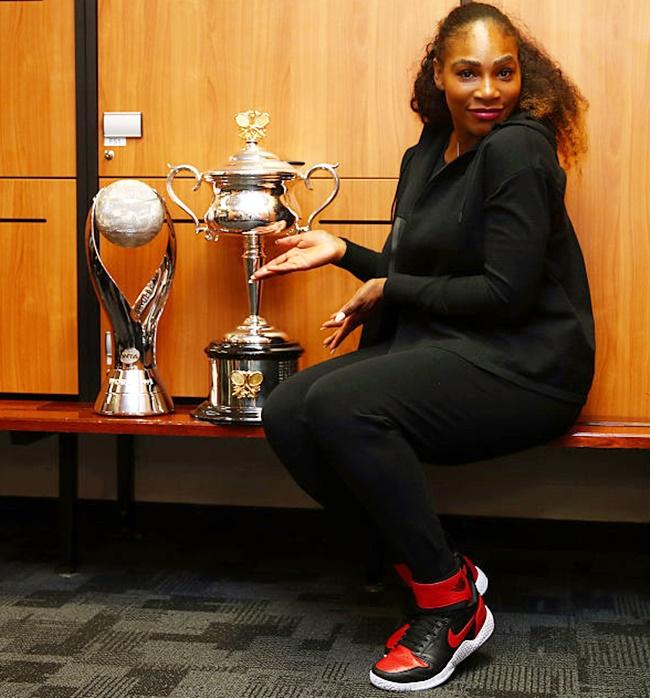 IMAGE: Serena Williams of the United States poses with the Daphne Akhurst Trophy in the change rooms after winning the women's singles final against Venus Williams. Photograph: Clive Brunskill/Getty Images.
Serena Williams said it was a "great feeling" to surpass Steffi Graf as the most prolific grand slam champion of the open era at the Australian Open on Saturday and was not prepared to put a number on the haul of titles she might end up with.
PHOTOS: Revisit Serena Williams's 23 grand slam singles titles
Meet the most successful women tennis stars of the Open era
The 35-year-old, who won her first major at the US Open in 1999, drew level with Graf's tally of 22 at Wimbledon last year and edged ahead of the German with her 6-4, 6-4 victory over her sister Venus on Rod Laver Arena on Saturday.
"It's such a great feeling to have 23. It really feels great," she told reporters.
"I've been chasing it for a really long time. It feels like, really long time. When it got on my radar, I knew I had an opportunity to get there, and I'm here. I'm here.
"It's a great feeling. No better place to do it than Melbourne."
Serena played vintage tennis at Melbourne Park as she chased her seventh Australian Open over the last two weeks, despite missing the back end of last season with a shoulder injury.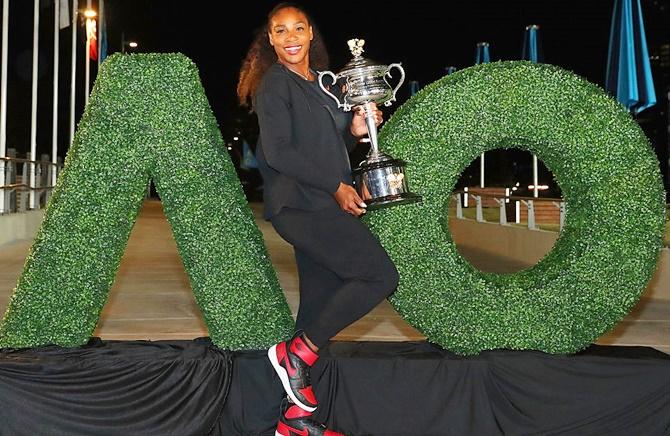 IMAGE: When I started this journey, I just wanted to win a Grand Slam, says Serena Williams. Photograph: Clive Brunskill/Getty Images.
On current form, she would have to be an odds-on favourite to add a few more titles to her remarkable collection this season but the American said there was no great masterplan.
"I never had a number," she said. "That's the beauty of it. When I started this journey, I just wanted to win a Grand Slam. Then I just wanted to win. Every time I step on the court, I want to win."
"It's just really remarkable.
Australian Margaret Court still holds the all-time record with her haul of 24, the majority of which came before the dawn of the professional era, but Williams said she was in no great hurry to think about an assault on that record.
"One thing I learned in the past is you have to enjoy it," she said. "That's the beauty of winning Australia, you have a few months to relax.
"If you win the French, it's like back-to-back-to-back-to-back. Australia, you have time to enjoy the moment before the next Grand Slam."
Serena was delighted to learn she will return to world number one in place of Angelique Kerber on Monday, even if her coach Patrick Mouratoglou had kept her in the dark about the possibility.
"That was a bonus. I didn't know actually. It feels good. I like being on top, so I really like that feeling," she said.
"In the beginning of the tournament, I was like, 'If I win, will I be number one?'. (Patrick) said, 'No, no, no'.
"Today on the court when they were like, 'And number one', I was like, 'Whoa, really?'."
For many, Serena long ago settled the discussion over who was the greatest women's tennis player of all time.
Perhaps out of modesty or respect for the great players that have gone before, Serena has rarely discussed the matter but she was prepared to accept she was top three.
"I definitely think so," she said. "I mean, between Martina (Navratilova), myself, Steffi Graf, hands down we are leading that conversation."