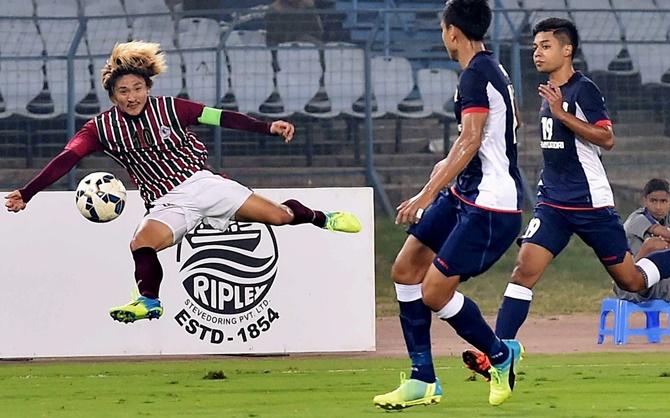 IMAGE: Mohun Banga's Katsumi Yusa, left, in action. Photograph: PTI
After becoming the first Indian football club to win a AFC Champions League qualifying game, Mohun Bagan coach Sanjoy Sen, on Wednesday, lashed out at the bigwigs of All India Football Federation (AIFF) stating that future of the sport is bleak as it is hands of 'wrong set of people'.
Mohun Bagan packed a punch in a 3-1 drubbing of Singaporean heavyweights Tampines Rovers to become the first Indian club to win a match in the AFC Champions League qualifier at the Vivekananda Yuva Bharati Krirangan in Kolkata.
Jeje Lalpekhula (fifth minute), Cornell Glen (41st) and Katsumi Yusa (83rd) scored for Mohun Bagan while Yasir Hanapi struck the lone goal for Tampines Rovers in the 43rd minute.
Mohun Bagan's Haitian recruit Norde made the difference on a day Cornell Glen had a miserable run that included missing a penalty.
Mohun Bagan will play top Chinese club Shandong Luneng FC on February 2 in the second round away qualifying match in Jinan but will have to play DSK Shivajians in away match of I-League on January 30. Bagan leaves for Pune on Thursday.
However to the best of the knowledge, AFC as well as I-League schedule was drawn months back, which would have given club officials enough time to prepare.
"It's really surprising that we've to go to Pune... This is the way Indian football is run in India. It does not happen anywhere in the world. Have you seen Barcelona to play in the La Liga days after their Champions League match?" Sen was critical of parent body, which could earn him sanction.
"They (AIFF) could have altered the schedule but I've nothing to say. If I say something we might be subject to fine and suspension."
Terming it a big blow for them, he said, "Future of Indian football is dark if it is in their (AIFF officials) hands. It's very unfortunate for a team who are ambitious here. I'm very frustrated."
"AIFF is not listening, you go and ask them. They said I-League will go as per scheduled. This is the way football is run by the federation. We're helpless. They could have easily postponed with only eight teams in the League this time. If something goes wrong, it's me to be blamed."
I-League CEO Sunando Dhar said it's too late to change the fixture right now, 'but we have an arranged a flight from Mumbai early January 31,' Dhar said.