'I come into the race weekend to try to win... so nothing changes there'
'We're not children, we should know what is wrong and what is right'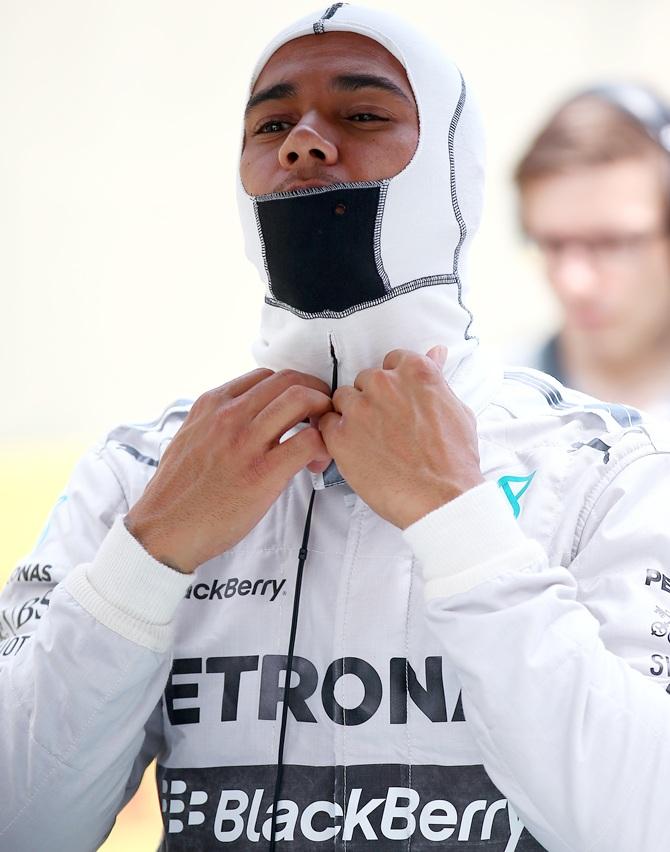 Lewis Hamilton of Great Britain and Mercedes GP prepares on the grid. Photograph: Mark Thompson/Getty Images
Lewis Hamilton played down the pressure of his Formula One title showdown with Nico Rosberg on Thursday by saying he had years of experience in dealing with it.
8 Things you need to know about Abu Dhabi GP
"I come into the race weekend to try to win... so nothing changes there," said the Mercedes driver, who only need finish second to become champion even if team mate Rosberg triumphs on the day.
"And in terms of pressure, I don't particularly feel any," added the Briton in response to a German reporter who described him as the favourite and thus the man with everything to lose.
"I think I've had plenty of experience through my racing career... it might be 20 years of racing, to be prepared for today. There's no special recipe for it (handling the pressure)."
Hamilton leads Rosberg by 17 points and has won 10 races to the German's five but, with 50 available to the winner thanks to the novelty of double points, he knows a mechanical failure could overturn everything.
On the plus side for Hamilton, the 29-year-old has finished in the top two in his last six races with Mercedes chasing a record 16th win of the 19 round season on Sunday.
Fair fight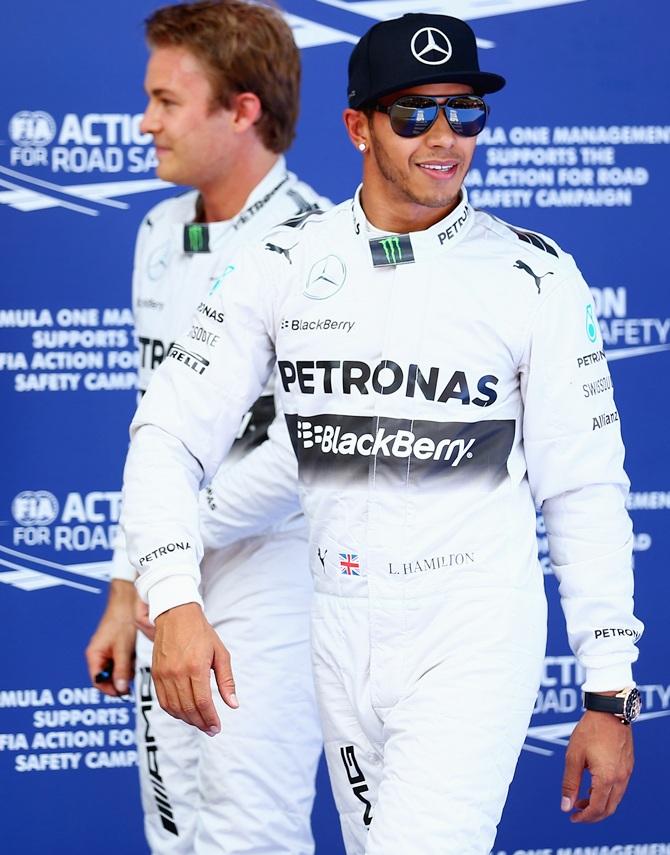 Lewis Hamilton of Great Britain and Mercedes GP with team-mate Nico Rosberg of Germany. Photograph: Paul Gilham/Getty Images
The two collided on track in Belgium, with Rosberg blamed but going on to finish second while Hamilton had to retire, but the Briton said he expected a fair fight on Sunday and was not expecting anything underhand.
"We're not children, we should know what is wrong and what is right," he said.
Rosberg, sitting further along the row in the news conference, indicated that it was up to Hamilton.
"Lewis can do something to keep it clean which is drive cleanly himself," he said. "So it's not like he can't do anything."
Both agreed that the title showdown took them back to the days 15 years ago when they were friends and rivals fighting for a championship and race wins in go-karts.
"It's quite similar to back in the karting days," said Hamilton, who won that boyhood battle. "At that age it was as intense as I had experienced. I wanted to win back then and nothing's changed."