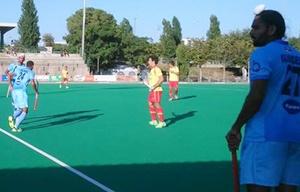 India played out a 1-1 draw in their final match of the 6-Nations invitational hockey tournament in Valencia, on Sunday.
India started off on the front foot, very early in the game and had a penalty corner as early as the 5th minute, which was saved by Quico Cortes in Spain's goal. The action shifted ends very quickly though.
From the counter attack, Spain earned a penalty corner which brought out a sharp save from SR Sreejesh. The see-saw nature of the match went on as India won another penalty corner, saved again by Cortes who was also at hand to put away Talwinder's attempt from the rebound.
From there though, Spain started exerting a bit of control over the game and soon made the pressure count. A penalty corner was saved on the line by Sreejesh before an infringement off a defender, earned Spain a stroke. Pau Quemada scored to give Spain the lead as they went into the break.
India came out much the same in the second quarter, constantly probing, pushing and earning penalty corners, but Cortes was always up to the task, deflecting it away with sharp saves. In the 18th minute though, VR Raghunath finally made one count, breaking through to draw the teams level. With a minute of the first half left, India had another glorious chance, but Cortes again pulled off a double - he saved first from the dag flick and then from the rebound to ensure the two teams went into half time with the scores even at 1-1.
In the second half, India started taking more control of the ball and exerted pressure on the Spanish flanks, as they sat deep looking to pounce on the counter. Much of it though was thwarted away by Spain.
In the final quarter, India pushed high up the pitch and wave upon wave of attacks went into the Spanish circle, as they struggled to defend and keep the honours even. With seconds to play, India would come closest to getting the lead, but the effort hit the crossbar and fell safely to leave the two teams with an equal share of the points.
Image: India and Spain hockey players in action
Photograph: Hockey India/Facebook