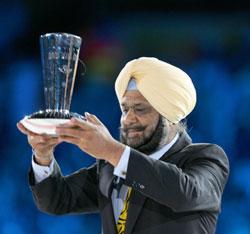 Raja Randhir Singh earned a name for himself as a marksman of international repute after winning India's first gold medal in shooting at the 1978 Asian Games in Bangkok. It was just another milestone in the brilliant career of one who had the distinction of winning four gold medals in Trap and Skeet events at the Pesta Sukan Shooting Championship in 1969.
The sportsman-turned-sports administrator, who is secretary-general of the Indian Olympic Association and Olympic Council of Asia, and also an International Olympic Committee member, speaks to Onkar Singh about India's preparations for the upcoming Commonwealth Games.
The Commonwealth Games begin in Delhi in a little over seven months (October 3 to 14). Is India ready for the big event?
Yes, India is ready to stage the Commonwealth Games. Our target is to improve our position in the medals tally. The last time we finished fourth, behind Australia, Canada and England.
You cannot catch the Australians, as they have become a super power in the sports arena. But we have the skill to beat both Canada and Britain. We hope to win medals in all disciplines.
Our Games village is going to be one of the best in the world. The stadia will be ready in time to stage the biggest sporting event India has ever held. Our teams are preparing in earnest.
Who would you pick as India's main hope in shooting?
We have Abhinav Bindra, who is competent to take on the best in the world. Then we have Col. Rajyavardhan Singh Rathore and others who are also coming up nicely.
It is difficult to say who will win medals. We have some exciting shooters who have excelled in various competitions, including the World Cup, Asian Championships and Commonwealth Games. We have world beaters in double trap, in Rajan Sodhi; Col. Rathore in trap. Then we have Manavjit Singh, Gagan Narang and Virender Sodhi. These are world-class shooters and can win medals at any time.
Commonwealth Games Federation CEO Mike Hooper had recently expressed concerns, though security planning for the event is on track. Can you throw some light on what concerns he was talking about. Was it infrastructure, stadia readiness or security?
There are no misgivings in the matter of security. We will have the best security in place well before the commencement of the Commonwealth Games. Those dealing with this are confident that the Games will begin and end peacefully.
Mike Hooper is happy; the security experts are happy too. They now complain sometimes that there is too much security. But they also feel that it is for their good.
Tell us something about Col. Rathore? He hasn't been in the limelight in recent years after one big performance?
Col. Rathore is an outstanding shooter, make no mistake about his ability to win medals. You must also realize that shooting is one event where you cannot maintain the level of performance all the time. Shooters from other countries are also out to win medals. Gagan Narang, Abhinav Bindra and Manavjit Singh are all in excellent form and they have been shooting well in their respective categories. Their performance is brilliant and they have shot well right across. Manavjit is doing well on the shotgun side.
Why was Abhinav Bindra given harsh treatment? Was it because he was training in a foreign country?
Abhinav is shooting in Germany, preparing for the big event later this year. He has his own coach and trainer. I feel that we should let him do what he is doing.
Once we had an ace shooter in Jaspal Rana. He quit the sport and now runs his own school of shooting in Uttrakhand...
It is very unfortunate that Jaspal Rana quit the sport. He is a world-class shooter. It is sad that he did not get the kind of support that was needed from the shooting federation. I hope the federations are more considerate to sportsmen so that persons of Jaspal's calibre do not quit early.
Mr Kalmadi had announced a collaboration between Commonwealth Games 2010 and Spic Macay, a non-governmental organisation, that would reach out to Indian youth to be a part of the mega event. What is the role of Spic Macay?
Spic Macay has got big reach, particularly in schools and colleges. In Delhi itself they have organised 500 concerts in a year. By sharing their logo with us, Spic Macay is helping us to reach out to students in schools and colleges.
What is being done to ensure more medals for the country at the Asian Games and Olympics?
Indeed, this is one of the key areas we are working on; we would like to give a boost to club culture in India. We want to take sports to the villages, so that talented athletes and sportsmen from there can compete with the best in the country. We plan to have over 8000 clubs in India. It is our endeavour to win in all disciplines at the upcoming Commonwealth Games.
You have won many accolades in your career career, spanning 31 years. What would you say is your biggest achievement?
I would say that representing India for 31 years itself is the singular achievement in the world of sport. No one has achieved this or will before or after me. As you know, I became first Indian shooter to win a gold medal in the Asian Games. Then I had the opportunity of winning medals in various tournaments around the world. Those days the medals were named after the cities or areas where shooting competitions were held.
Are you satisfied with your achievements?
Of course. I matured as a shooter when I took part in the Olympics. I did not shoot in many tournaments. I shot where I felt sure of my performance. I enjoyed shooting in international competitions. Now that I am one of the key players in running administration in the IOA [Indian Olympic Association], it is our endavour to have a good road map to hold international events in the country. We will be hosting the 2012 South Asian Games in New Delhi.
What is the status of Indian hockey?
The hockey World Cup was said to be a dress rehearsal for the Commonwealth Games. Surely it went off well and the world appears impressed. Our goal is winning a medal in hockey at the Games.