'Shooting is number one.'
'Archery, wrestling, badminton and boxing.'
'These are the five where we stand the best chance of winning a medal.'
With exactly 100 days to go for the Games, Olympic Gold Quest COO Viren Rasquinha discusses India's chances with Harish Kotian/Rediff.com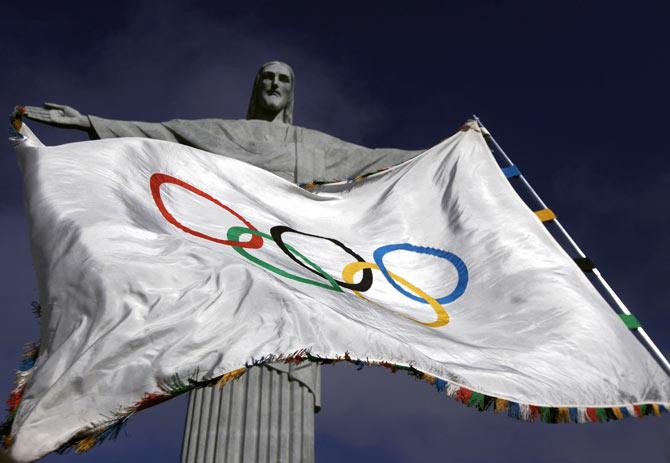 IMAGE: The Olympic Flag flies in front of Christ the Redeemer in Rio de Janeiro. Photograph: Ricardo Moraes/Reuters
In exactly 100 days, the world's attention will shift to Rio de Janeiro when the 2016 Olympic Games kick off on August 5.
India, with a population of a billion plus, will hope its athletes make a mark on the world stage and return home with medals.
Four years ago, at the Games in London, India produced its best ever show, winning six medals, of which two were silver and four bronze.
With increased funding and more awareness in the last four years, India's athletes are expected to fare better at the greatest sporting event on earth. That optimism comes from the efforts of Olympic Gold Quest, one of the organisations at the forefront of nurturing and training medal hopefuls.
With four of the six medals India won in London coming via Olympic Gold Quest athletes, its Chief Operating Officer Viren Rasquinha, a former captain of the Indian hockey team, believes it is possible to better that performance in Rio.
"The attitude to support the athletes is of critical importance," Rasquinha tells Harish Kotian/Rediff.com in an exclusive conversation.
100 days to go for the Olympics. How do you see India's chances in Rio? Do you think we can win more medals than we did in London?
I definitely feel we can win more medals at the Rio Olympics as compared to the last Games. But how many more will be hard to predict.
Talking about winning or losing a medal, the difference can be as less as 0.001 seconds, so it is very hard to predict. Overall, I think we should win more medals than last time.
What makes you feel that our medal count will be better than that at London?
A couple of things: Better preparation and funding from organisations like SAI (Sports Authority of India), OGQ, and the Indian Army.
Second, the number of potential medal winners is more this time around than it was in London. There is a wider pool of athletes who are capable of winning medals at the Rio Olympics.
Those two reasons coupled with more sustained funding and I see no reason why we can't better our medal tally in Rio.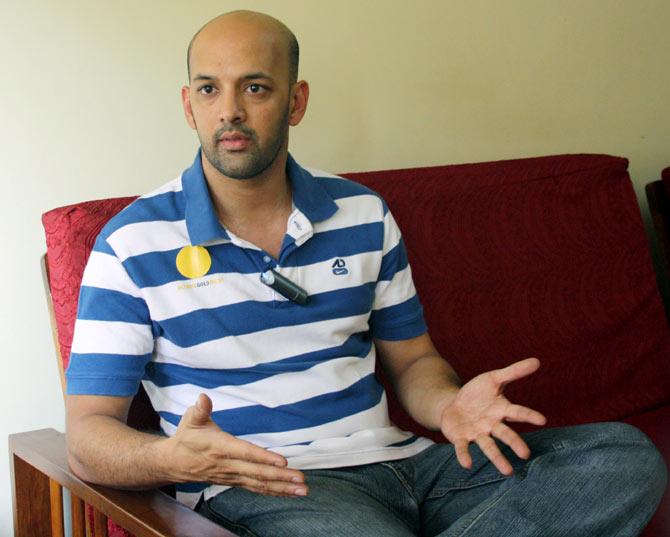 IMAGE: Olympic Gold Quest COO Viren Rasquinha. Photograph: Hitesh Harisinghani/Rediff.com
Out of India's six medals in London, four were won by athletes signed up by OQG. OGQ's ultimate aim is to win a gold medal as your organisation's name declares.
Will it will be possible for an Indian to win Olympic gold this time around?
That is the endeavour and, obviously, that is what we are aiming for.
I definitely think that it is possible. There are quite a few Indian athletes who are capable of winning the gold medal. Hopefully, it happens.
How many OGQ athletes have qualified for the Games? How many more do you expect to make the cut?
17 have qualified. I would say that 17 have won the quotas. We expect a total of around 25 athletes from OGQ to make it to the Rio Games.
The government has increased funding for the top athletes who have either qualified for the Olympics or stand a good chance of making it. Has that been a big boost for India's preparations?
It should have come much earlier, but having said that, it is still better than the previous Olympics.
Has the support been more forthcoming from both the government and the corporate world in terms of funding as to compared to before the London Games?
If you ask me, the answer is yes. But if you ask me is it enough, my answer is no.
Although the funding has improved, it is just a small incremental improvement.
We have to have a manifold improvement in the funding and the sustained nature of that. Not just government but corporate support is required if you are to uplift the standard of Indian sports.
If you look at a small country like Hungary, with a population of 10 million, they won 17 medals at the London Olympics, including eight gold.
So if Hungary can win 17 medals, then why can't India?
With 100 days to go, what do you want the government, the sports ministry and the IOA (Indian Olympic Association) to do for Indian athletes, some of whom who have qualified and some of whom are trying to qualify?
How can we make things better for them so they can stand a good chance of finishing on the podium?
I still think the quality, speed and personalised nature of support has to improve.
A lot of the athletes are still struggling with logistical issues. For example, at the recent shooting World Cup in Rio, many shooters were struggling with their travel arrangements, for their weapon permits.
Going to Rio and returning from there, they faced multiple issues. We need to have personalised service for all these athletes. They cannot be running around for weapon permits, being stuck at airports for hours together, not being allowed to board aircraft.
The personalised nature of support for logistics is critical because a lot of the athletes will be travelling abroad for most of the coming 100 days.
We have to ensure little things like travel plans and all else are taken care and they are not made to run around and waste time and energy worrying about all that.
We need professional managers supporting them at all times. We have to ensure that officials going to the Olympics Games Village are all people with a role to play, and they are not just mere spectators.
Every single official who goes to Rio should have a specific role and has to create an impact, otherwise there is no point going to the Olympic Games Village.
So are these plans in place? I am not sure at the moment.
The attitude to support the athletes is of critical importance. And, finally, if we expect our athletes to win Olympic gold medals, everyone working behind the scenes, they also have to be world class in whatever they do, be it the coaches, the physical trainers or the physios, the nutritionist, even the guy who looks after their travel arrangements.
Vijender Singh won a bronze medal in boxing at the 2008 Beijing Olympics and the sport got a much needed boost. But the Indian Boxing Federation was suspended in 2012 by the International Boxing Association and it is still to gain recognition.
Has the turmoil impacted Indian boxers and their preparation for the Rio Olympics?
Absolutely! There is no doubt about that. The biggest people to suffer are the boxers themselves. There have been minimal competitions and minimal exposure.
If you try to look out for new faces that have come up in the last Olympic cycle, my answer is zero.
If you look at the previous Olympics, there were young boxers like Shiva Thapa, Devendro Singh and Sarjubala Devi, who were all in their teens. They went on to win big international medals.
But if you look at this current Olympic cycle, the last four years since the London Games till now, not a single new junior boxer has come up because there has been no junior tournaments, minimal exposure.
Unless the opportunity is there to participate, how can they prove themselves?
We at OGQ haven't taken a single boxer in the last four years because there have been no tournaments, like the junior nationals. So how do we assess performance over a period of time?
Which are the key disciplines you think we have the best chances of winning medals?
Shooting is number one. Archery, wrestling, badminton and boxing. I think these are the five where we stand the best chance of winning a medal.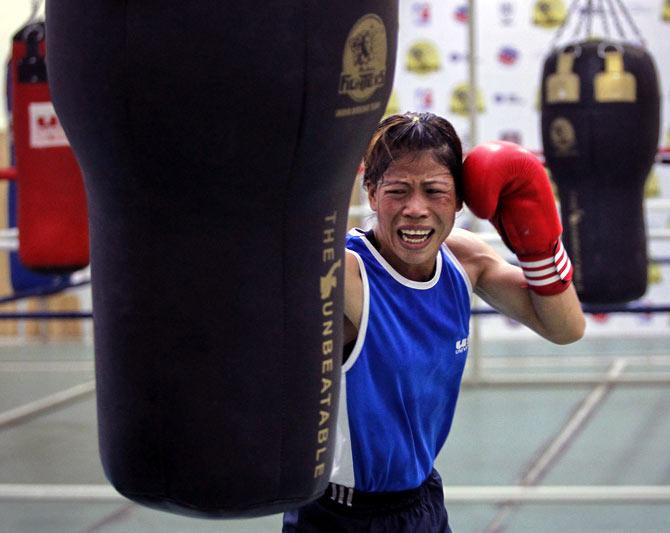 IMAGE: M C Mary Kom in action during a training session at the Balewadi Stadium in Pune. Photograph: Danish Siddiqui/Reuters
Is there a slight concern about M C Mary Kom, who missed out on qualification for Rio through the Asian qualifying tournament?
Are you confident she will make it through at the World Championships in May?
I am very confident that Mary Kom will make it to the Olympics.
She is much focussed and is training really hard.
Mary fought superbly at the Asian qualifying tournament, but remember she lost to China's Ren Cancan, who herself is an Olympic silver medallist and multiple World Championship winner, and a Chinese fighting in China in the semi-finals.
Mary fought extremely well there and I am very confident she will secure an Olympic berth at the World Championships next month.
What about India's champion wrestler Sushil Kumar who has won medals in the last two Olympics. He is yet to qualify for Rio.
He will face Narsingh Yadav who bagged the Olympic quota in the weight category in a trial match before the Olympics to decide India's participant for the Games.
Hasn't he left it a bit too late?
It is not at all a concern. Sushil was injured for the World Championships. He had a shoulder injury and, therefore, had to back out.
All credit to Narsingh Yadav. He did really fantastic to win the Olympic quota for India.
I recently met Sushil before he left for Georgia and asked him, 'Sushilbhai, when was the time in your whole career you felt the fittest ever?' and he replied: 'Right now.'
So he is training really hard and is putting in loads of effort. He is extremely motivated to win an Olympic gold medal, but before that he has to qualify.
It is actually good for India that we have two world class participants in the same weight category, but the unfortunate thing is that only one will go through.
But Sushil, if you say has left it a bit too late, it is for no fault of his. Wrestling, the nature of sport is such that you can get injured anytime. Right now he is super fit and is super strong. He is training really hard and is extremely focussed and motivated.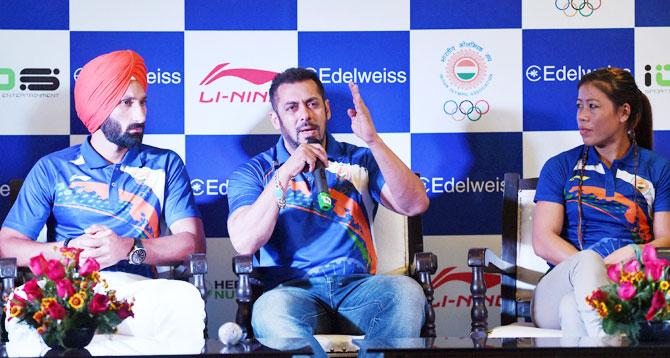 IMAGE: Bollywood star Salman Khan, centre, with boxer M C Mary Kom, right, and India hockey Captain Sardar Singh where he was named Goodwill Ambassador of the Indian contingent for the Rio Olympics 2016, in New Delhi, April 23, 2016. Photograph: PTI
How do you look at Bollywood superstar Salman Khan's controversial appointment as goodwill ambassador for India's Olympic contingent?
Will it help get more mileage and bring in more sponsors, as is being claimed by the Indian Olympic Association?
I think when you appoint a brand ambassador there has to be a plan. You just can't appoint a celebrity, let him come one off and then expect the sponsorship will automatically come in or awareness will be automatically generated.
Unless the plan is there, the sponsorships will not automatically follow.
But OGQ had signed up Saif Ali Khan as its brand ambassador in 2014. Deepika Padukone is a director of OGQ. So how has it worked for you?
Firstly, about Deepika Padukone, she was not a brand ambassador for OGQ, she is the director of OGQ. It is a sustained long-term relationship and it has helped us a lot. She is actually a part of board meetings or strategy of the vision for OGQ.
Saif Ali Khan came on board as the brand ambassador and admittedly that was a mistake. It didn't work out and we are to be blamed because we didn't have a plan. We didn't utilise him effectively. And my precisely saying is that unless you have a plan, just having a celebrity will not translate into funds.
Today, people and companies are smarter that way. They will not just put money into a cause because a celebrity is associated with it.