'What can I do if god made me the way I am?'
'All I want to do is win medals for India and make my country proud.'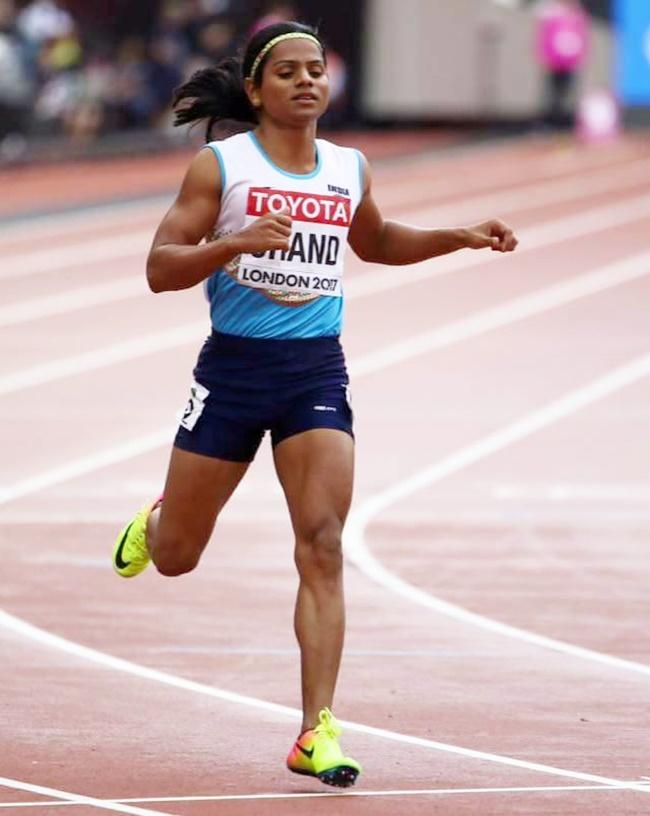 IMAGE: Dutee Chand challenged the International Association of Athletics Federation's hyperandrogenism policy. Photograph: Kind courtesy: Dutee Chand/Facebook
After a blink and miss appearance at the World Athletics Championships in London, India's sprint queen Dutee Chand is hoping to bounce back at the World University Games in Taipei.
The Odisha athlete won two bronze medals at the Asian Athletics Championships in Bhubaneswar earlier this year, but the recent reopening of the 'hyperandrogenism' case by the International Association of Athletics Federations, IAAF, refuses to keep her away from the spotlight.
The 21 year old was banned by the IAAF in 2014 after her testosterone levels were deemed higher than the limit for female sportsperson.
Dutee was dropped from India's 2014 Commonwealth Games contingent at the last minute after the Athletics Federation of India stated that a medical condition known as hyperandrogenism (excess androgen in the body) made her ineligible to compete as a female athlete.
But in a historic decision, the Court of Arbitration for Sport, CAS, in 2015 cleared Dutee by suspending the 'hyperandrogenism' rule for two years.
Earlier this year, the IAAF returned to CAS with more evidence in its support of its 'hyperandrogenism' policy following which Duttee's gender case has been reopened yet again.
What keeps Dutee going while fighting a court battle against the IAAF to clear her name in the 'hyperandrogenism' rule case?
Rediff.com's Laxmi Negi speaks to the national 100 metres champion about the IAAF's gender case which has hobbled her athletic career, and why she wants to be a lawyer.
What have you learnt from the World Championships in London?
It was a dream come true for me.
Though I got the go ahead at the last moment, it was a big competition and the experience was good.
Now, I want to focus on the World University Games.
From the time I returned from London, I am back in training.
Did you see any difference in the training of the other athletes in London?
In such competitions we don't actually get to watch others train.
From what I observed, I thought our training, technique is same, it's just that those girls are big.
I had not gone to watch a film so that I could come out with what I learnt.
I went to compete and tried to give my best.
One thing is sure, I have learnt the importance of preparing my body before and after competition.
I was getting tired after 60 meters... I will work on it.
Was the CAS judgment on the IAAF gender case on your mind?
I was nervous as if something wasn't well at home as it came during a big competition.
Instead of training, I was giving interviews about CAS.
My coach told me to forget about it and said the lawyers are working on it.
He said focus on training and no one will touch you. His word gave me confidence.
What can I do if god made me the way I am? None of us are the same.
All I want to do is win medals for India and make my country proud.
I am just 21 and I don't understand rules regulations. It is not easy for me.
People in India are intrusive and ask tough questions.
When the news broke out two years ago, more than anything I was embarrassed.
Here in India, if a girl keeps her hair short, she is called a boy. It is like mental harassment.
After the case reopened, I was afraid that I will have to go though the same agony.
But this time I am little mature and I know I have some support.
I will be at peace when the court says: 'You are the way you are, run as you are. Then only I will get confidence.'
I am not a criminal. I haven't killed anyone.
People who have killed are roaming freely.
It is my dream to study and be a lawyer. (Dutee is a student of law at the KIIT University, Bhubaneswar)
Were you under prepared for the World Championships?
I was in intense training.
During the Asian meet I won two medals.
In the women's 100 metres relay, we were in the sixth position, but the crowd egged me on to bring our team to third place.
There was 15 days rest and I was suffering from viral fever.
My coach told me to skip the mega event, but it was too tempting.
I reached four to five days before the event, but still the body didn't get time to adjust.
To add to it, it rained on the day I was supposed to run.
I have learnt my lesson. Henceforth, I will train in the rain also.
IMAGE: Dutee Chand at the World University Games. Photograph: Kind courtesy: Dutee Chand/Facebook
What do you think you lack? Is it a foreign coach or in training?
We need everything -- foreign coach, training, also diet.
Also, the body needs to get used to travelling to the different time zones.
When can India expect a medal at the big events?
After the Rio Olympics we are getting good facilities, the athletes are getting to train in foreign countries too.
I think in two to three years, Indian athletics will yield results.
During the Asian meet, the atmosphere in Bhubaneswar was electrifying.
It was the first major championship in Odisha and the way I was encouraged and cheered, I felt as if I was Usain Bolt running in the Olympics.
I had to win a medal as I couldn't let my people down.