'When the Olympics were postponed last year there were talks of the virus situation improving, but we are going from bad to worst.'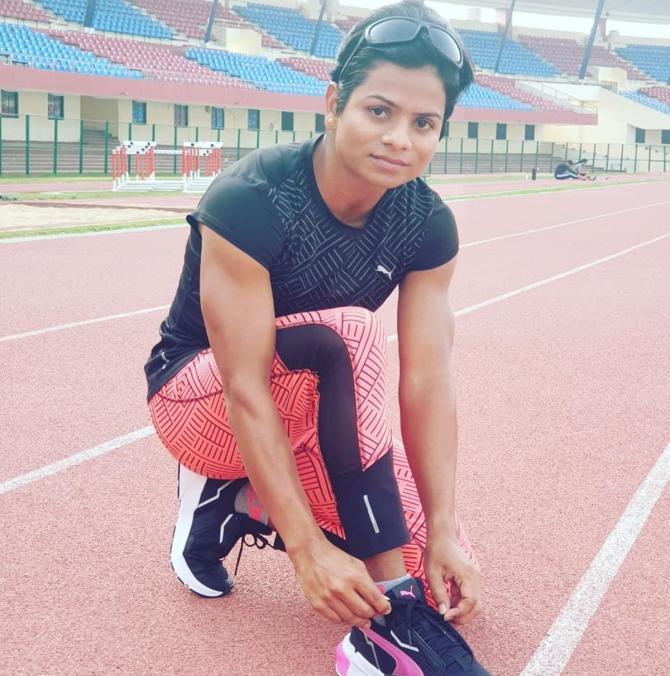 India's star sprinter Dutee Chand could miss the Olympic qualifying World Athletics Relays in Poland on May 1 and 2 as the Indian team's connecting flight to Amsterdam is suspended following the record spike in India's COVID-19 case load.
The Athletics Federation of India is looking at an alternative plan that could see India's relay teams reach Silesia in Poland in time for the two-day meet.
The women's relay team includes Dutee Chand, Hima Das, Dhanalakshmi (who beat Dutee in the women's 100m sprint final at the Federation Cup last month), Archana Suseendran, Himashree Roy and A T Daneshwari.
The top eight teams at the World Athletics Relays gain direct qualification for the Summer Games.
AFI President Adille Sumariwalla had earlier said the AFI was happy that its focus on women's 100m sprinters in the national camps had paid off.
'With S Dhanalakshmi emerging on the scene in the Federation Cup last month, she and Dutee Chand are two Indian runners who have run sub-11.50s times this season. We believe the 4x100m women's team with Dhanalakshmi, Dutee, Hima Das and Archana Suseendran can come up with a good effort,' he had said.
"There is nothing in my hands now, so I cannot say much about the future," an anxious Dutee Chand tells Laxmi Negi/Rediff.com.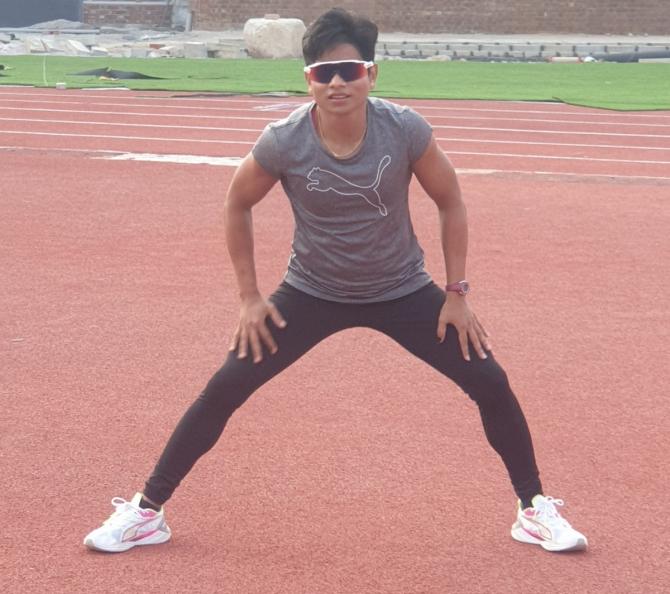 What's going through your mind in all this uncertainty?
I was ready, all set to travel at 11 am, but I did not get any call. At 12 noon my coach called and informed our flight was cancelled. He said the federation is trying various other routes to help us reach the venue in time. So I am waiting with the other team members.
We were travelling for a team event and it holds close to my heart as we collectively would have tried to bring laurels for our country.
We have been training for the meet for the last one month in these unusual circumstances. Hopefully, it doesn't go to waste.
How anxious are you?
When I travelled a month ago from Bhubaneswar to Patiala I was more anxious. I was scared to travel and was covered up in a PPE kit and face shield.
Once I reached Patiala, my real ordeal began. I was in quarantine for seven days in a hostel and that building is far away from where the athletes stay.
Alone for seven days in that room made me feel more anxious. I started doubting myself. No one came near me in those seven days and refused to interact with me.
All these things made me feel all the more lonely.
It is different when you are in quarantine with your family and when you are alone. The weather here is changing every day and if there is a slight cold or cough, there is anxiety about the virus.
How has your training changed after COVID-19?
Last year there was the lockdown from March and we started training from July onwards. My training is not what I expected it to be. I could not meet my coach or physio. The online training with them did not help much.
After I reached Patiala for the Indian Grand Prix and Federation Cup, I knew I was not at my peak and would suffer.
Since I was not staying in the campus, I could not use the facilities there. I was put up in a hotel and used to run on the road which hampered my training and after the Indian Grand Prix I hurt my leg.
When I reached Bhubaneshwar I had to get an MRI scan. I must have gone through innumerable COVID-19 tests and the scan suggested rest.
Since there were a lot of competitions lined-up I could not rest and tried to heal it through medicines. I had lost a lot of muscle mass and it takes two months for my body to get into ship-shape.
I go out and train in the morning and evening, but deep down I know I am not happy with my training.
Has the way you travel also changed?
Of course, first of all there is a fear of travelling now. There is anxiety where I will test positive before landing there or after the competition.
Then there are days when we also have to pack safety equipment, like PPE kits, face shields, gloves, masks etc. All that adds to our already-bulging baggage of training kit and equipment.
With all the anxiety close to Olympic qualification, do you regret not making it during the Federation Cup?
There is no point thinking what could have been done. When I reached for the competition I knew I was not at my peak; I was not confident. And the results showed it.
I thought about what could be done next and planned to compete in competitions abroad and qualify like I did for the 2016 Rio Olympics.
Now most of the countries have travel bans. There is nothing in my hands now, so I cannot say much about the future.
When the Olympics were postponed last year there were talks of the virus situation improving, but we are going from bad to worst. I feel there is no guarantee about the Olympics too.
If it happens, I am hopeful that my world ranking of 40 could help me qualify if I fail to meet the timing.
Are you thinking about the Olympics now?
Frankly speaking, I am not thinking about the Olympics right now as the situation is so bad in our country.
How can I think about competing when the situation has gone from bad to worse?