'I'm tempted to say that he's in a better place now, but I'm quite sure he's not.'
'There was no better place for him than the basketball court, and now he'll never set foot on one again. Because he's gone,' says Dhruv Munjal.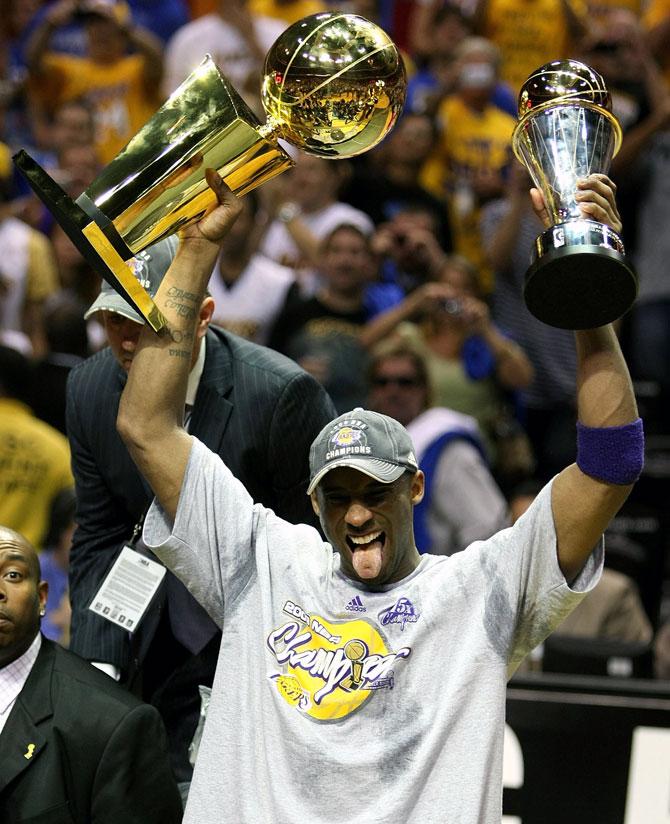 How? I've been asking myself the same question over and over again. How? How can Kobe Bryant be gone?
Heroes are supposed to be immortal. They don't die.
They are supposed to outlive everything. They are supposed to be by your side, in trial and triumph. They are supposed to inspire you.
They are supposed to offer you an escape route from the harsh realities of life and transport you to an unseen world filled with magic, hope and possibility.
Heroes don't die. Not like this, anyway.
As writers, we are often discouraged from painting god-like portraits of athletes. We are reminded of their human tendencies, of their faults and frailties, of their vanities and vulnerabilities.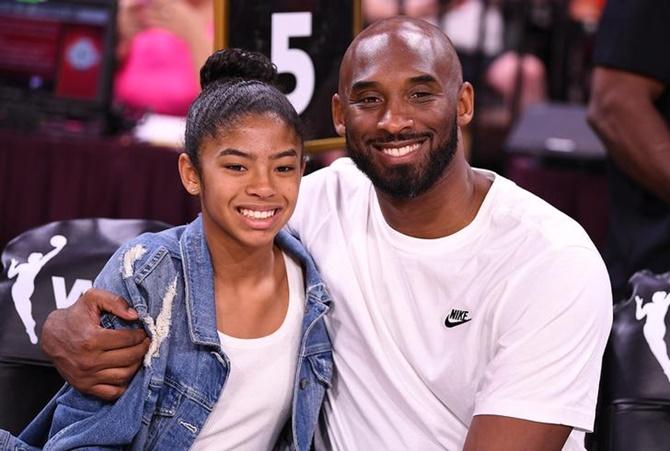 Kobe was human like the rest of us, but in this time of immeasurable shock and sorrow, it is impossible to be truly objective -- terrible moments like these tend to bring out the fervid fan in the most unsympathetic of us.
That's why they -- admirers and detractors alike -- poured out on to the streets of Los Angeles when the news of his death broke, shaking their heads in disbelief, sobbing as if they'd lost a member of their own family. He was family.
For 20 years, Kobe flew over rims and took an entire city with him, thrilling audiences with a dynamism so raw that you could actually feel it from the other side of your telly.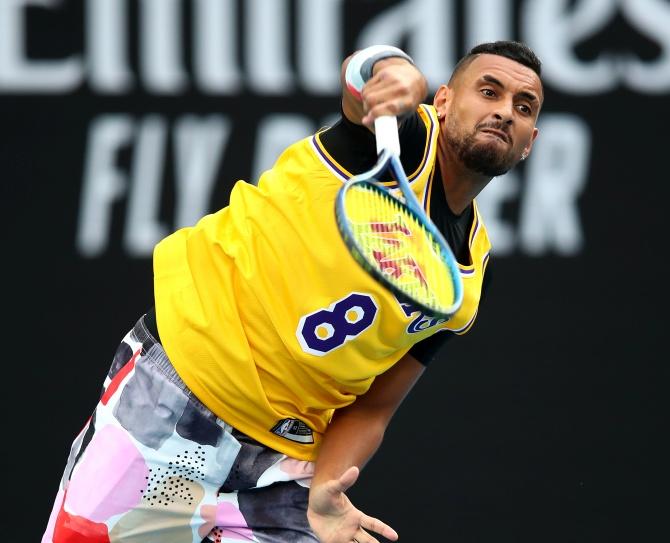 That's why Nick Kyrgios strode out wearing a Kobe top for his match against Rafael Nadal at the Australian Open.
That's why Neymar flashed a '2' and a '4' after scoring for Paris Saint-Germain against Lille.
That's why Novak Djokovic almost broke down while talking about his 'mentor'.
That's why Los Angeles Clippers Head Coach Doc Rivers did break down while discussing how Kobe's loss had affected him.
That's why all across the world of sport, they paid heartfelt tributes, inside stadiums and outside them, on jumpers, shoes, caps and scarves.
This is a man who touched lives wherever he went. And now he's gone. How?
He was so good that he was identifiable all across the globe by just his first name. He was always Kobe.
Just like Tiger, Roger and Rafa -- a pantheon of sporting megastars embodying athletic perfection of the rarest and purest kind.
He rushed out of the tunnel with an energy so breathless that he could bring a whole arena to an absolute standstill.
He played with a competitive fire so fierce that opponents shuddered at the thought of facing him.
He worked tirelessly and endlessly, elevating his game to a level that enabled him to score with that buzzer-beating last shot.
The last shot wasn't his destiny; it was his hard work. And now he's gone. How?
He arrived in the post-Jordan age where everyone and everything operated in the great man's shadow.
But he was able to emerge from that shadow, with a film star-like magnetism and street fighter-like panache. He could win games on his own. He could win titles on his own.
He could intimidate the hell out of teams with just his intensity. He could battle potentially career-ending injuries in his 30s and come back and win again.
He could score 60 points in his last-ever NBA game at the age of 37. He could walk on water.
He could run for President. He was the Jordan of the post-Jordan age. And now he's gone. How?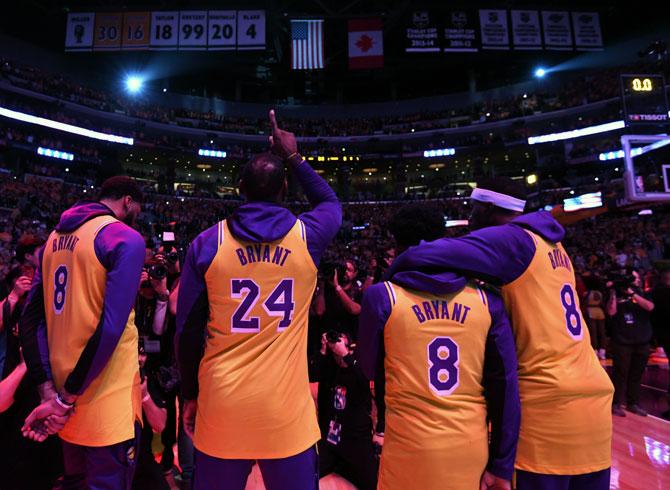 This was a man who was taking to life after retirement with such joy, passing on knowledge and praising players who had passed him -- in this case, LeBron James who had surpassed him on the all-time NBA scoring chart only a day before the tragedy.
This was a man who was ready to give back to the people who had made him, by buying his shirts, singing his name and revelling and exulting in the on-court sensation that he was.
This was a man ready to spur on a new generation of players -- many of them young girls -- after inspiring the current one playing in the NBA.
This was a man committed to making his daughter a bigger star than he himself ever was. She won't become one. She's gone as well. How?
How will basketball cope with this? How will we cope with this? He was my desktop wallpaper for the longest time, a portrait of him leaping into the Los Angeles night sky, eyes fixed on the rim, legs whirring, shoulders pumping and biceps bulging.
Listening to the audio of Dear Basketball -- his Oscar-winning animated short film -- was a ritual. On bad days, it lifted your spirits, raised the hair on the back of your neck and made you feel alive.
For those few minutes, you felt like Kobe. You could own the world like him. You could fly like him. You could beat the buzzer like him.
You could be NBA champion like him. I may never be able to watch -- or listen -- to it again. Only because he's gone. How?
How will we remember him? He was flawed, as the rape charges from 2003 would testify.
Other times, he was ruthless and inconsiderate -- he once dragged his mother to court only because she wanted to auction some memorabilia from early in his career.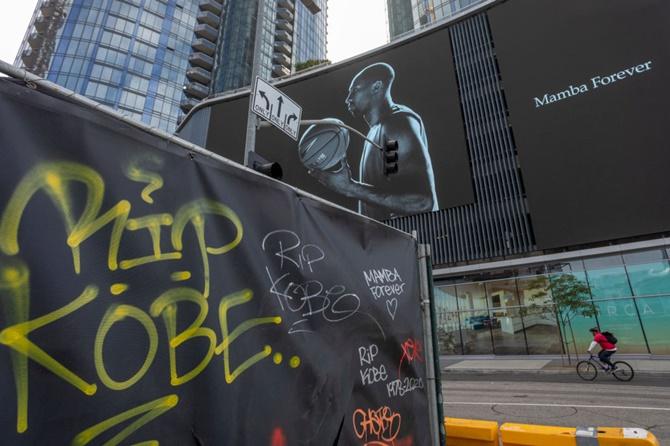 But in later years, he seemingly mellowed, playing the role of doting father and quintessential family man.
He used choppers to get around so that he could spend more time with his wife and four daughters.
He loved being a 'girl dad', once even saying that he'd have five more girls if he could.
His youngest one -- only seven months old -- will never know the kind of greatness her father epitomised. Only because he's gone. How?
How can we go back to watching basketball again?
How can we go back to watching the Lakers again, knowing that there will be no Kobe courtside at the Staples Centre ever again? LeBron has lost his hero, an entire generation its icon.
I'm tempted to say that he's in a better place now, but I'm quite sure he's not.
There was no better place for him than the basketball court, and now he'll never set foot on one again. Because he's gone. How?