'Soul might not win trophies. But, unlike trophies, soul actually matters,' says Shougat Dasgupta.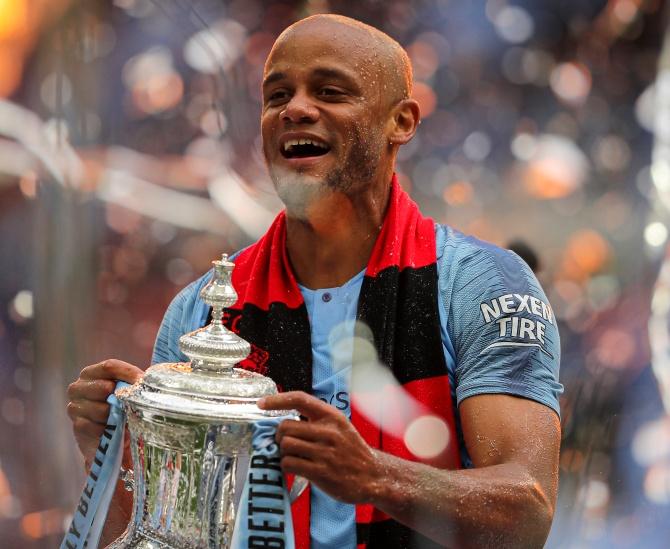 Manchester City, a big club in a big city with a brief, swashbuckling period of success, has been transformed from slumbering, clod-footed giants into a trophy-winning machine by an infusion of Emirati cash.
Owned by the deputy prime minister of the UAE, City have won four of the last eight championships, having only won two between 1894, when it became Manchester City, and 2008, when it was bought by the Abu Dhabi United Group.
For all its eye-catching, goal-laden football, the City 'project', now led by Pep Guardiola, that most technocratic of football managers, is uninspiring -- a triumph of capital, impressive, even beautiful, in the manner of a glass and steel skyscraper but lacking warmth, lacking heart, somehow unlovable.
Heart in sport is an intangible quality but you know it when you see it. And you saw it if you watched Liverpool beat Barcelona 4-0.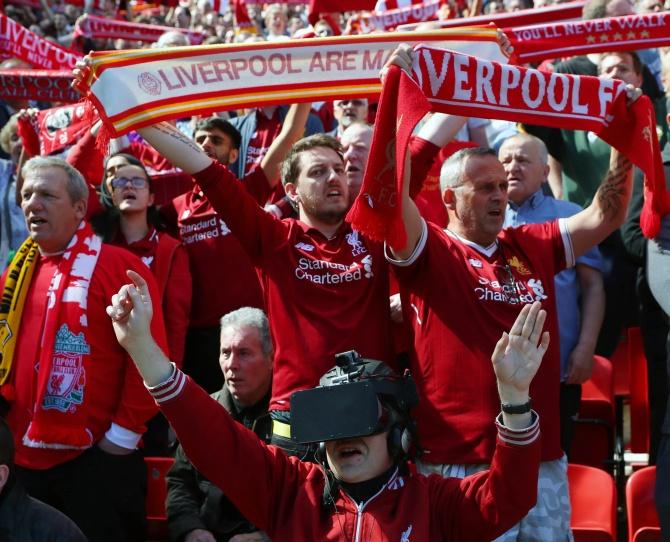 Barcelona had secured an unjust 3-0 victory at the Camp Nou, more a cathedral than a stadium, putting the tie presumably out of reach.
But, warned the football sages, Anfield, Liverpool's raucous home ground, has its own quasi-religious mystique, makes its own miracles.
Anfield, and its fervent throng of worshippers -- the subject of 'anthropological' documentaries since the 1960s -- did not disappoint.
If City represents the apex of globalised football, a gleaming, multinational corporation domiciled in Manchester, Liverpool -- American-owned, German-led, its star players hailing from Egypt, Senegal, Holland and Brazil -- reminds us of older, more parochial football values.
If you watched the game on TV, even thousands of miles away in Delhi, in the middle of the night, you could not have helped but be moved.
Not by the scoreline, despite its shock value. Not by the physical sharpness and quick-witted vibrancy of a Liverpool team missing its own superstar but still dominating the Barcelona of Lionel Messi and Luis Suarez.
You were moved by the crowd: By its pride in its team and city, by its faith, by the connection these ordinary, mostly working class Liverpudlians (tourists notwithstanding) had forged with the cosmopolitan millionaires on the pitch and in the dugout.
We are used to the telegenic feats of supremely honed athletes, to the suspense of a close contest whatever the sport (vide last week's IPL final).
But the spectacle at Anfield was the crowd, not the players. It was a robust rejoinder to those who pretend local supporters (a much more appropriate word than 'fan') are an inconvenience, a necessary evil to fill stadiums and provide colour for the benefit of armchair fans.
Money is what owners care about, so China, India, the United States, the Gulf will always be more important than just Liverpool, or Manchester, or Leeds, or Nottingham.
Top flight football in England is a global phenomenon, more than anywhere else in Europe, more indeed than any league in any sport. Armchair fans are the target audience.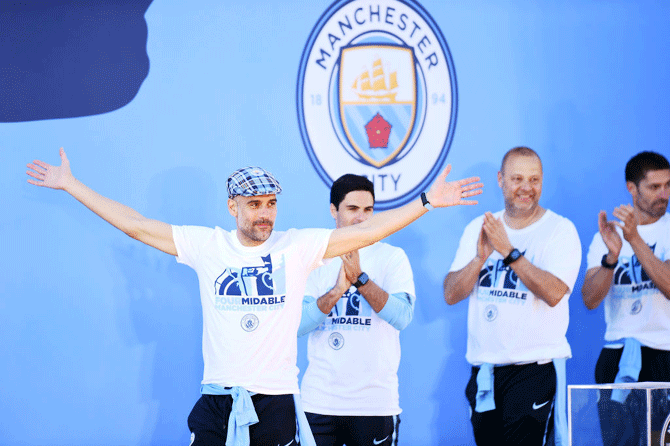 But the Liverpool supporters showed that matchgoing supporters matter. Supporters, at the stadium, singing their hearts out as they have done for years, for decades, matter.
Supporters who spend money they can sometimes ill afford as an act of community service, an act of solidarity, matter.
You can marvel at Roger Federer winning Wimbledon, his whites crisp against the green lawns.
You can gawp at Tiger Woods, overcoming crippling back pain and personal demons to win a 15th major.
You can cheer on India in the upcoming cricket World Cup, make a party of it with snacks and beer.
But to have been struck dumb by the sight, on television, of tens of thousands of ordinary people -- beards, beer bellies, ill-fitting replica shirts et al -- willing their team to improbable victory, is to have been reminded how shallow it is to treat sport as 'entertainment'.
We, in the privileged middle classes, are jaded consumers.
Everything is packaged, even national politics, as if for our amusement, to distract us momentarily, to revitalise us for the grind of contributing to economic 'growth' and making the rich richer.
If elections can be bread and circuses, why not football?
Soul is an overused word. But the crowd at Anfield showed us its power.
Soul might not win trophies. But, unlike trophies, soul actually matters.