The confirmation of Narain Karthikeyan as India's first Formula One driver is an important step for the sport, even if he is unlikely to trouble world champion Michael Schumacher too much.
Jordan's own press statement spelled out the true significance on Thursday.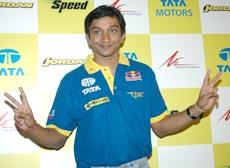 The signing, it said, gave Formula One "exceptional appeal in India with the potential for an enormous new audience and business market associated with a national racing hero known as 'the fastest Indian on wheels.'"
Formula One's commercial supremo Bernie Ecclestone, who played his own part in last week's takeover of Jordan by the Midland Group, will be delighted.
India has long been on the 74-year-old Briton's radar, with Hyderabad considered as a potential race venue until Chandrababu Naidu, the chief backer of the project, was voted out in the Andhra Pradesh assembly elections last year.
"In the next 10 years, Europe is going to become a third world economy," Ecclestone declared in 2004 as Formula One looked forward to breaking new ground in China and Bahrain.
"There's no way Europe will be able to compete with China, Korea, India."
If Asia's third largest economy is not yet ready to be included on a calendar already stretched to an unprecedented 19 races with the addition of Turkey in 2005, then a driver is the next best thing.
China, with its debut race at the $325 million Shanghai circuit last September, has brought the world's most populous country into the Formula One fold, and Karthikeyan can now deliver another huge headcount.
GOOD FIT
The Indian is a good promotional fit for Midland, with their extensive interests in old fashioned heavy industries throughout the former Soviet Union and Asia.
| | |
| --- | --- |
| | Also Read |
| | |
Karthikeyan's main sponsors are the Tata Group, India's second largest business conglomerate, and state-run refiner Bharat Petroleum Corp.
Formula One has moved a long way from its old European heartland in the last few years, spurred on partly by a desire to escape European Union anti-tobacco legislation and partly by the desire of major sponsors to be present in key emerging markets.
Bahrain now caters for the Middle Eastern market while Turkey, with a race at a brand new track on the Asian side of Istanbul, fills another geographical hole.
Next year it will be Mexico's turn, returning to the calendar after a 14-year absence with a race scheduled for a $70 million circuit to be built near Cancun on the Caribbean coast.
Minardi, who gave Alex Yoong the chance to become the first Malaysian Formula One driver in 2001, also announced another first this week by signing Israeli Chanoch Nissany as their official test driver.
Big areas remain to be filled, however.
The main priority must be to get an American driver into the sport, and not just with a team like Jordan that will be lucky to be anything more than tail-enders this year.
HOME-GROWN WINNER
The United States has its Grand Prix at Indianapolis but for the sport to take off in the land of NASCAR, it needs a home-grown winner to emulate the likes of champions Mario Andretti and Phil Hill.
Red Bull, the energy drink company that took over Ford-owned Jaguar last year, would have a clear commercial interest in doing that.
Austrian billionaire Dietrich Mateschitz has spoken often enough of his dream of an all-American team.
"(For that) we need an American engine manufacturer and American drivers," he said in November. "Neither is available at the moment, but that does not mean that we have abandoned the idea of an all-American racing team.
"That remains a fascinating idea that has just been put on hold for the moment."
Midland, whose name will replace Jordan next year, are committed to bringing a Russian up through the ranks and into the top flight. Their owner, the St Petersburg-born Canadian businessman Alex Shnaider, has said he will do what he can to bring a race to Russia as well.
By the end of next year, Formula One cars will be racing in Australia, Asia, the Middle East, North, Central and South America and Europe.
Africa remains the missing continent but Ecclestone has been working on that as well.
"We are going to South Africa. It's not a question of if, it's only when," he said in November. "There will be a South African Grand Prix hosted by Cape Town within five years."
Who knows, India may even may even have a race as well as a racer one day.