Mercedes's brilliant pitstop strategy spoiled the game for Max Verstappen in Hungarian Grand Prix, says Rediff's F1 columnist Raja Sen.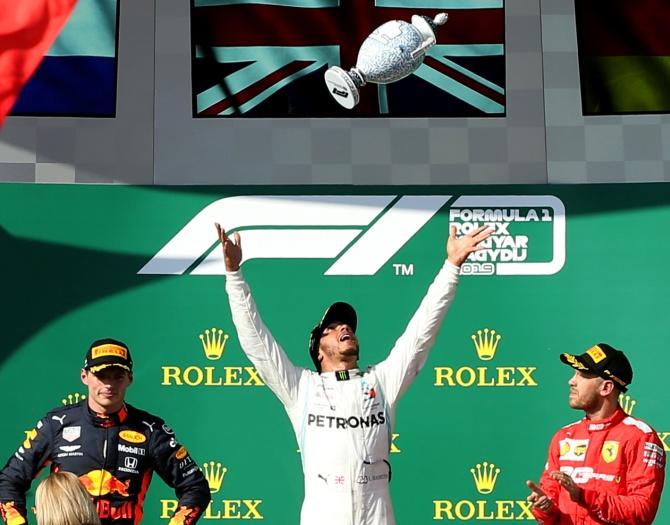 Looking back at a race, the way the cookie crumbles has a lot to do with the littlest details. I believe, for instance, that the Hungarian Grand Prix was decided by a Red Bull wheel-gun.
In my last column after the German Grand Prix, I had marvelled at Max Verstappen winning 7 races without ever getting pole position, and safely soothsayed that when the day comes, he will emerge immensely hard to beat.
I couldn't have imagined the young superstar would take his first pole the very next weekend, for one of Formula One's least overtake-friendly circuits.
Verstappen had his Red Bull ahead of Mercedes drivers Valtteri Bottas and Lewis Hamilton going into the Hungarian Grand Prix this Sunday, and the grandstands were swelling with orange pride for the Dutchman.
Verstappen flew off well at the start, as did Hamilton, leapfrogging his teammate to take second place and keep the Red Bull in his sights.
That's all the Mercedes driver could do, however, never quite able to close the gap as the drivers matched lap-times and prepared to slug it out on the same one-stop strategy.
After their pitstops, Verstappen stayed ahead, and, while Hamilton used his remarkable car to close the gap very rapidly indeed, he just couldn't find a way past.
Max was ahead, and it looked like he'd hold position. "I can't keep the pressure on," barked a desperate Hamilton on the pit radio to his team, unable to pass despite the Red Bull being significantly slower than his Mercedes, as he went off-track in his attempts to overtake.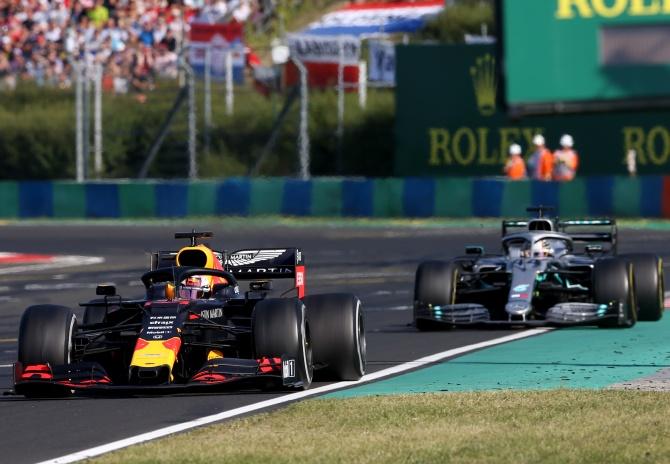 Then, the masterstroke. Mercedes cannily switched strategies, bringing Hamilton in for fresh tyres. He came back out 20 seconds behind Verstappen, complaining at the futility of the gesture, but his lap-times were jawdropping. He was catching.
At the head of the field, Verstappen was losing grip. As Hamilton appeared behind him with laps to spare, it was clear the heartbroken young hero was a sitting duck. A polesitting duck, even.
Red Bull should have pitted him the very next lap after Hamilton's gambit, bringing them closer on track but at least arming their driver with the right rubber for the job.
The problem, as Red Bull principal Christian Horner put it, was that the window was too narrow: Verstappen may have emerged right behind Hamilton, and on this track, giving up the position would have been too much of a risk.
As spirited as the driver is, Verstappen on fresh tyres would have struggled to pass a similarly dressed Mercedes -- as evidenced by Hamilton's unsuccessful attempts on Max before his second pitstop.
Mercedes, therefore, had rolled the dice and given their bulletproof driver the only gun on track. It was a brilliant strategy that changed the race, but I firmly believe Red Bull could have countered it if not for a pesky wheel-gun.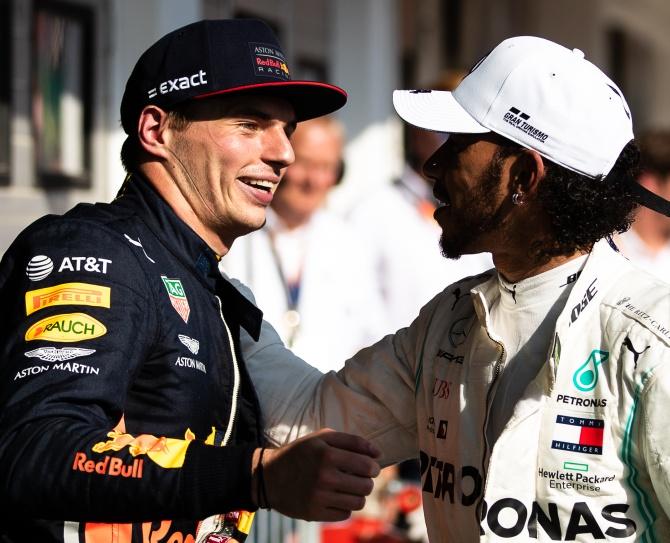 Pitstops were slower than usual in Hungary this Sunday. It was hot, and the highly trained crewmen were having trouble putting on tyres fast enough and disengaging wheel-guns from wheels. This has been a Red Bull specialty.
Not only do the team routinely perform superhuman sub-2 second pitstops, but in the German Grand Prix, they set a new world record by changing Max Verstappen's tyres in a preposterous 1.88 seconds. It took you longer to read this line. That's a bit nuts.
This Sunday, Verstappen's stop was 3.6 seconds -- double that time. This was the time Red Bull needed to be breaking records, and had he an extra second in hand when Hamilton pitted behind him, Horner might have been emboldened to give Verstappen the same jump. Ah, what could have been.
Honestly, the way he held off a charging Hamilton was something special, and we need to wait till this boy is in a car consistently good enough to challenge for championships.
Because Hamilton needs to be made to break a sweat. As it turned out, all the champion had to do was pass a fading and defenceless Verstappen.
Of course it was a sterling drive, of course he made no mistakes, but he's set the bar higher now, and it would take more than that for this to count as one of Hamilton's great drives. Victory number 81 was a Mercedes win, with Hamilton playing a solid supporting role.
Yet, make no mistake, he must have cherished every moment of this particular win.
He has delivered when it counted, and critically quelled Verstappen's momentum, keeping the new Formula One superhero at bay.
Max Verstappen will be around for the next 15 years, Hamilton will try to stay for the next 5. The message is clear: it is not yet time. There will be no changing of the guard just yet.
Race results
Pos
Driver
Car
Time/Retired
PTS
1
Lewis Hamilton
Mercedes
1:35:03.796
25
2
Max Verstappen
Red Bull Racing Honda
+17.796s
19
3
Sebastian Vettel
Ferrari
+61.433s
15
4
Charles Leclerc
Ferrari
+65.250s
12
5
Carlos Sainz
McLaren Renault
+1 lap
10
6
Pierre Gasly
Red Bull Racing Honda
+1 lap
8
7
Kimi Raikkonen
Alfa Romeo Racing Ferrari
+1 lap
6
8
Valtteri Bottas
Mercedes
+1 lap
4
9
Lando Norris
McLaren Renault
+1 lap
2
10
Alexander Albon
Scuderia Toro Rosso Honda
+1 lap
1
11
Sergio Perez
Racing Point BWT Mercedes
+1 lap
0
12
Nico Hulkenberg
Renault
+1 lap
0
13
Kevin Magnussen
Haas Ferrari
+1 lap
0
14
Daniel Ricciardo
Renault
+1 lap
0
15
Daniil Kvyat
Scuderia Toro Rosso Honda
+2 laps
0
16
George Russell
Williams Mercedes
+2 laps
0
17
Lance Stroll
Racing Point BWT Mercedes
+2 laps
0
18
Antonio Giovinazzi
Alfa Romeo Racing Ferrari
+2 laps
0
19
Robert Kubica
Williams Mercedes
+3 laps
0
NC
Romain Grosjean
Haas Ferrari
DNF
0
Note - Max Verstappen scored an additional point for setting the fastest lap of the race.