In an afternoon of heroes, Sebastian Vettel played the Bond villain at Silverstone, notes Raja Sen, who returns to Rediff.com as F1 columnist.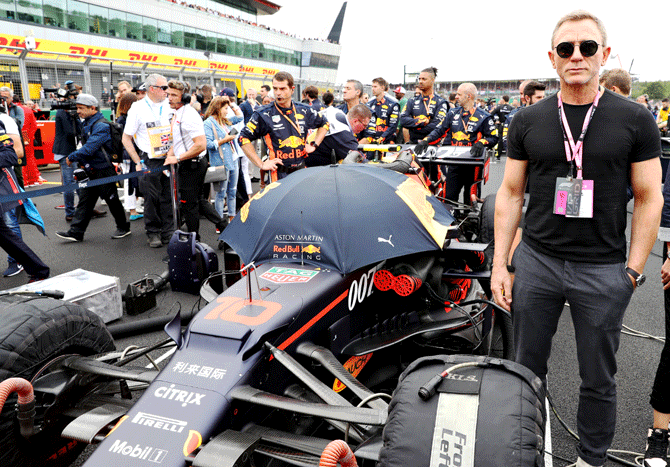 To make sense of allegiances, loyalty and the all-important need to cheer, sports fans often divide players into heroes and villains. With other drivers duelling with grace, four-time World Champion Sebastian Vettel cast himself in poor light by driving his Ferrari clumsily into the back of Max Verstappen's Red Bull.
The British Grand Prix provided several instances of exquisite wheel-to-wheel racing, epic tussles lending crueller contrast to Vettel's misjudged manoeuvre.
The Aston Martin Red Bull cars carried 007 movie logos to commemorate this, the 1007th F1 race, and we know who ploughs into 007's car.
In an afternoon of heroes, Sebastian Vettel played the Bond villain.
The race began with a glorious duel for the lead between Mercedes drivers Valtteri Bottas and Lewis Hamilton.
Hamilton, who lost pole position to Bottas by a mere 0.006 of a second -- perhaps we should say less than .007 -- was eager to muscle into first place right off the line, and both drivers went at it fireworks while giving each other just enough room.
On Lap 4, Hamilton, persistently breathing down his teammate's neck, finally swiped past for the lead, prompting enthused declarations about the British driver triumphing at home.
Before commentators could complete the announcement, however, a resurgent Bottas zoomed past Hamilton at the Copse corner, regaining the lead and staking his claim on Britain.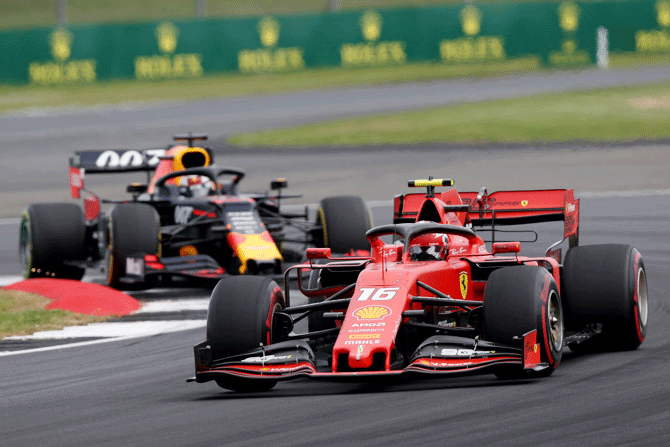 Behind them, it was Ferrari vs Red Bull vs Ferrari vs Red Bull.
Charles LeClerc and Max Verstappen provided a highly cinematic sequel to their magnificent on-track fight in Austria, where Verstappen bullishly overtook LeClerc's Ferrari for the win.
Here, LeClerc was ahead and refusing to give Verstappen an inch, and the first advantage came from the pit-crews: Both drivers stopped on Lap 14, and Red Bull's 1.96 second pitstop was almost a second faster, allowing Verstappen to leave the pits just ahead.
A relentless LeClerc kept the pressure on, forcing a rare unforced error: the Red Bull went wide and the Ferrari sailed through.
On lap 19, Verstappen tried to get past, but LeClerc -- who had promised aggression following Verstappen's moves in the last race -- nearly drove Max off the track as he closed the door.
21-year-old Monegasque driver LeClerc, who has twice come tantalisingly close to winning his first F1 race this year, was in defiant spirits, determined not to let this race be taken by Verstappen, the more experienced (but also 21) Dutch driver.
These former go-kart competitors now provide the most thrilling, the most evenly-matched rivalry in Formula One, a respectful but ruthless battle that should last us more than a decade as these drivers get even better, find their best and coax each other to do their worst.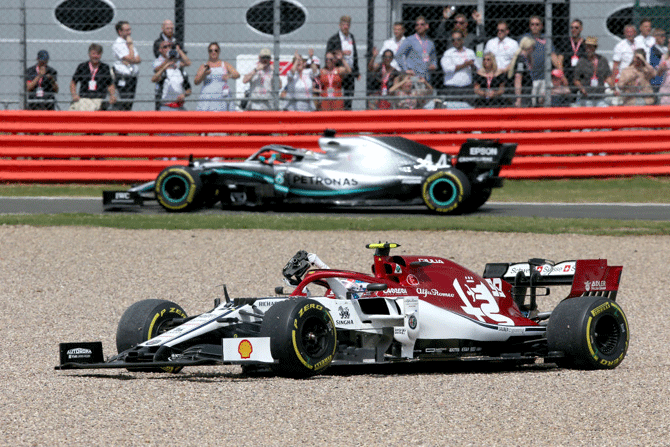 Only two Grands Prix ago, after an immeasurably boring race in France, we all wondered what could be done about the soporific state of Formula One, a sport that seemed to have been herded into dullness.
Since then, as if stung by accusations of sleepiness, F1 has provided back-to-back thrillers.
The first 20 laps of the British race were so breathless, in fact, that I couldn't glance over to the other sports taking place in England this Sunday: The Wimbledon and World Cup finals, each fought closer than the other.
What a day.
Then, in another typically James Bond moment, the mid-movie plot twist.
I got my first glimpse of Roger Federer after Lap 20. Antonio Giovinazzi spun his Alfa Romeo out into the gravel, forcing a Safety Car that halted the action, bunched the field together, allowed panicked viewers to change channels briefly, and gifted Lewis Hamilton and Sebastian Vettel free pit-stops -- while Mercedes and Ferrari conveniently botched the strategies of their so-called Number 2 drivers Bottas and LeClerc.
LeClerc stayed feisty, banging wheels with Verstappen on Lap 24 and making the pass of the day around the outside of the Red Bull of Pierre Gasly, gliding around the Village corner with all the elegance of a figure-skater. That's what it takes to put 007-liveried cars in their place.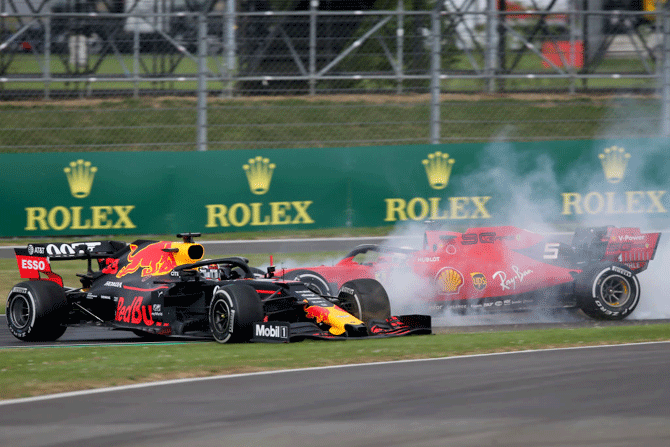 In the other Bond-numbered car -- complete with a novelty numberplate from the very best Bond film, Goldfinger -- Max Verstappen chased down Vettel and, on Lap 37, took the position from him under late-braking, hanging his car out by the kerbs like an exclamation point, only for Vettel to ram right into him immediately after.
The crowd gasped at this display of ugliness. Ever since he led the championship battle after last year's British Grand Prix, Vettel has slid down a spiral of mistakes and misjudgement, and his desperate attempt to combat Verstappen on Sunday didn't look like the work of a great champion. It resembled a poor lunge from a driver who can't keep up with those around him.
He started the year battling with Hamilton for the lead, and now stands in fourth place, with his young teammate only 3 points behind him in the championship standings, likely to overtake him at the next race.
Vettel was contrite and apologised to Verstappen immediately after the race -- not even waiting till Max's helmet was off before rushing to the Dutchman and shaking his hand -- but this is a far cry from the Vettel we once knew, the all-conquering hero.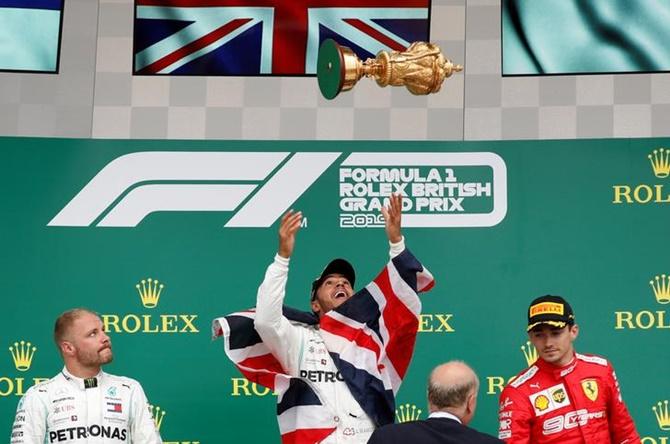 Speaking of heroes, Lewis Hamilton took his 80th race win, waving a Union Jack on his victory lap. He may not have got the better of Valtteri Bottas on track, but he made no mistakes and -- in truly cinematic style -- he laid down the fastest lap of the race on the very last lap, the way Bond would defuse time-bombs with 0:07 seconds to go.
Hamilton may not wear the double-0 logo, but this final flourish, this ludicrous show of speed on old tyres, signals how a race is won by the driver who gets the finest Quartermasters to make his car.
The rest is just shaking and stirring.