'O P Sharma pulled me down to the ground and started punching and kicking me.'
'The Delhi police, instead of arresting Sharma and the others, detained me for five hours after this incident.'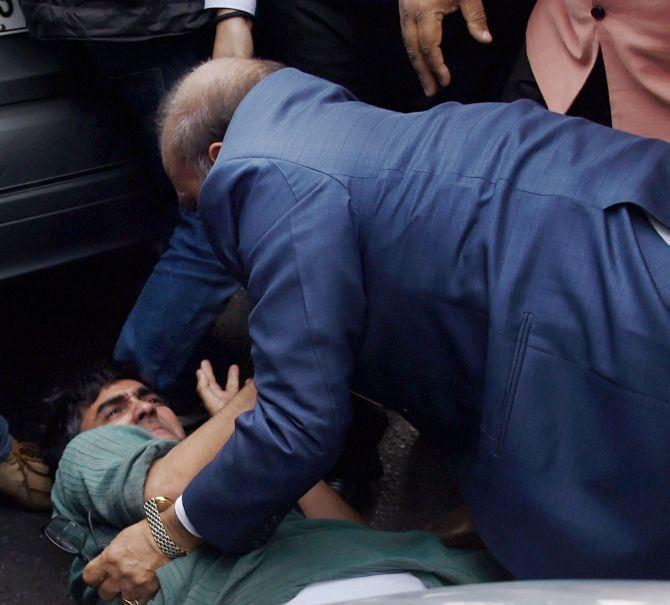 IMAGE: Caught on camera: BJP MLA O P Sharma assaults Ameeque Jamai. Photograph: Atul Yadav/PTI
On Monday, February 15, the Patiala House court premises was a scene of chaos when lawyers and Bharatiya Janata Party members -- including a Delhi MLA -- attacked Jawaharlal Nehru University students who were present on the court premises to show solidarity with detained JNU Student Union President Kanhaiya Kumar.
Ameeque Jamai, a member of the Communist Party of India, was caught on camera being assaulted by BJP MLA O P Sharma.
Speaking to Syed Firdaus Ashraf/Rediff.com, Jamai recalls the punches and kicks that rained down on him and the violence that followed.
I had gone to court in support of Kanhaiya Kumar who was arrested on sedition charges. Around 50 people -- supporters and JNU teachers -- were present with me.
When we entered the court premises, all of a sudden some lawyers started beating us up for no reason.
While attacking us, they said they would beat up all those who had come to support Kanhaiya.
They started asking who was from JNU and as soon as they found a JNU person, they started assaulting them.
As the violence intensified, some journalists intervened and asked why there were beating us up. The journalists said that as lawyers they were protectors of the law and had no right to take the law into their own hands.
The lawyers then responded by stating, "Deshdrohi ka faisla hum karenge (We will decide the fate of traitors)."
I saw the Delhi police were not doing anything. These assaults were happening on the court premises. Soon after, they started beating up journalists.
I ran outside and told senior Delhi police officers that they should take action against the lawyers and stop the violence. But, shockingly, they just smiled and refused to take action.
Soon after, I noticed Finance Minister Arun Jaitley leaving the court premises after attending a hearing.
It was then that I yelled, "Kanhaiya Kumar ko arrest kar ke Rohith Vemula ki ladai nahi rukegi. Shri Arun Jaitleyji patrakaron par comrade par jo hamley huey hain woh nahi sahengey. Aap ko jawab dena hoga. (The fight against the injustice meted out to Rohith Vemula will not stop with the arrest of Kanhaiya. Shri Arun Jaitley, we will not tolerate attacks on journalists and comrades. You will have to respond to us)."
It was when I was chanting this slogan that BJP MLA O P Sharma came running towards me with 10 supporters. They caught me, pulled me down to the ground around the India Gate circle area.
When I fell to the ground, they started punching and kicking me. Along with that, they also abused me.
They are accusing us of shouting pro-Pakistan slogans. But how can a CPI member shout pro-Pakistani slogans? We were simply protesting peacefully and this BJP MLA assaulted me.
They wanted to teach me a lesson because I have been speaking very openly about Kanhaiya Kumar and Rohith Vemula everywhere.
The Delhi police, instead of arresting Sharma and the others, detained me for five hours after this incident.
I feel Sharma targeted me because he knows that I am from CPI and therefore they targeted Kanhaiya also.
They constantly talk about a video, which shows Kanhaiya slouting anti-India slogans. But there is no audio heard in that clip.
Kanahiya spoke for 22 minutes in that video, but the Delhi police is not letting people hear what Kanhaiya was saying. He wasn't being anti-national.
Aap ki sarkar hai toh kya aap sab par deshdrohi lagayenge? Sabko aap jail mein bhejenge? (Just because the BJP is in power, it doesn't mean they can charge everyone with sedition and send them to jail).
They have charged Kanhaiya with sedition without knowing that the chief security officer at JNU called Kanhaiya when the students were protesting.
As president of the students union, Kanhaiya went to the spot to stop trouble. If the BJP wishes to declare an Emergency, they should declare it openly.
Both Kanhaiya and I say arrest those who were shouting anti-national slogans. Kanhaiya has been saying this from day one when the incident erupted.
The RSS (Rashtriya Swayamsevak Sangh is trying to misinform people about us. They want to weaken the Rohith Vemula struggle and therefore, caught hold of Kanhaiya.'