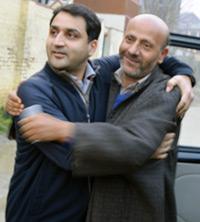 Sandeep Mawa is a Kashmiri Pandit married to a Kashmiri Muslim, intent upon spreading the message of love and Kashmiriyat.
After starting his campaign in Srinagar, he now wants to hug Asaduddin Owaisi, Arvind Kejriwal, Rahul Gandhi, Narendra Modi and do a pau lago to Sonia and Priyanka Gandhi.
Archana Masih/Rediff.com spoke to the good doctor.
Dr Sandeep Mawa is on a hugging spree. After standing in the centre of Srinagar's Lal Chowk in a blindfold with a placard saying 'If you trust me, hug me,' Dr Mawa wants to take his campaign to the rest of India and beyond -- even to France.
The idea came from Paris, where a Muslim man had done the same after the Paris attacks.
Dr Mawa is a Kashmiri Pandit married to a Kashmiri Muslim, intent upon spreading the message of peace and Kashmiriyat through his hugging campaign.
Last week, he went to the house of Engineer Rashid, the Kashmir MLA, to hug him. Rashid had hosted a beef party in Srinagar in October to protest the ban on beef.
"He was coming out in his Scorpio car and I hugged him instantly. He reciprocated and invited me for a cup of tea inside his home. We may have a difference of opinion, but not on the basis of religion," says Dr Mawa, whose family left Srinagar in 1990 to escape the pogrom against the Pandits in Kashmir.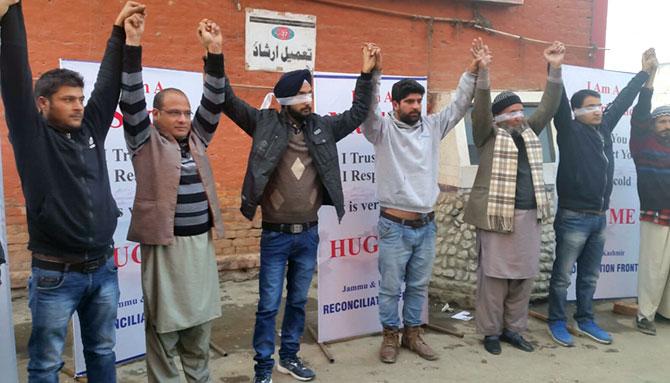 IMAGE: Muslims, Hindus and Sikhs participated in the 'Hug me' campaign in Srinagar. Photograph, kind courtesy Dr Sandeep Mawa.
After receiving an extortion threat, Dr Mawa's father was seriously injured when a terrorist emptied four bullets into him. He was lucky to survive, but took a year to recover.
A class 7 student at Srinagar's Tyndale Biscoe School then, Sandeep finished his schooling and his MBBS in Jammu. He also met his future wife at medical college.
The couple married in 2008 in what could be a rare union. Sandeep Mawa himself cannot think of another husband-wife duo where the wife is a Kashmiri Muslim and husband, a Kashmiri Pandit.
He cites the example of the marriage of Dr Girija Dhar, a Kashmiri Pandit, and Dr Naseer Ahmed Shah in the mid 1960s, but "In that case, a Kashmir Hindu woman was marrying a Kashmiri Muslim."
Dr Dhar's car was attacked by a volley of bullets for defying the terrorists' diktat to hold examinations at the Srinagar Medical College during the height of militancy.
The couple also find mention in Meera Khanna's book documenting the stories of real lives from the Kashmir Valley.
Dr Mawa's marriage drew threats from hardline Kashmiri separatist leader Asiya Andrabi. The couple married in Delhi, but not until he filed a habeas corpus petition in the high court. His wife gave a statement in court that she was marrying of her own free will.
They were given police protection as they made their way to the airport to leave for Bangalore, where Dr Mawa has a real estate business.
When he returned to Srinagar, Dr Mawa says he was arrested on fabricated charges of beating up a government official and put in lock-up for two days. All this because he married a Kashmiri Muslim. The charges could not be proved.
IMAGE: Dr Mawa met his wife, a fellow student, at a medical college in Jammu. Photograph, kind courtesy, Dr Sandeep Mawa.
"There is a lot of talk about intolerance in India these days. I have seen a lot of cultures around the world. Our culture is not intolerant," says Dr Mawa.
"So I set out to find out where is this intolerance and everywhere I go people offer me a hug! Where is this intolerance then?. Yes, we have differences, but not intolerance."
Dr Mawa wants to hug Asaduddin Owaisi, the Hyderabad MP, Mohammad Salim, the CPI-M MP, Delhi Chief Minister Arvind Kejriwal, Congress Vice-President Rahul Gandhi, Prime Minister Narendra Modi and do a pau lago to Sonia and Priyanka Gandhi "before the Parliament session ends."
"Mr Modi's image is that of an anti-Muslim, but he is not. Maybe his ego is coming in the way. I want to go accompanied with Muslims to him." Since Section 144 is in place around Parliament, he wants to make a human chain with 100-odd people with white bands in order to reach his message to politicians.
"For the first time I feel proud of my government. My prime minister works 15 hours a day. The Congress has ruled for five decades and cannot digest his good work," adds Dr Mawa.
"The Dadri lynching should not have happened. Every secular person should condemn it. In a population of 135 crore (1.35 billion), there will be certain black sheep, but that does not mean that a majority of people are intolerant."
Dr Mawa says if those who have returned their awards in protest against intolerance were genuine, they should have stood up for the Kashmiri Pandits too.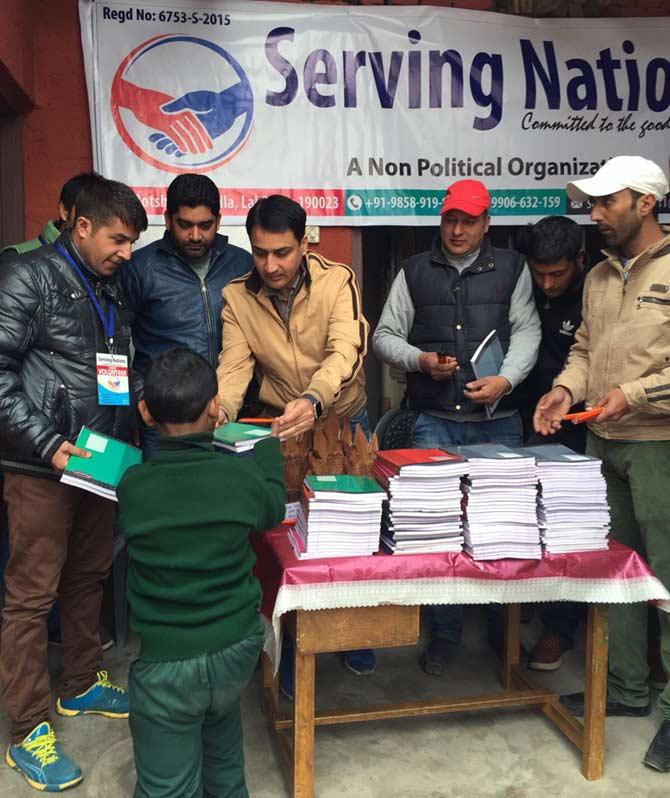 IMAGE: Dr Mawa has adopted three government school in Jammu and Kashmir and says he wants Kashmir's children to not pelt stones, but write their own histories. Photograph: kind courtesy, Dr Sandeep Mawa.
"India is the land of Buddha, Mahavir. It's the land of saints and spirituality," he says. "Indians are secular by heart. Politicians should not use religion as a tool. They should follow their Raj Dharma."
Dr Mawa did not practice medicine and returned to Srinagar in 2003 to start a business and now runs an adventure activity company. He is full of praise for the Kashmiri ethos and says he has forgiven fellow Kashmiris for what happened in those dark days of October 1990.
He holds Pakistan responsible for causing the hatred in the Muslims that resulted in the exodus of the Pandits and quotes from the Bible.
"Just like Jesus said 'God forgive them for they know not what they do,' I feel the same towards those who wronged me," says Dr Mawa who sees himself as a reformist with the vision to revive the values of the Kashmir which is home to Muslims, Hindus, Sikhs, Christians and all faiths.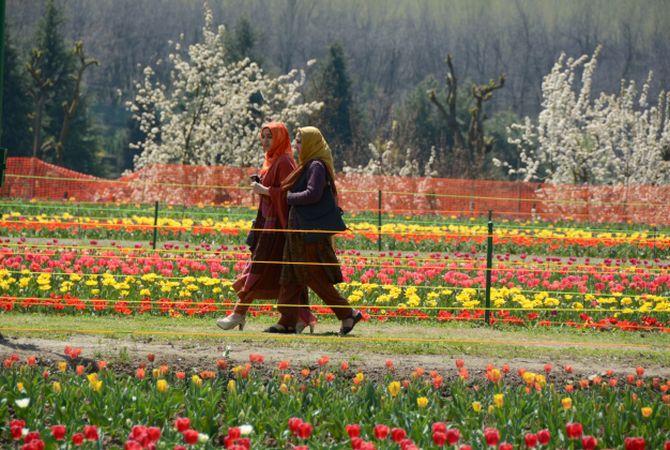 IMAGE: The famed Tulip Garden in Srinagar. Photograph: Umar Ganie/Rediff.com
As chairman of the Jammu and Kashmir Reconciliation Front, he says Kashmiris want peace. "If there is a vote, 95% Kashmiri Muslims will vote for India. After 25 years of militancy, you have to give the Kashmiri people some space. Our people made mistakes, but give them time."
Dr Mawa moved his family out of Jammu because he faced some threats, but spends ten months in Srinagar and wants to revive Kashmiriyat.
"Good governance is azadi for Kashmiris, but you need to create that environment. We are as Indian as anybody. Our own politicians have been a deterrent to peace," says the 38-year-old-hugging evangelist, who will shortly start a 'Get well soon' campaign aimed at corrupt bureaucrats.
"I expect a new Kashmir," he says. "The Kashmir of innovation, talent and peace. A Kashmir which is a gulshan (garden) where roses of every variety can bloom."