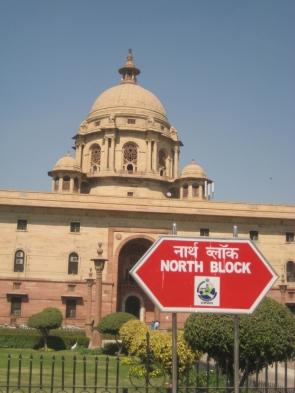 Recent investigations into the telecom spectrum and coal scams have made bureaucrats very wary of taking decisions
The lack of energy inside North Block -- the red sandstone building which houses the Union finance ministry -- is palpable. The support staff looks relaxed: no running up and down with files, no long orders to take. Walk into any office, and it is likely the occupant has sufficient time for you to exchange gossip, talk about the weather, discuss films et cetera.
One of them, on the condition of anonymity, feels that Finance Minister P Chidambaram is no longer working like a technocrat; instead, he is more like a statesman nowadays, weighing the larger economic as well as political ramifications of any move. Officials say some of the decisions the ministry was planning to take earlier, particularly in the area of taxation, are not being pursued any longer. "In this environment, it is better not to take any decision because you cannot be pulled up for lack of action. But if you try to do something, there are chances that someone will question the decision tomorrow, saying it benefited a particular company," says he.
He may not admit it openly, but he is scared of being hauled up for his decisions, maybe even after retirement. Inactivity is his answer to increased probity; better be safe than sorry. Three senior bureaucrats, after all, are embroiled in Central Bureau of Investigation probes years after they retired: Pradip Baijal for irregularities in the allotment of telecom spectrum in 2007-08, Shyamal Ghosh for an earlier allocation of spectrum and PC Parakh for Coal-gate.
Durga Shakti Nagpal, a young Indian Administrative Service officer in Uttar Pradesh, was suspended for taking on the coal mafia (the official reason given was that she was disturbing communal peace), though she was recently reinstated after public outcry. Ashok Khemka, the Haryana whistleblower, finds himself mired in investigations. If the Right to Information Act of 2005 had made the bureaucrat cautious, CBI's new-found investigative zeal has stopped him dead in his track. The fear of regime change in states as well as Centre has made matters worse: everybody fears that decisions might be reopened and looked at in a different light.
As a result, most bureaucrats, across states, are dithering from taking decisions and sticking to only routine matters. From under-secretary to secretary, every officer is making it a point to prepare note sheets concerning every minute matter only after consulting one another. Not just the views, even the language in the file noting is consistent. It is, after all, easier for an investigating agency to prosecute if people have different submissions on paper. The cover photograph of former cabinet secretary TSR Subramanian's book, Journeys Through Babudom and Netaland, captures this grim picture perfectly: it shows a rusty old public tap with a rusty old lock on it.

'No secretary now takes a clear-cut decision'

At the Centre, bureaucrats are choosing not to clear files related to coal linkages to private power producers. A large number of proposals are pending. The tri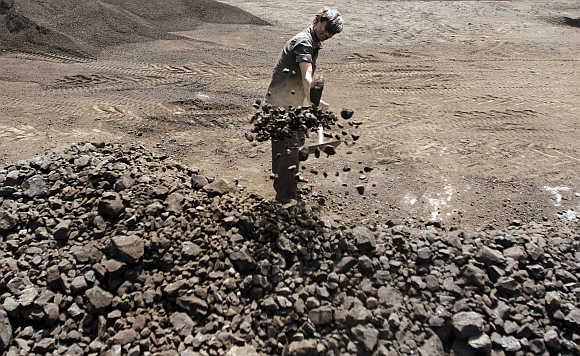 ckle-down effect is being felt in various coal-rich states. In a recent communication to the coal ministry, Odisha Chief Secretary Jugal Kishore Mohapatra said that the state would freeze lease processing of 30 coal blocks allotted to different companies in the state due to lack of clarity from the Centre on the issue. Many view this as evasive action by the bureaucracy to ward off trouble. Some call it pre-election freeze. "You do not need an election to see slow decision-making in Odisha," says a businessman with interests in the state. "It is an all-season affair."
"No secretary now takes a clear-cut decision. The files are either moving down to his subordinates with a comment 'please discuss' or sent up to the chief secretary for a final decision with ambiguous recommendations," says a bureaucrat based in Odisha. "The bureaucrats who are taking decisions are hedging them by routing the files to the finance ministry or their ministers concerned," says Sanjay Boosreddy, general secretary of the Central IAS Association, which has 4,750 serving and 2,500 retired bureaucrats as members. Files are moving "like a football" from one department to the other, says Venugopal N Dhoot, chairman of Videocon Industries. "Each department is taking its own sweet time."
In Maharashtra, Dhoot's home state, the probe into the multi-crore-rupee irrigation scam has brought new projects worth over Rs 85,000 crore to a grinding halt. The state planning and finance department, which is known for raising queries over the viability of a project and its sustainability, has become extra cautious. It now prefers to take up each project that requires administrative approval to the cabinet instead of clearing it at its level. The confidence that the government would stand by you in case of trouble is missing, says G D Kulthe, chief advisor to the Maharashtra State Gazetted Officers Federation, a representative body of various associations of over 1,20,000 officials.
It's a sorry picture of an uncertain bureaucrat who's now watching every step that he takes. But then, this picture isn't as black-and-white as it appears. "It is not for nothing that Indian bureaucracy has been rated as the worst in Asia," says a civil servant who has been awarded with frequent postings for taking on his political masters. "Bureaucrats have gone into slow mode not out of fear of victimisation but because of the ensuing Lok Sabha elections," he says. "The government is on its last legs. Money has dried up. Funds are no longer being released. So there is little incentive for the bureaucrat to work. You will see how the pace of his functioning changes once the new government is in place."
True enough, in Chhattisgarh, which goes to polls next week is on freeze. Sriniwas Rao, a 27-year-old employee of a private steel plant in Raipur, has not been able to get the design of his house approved from the Raipur Municipal Corporation. He has been told that the model code of conduct is in place and most officials are on election duty. Nobody wants to take any decision during election time, says former Chhattisgarh election commissioner Sushil Kumar Trivedi.

Paranoia of prosecution
But elections will come and go. It's the paranoia of prosecution, which bureaucrats say is the bigger worry today. It is this worry that recently had a group of retired bureaucrats knocking at Prime Minister Manmohan Singh's door with a plea: give us the same protection against prosecution as you give to serving officers, else the atmosphere of fear which is building among bureaucrats will bring decision-making to a standstill. "There were four of us, including (former cabinet secretaries) Naresh Chandra, B K Chaturvedi and Prabhat Kumar who went to the prime minister with a memorandum seeking amendment in the Delhi Special Police Establishment Act," says former defence secretary Yogendra Narain.
This Act says that the CBI will not conduct any inquiry or investigation into any offence allegedly committed by a serving official under the Prevention of Corruption Act without the approval of the central government. No such approval is required to put a retired officer on trial. As Subramanian says, "With people being practically brought back from the grave to face trial, nobody will want to stick his neck out anymore."

Veenu Sandhu, Sahil Makkar, Dillip Satapathy, Vrishti Beniwal, Sanjay Jog, R Krishna Das and Shashikant Trivedi contributed to this report