'Arvind's face fell... He started to say something, but couldn't continue. He broke down and as the tears fell unheeded, he crumpled to the floor.'
'After some time, Arvind regained his composure. He could barely manage to say, 'I have not left my job and other good things of life just to become the convener of the party. I don't want this. Please elect someone else as national convener.'
AAP leader Ashutosh reveals last year's ideological and personality conflicts in the Aam Aadmi Party, which have now erupted into ugly, daily, battles.
Aam Aadmi Party leader Ashutosh's book The Crown Prince, The Gladiator & The Hope: Battle for Change views 2014's mammoth political changes through the eyes of a journalist -- which Ashutosh was until he plunged into politics.
In this extract from his book, published with the publishers HarperCollins India's kind permission, Ashutosh lays bare AAP's ideological and personality conflicts which have now erupted into ugly daily battles.
---
Shazia (Ilmi) had been upset for some time. She had wanted to contest from Delhi, but was denied a ticket and was instead asked to stand against Sonia Gandhi at Rae Bareli. She declined.
Her biggest grouse was that despite being a founder member, a woman and a Muslim, and someone associated with the Anna movement since its inception, she had not been accorded the importance she deserved.
She was also bitter that her name was struck off the panel of people who were to appear on TV for political debates, even though that was later corrected.
She was one of the most recogniSed faces of the party and during the elections she was in great demand as a star campaigner.

She was expecting a place in the party's political affairs committee, although she was already a member of the national executive committee, the highest decision-making body in AAP. She wanted a role with a significantly higher profile.
She held a press conference at the Press Club in Delhi at the same time that the PAC was meeting at Prashant Bhushan's house for deliberations. Her press conference went live on all channels.
She did not make any personal comments, was rather graceful in her statements and showed respect for Arvind's leadership, but was sore about his inaccessibility and the decision-making process.
She hinted at a coterie around him that was impacting decisions and blamed the party for lacking inner-party democracy. We listened to her and decided to react immediately, before the media could distort the episode and give it a different dimension.
No harsh words were uttered -- Yogendra Yadav was very polite, wished her luck and hoped that one day she would again be with the party. He also said that the party was deliberating the exact issues she had raised.
The decision to leave the party was her prerogative, she was entitled to her opinion about the functioning of the party and its leadership but if she had consulted the team before her meeting with the press, they would have certainly recommended that she choose a different time to air her views.
To quit a party, with which she had been associated since its inception and which she had influenced in both good times and bad, at this critical juncture when Arvind was in jail, was neither the best timing nor very sensitive. The very same day, Captain Gopinath also resigned.
Nobody in the party quite knew when he joined, how he joined and why he left, but the media had a field day. Media savours such moments, especially on lean news days as it had seemed to be before the turbulence in the AAP.
But the crisis that had been brewing for some time went much deeper.
Yogendra Yadav, leading psephologist and political analyst, now a very senior member and chief spokesperson of the party, was also unhappy with the state of things.
In a section of the media he was perceived as the intellectual force and the leader of the think-tank of the party with strong socialist leanings.
Yogendra had a big role in shaping the party's policies and defending the party in the most trying circumstances.
He hails from Haryana and was the party head there; the hope was that if the AAP fared well, he would be the main contender for the post of the chief minister of Haryana.
After the Delhi assembly election results, an opinion poll had projected a 22 per cent vote share in Haryana for the AAP, which was significantly large for a party that was only a year old and lacked any grass-roots party organisation or history.
Yogendra Yadav, who was naturally looking forward to the nomination, was deeply disappointed when the party secured a mere 4 per cent of the vote share in Haryana in the parliamentary elections.
He polled only 75,000 votes, which was just about enough to save his deposit, the worst form of loss in an election.
The Haryana results had shocked the party and on the heels of defeat, inner-party quarrels ensued.
Naveen Jaihind, a young Jat leader and close confidant of Arvind from the days of the Anna movement, and Yogendra were at loggerheads.
Yogendra had made serious allegations of defiance, indiscipline, insubordination and groupism against Naveen and wanted him to be taken to task.
He had made an appeal that Naveen should be issued a show-cause notice during the PAC meeting that was held whilst Arvind was in jail.
The PAC followed through, but Naveen refused to explain his reasons or defend himself to the committee.
Yogendra complained bitterly to Arvind, who had already spoken to Naveen.
In Yogendra's view, Naveen did not seem to heed anyone at all, not even the leader of the party. Yogendra too, like Shazia, was unhappy with the 'decision-making processes' in the AAP.
After Arvind resigned as CM, he wrote a letter to the lieutenant governor of Delhi, Najeeb Jung, requesting him not to dissolve the assembly which was put under suspended animation, as he wanted to seek the people's opinion about forming a government again.
He had used this strategy previously in December 2013 and had used their consensus to form the government. This time he wanted the people's concurrence about whether he should take another shot at chief ministership.
The Congress's reaction was not sympathetic.
The following day, Arvind held a press conference, apologised to the people for resigning without consulting them and promised not to repeat the mistake if he was given another chance to run the government. He also said that Delhi should hold fresh elections and a new government should take over.
Yogendra mentioned the issue of the unilateralism displayed by Arvind and expressed his displeasure that these were serious matters which should be discussed by the party before making public declarations.
In a most dramatic manner, during a political affairs committee meeting session while we were waiting for Yogendra to join us, Pankaj Gupta announced that Yogendra had shot off a letter to the members of the national executive announcing his resignation from all party posts except the national executive.
Frantic telephone calls were made requesting him to come for the PAC meeting and sort things out, but he declined.
Finally, we decided to go to his house en masse and hold the meeting there.
When Yogendra learnt of this plan, he decided that it would be better to get off his high horse and came over to join us.
Yogendra had made a list of seven contentious issues:
1. Absence of mechanism for consulting volunteers;
2. The neglect of the national executive in favour of PAC, which had usurped all powers;
3. Lack of proper functioning within the PAC;
4. Inadequate attention to the issues of the states;
5. Neglect of building up the organisation;
6. Policy deficit;
7. Supremo style, rather than a democratic style, of functioning.
Of these, the most serious was the issue of leadership, which was construed as an attack on Arvind's style of functioning.
He wrote, 'There is a widespread perception among the workers and the sympathisers as well as external observers that the party is falling prey to the disease of a personality cult that afflicts all the political parties in the country. There is no one who doubts that Arvindbhai is the undisputed leader within the party.'
'He has richly earned this stature and we would not be where we are without his leadership. But there is a difference between a leader and a supremo. Love and affection for the leader often turns into a personality cult that can damage the organisation and the leader himself. This is what appears to be happening in our party.'
'Major decisions of the party appear to, and indeed do, reflect the wishes of one person; when he changes his mind, the party changes its course of action; proximity to the leader influences organisational roles and responsibilities.'
'Since all the decisions and successes are credited to one person, all the blame also begins to accumulate at the door of one person.'
'Let me reiterate that Arvindbhai is no ordinary leader and there are no two opinions about his continuing as the national convener; nor have I ever doubted his status as first among equals within the party's leadership.'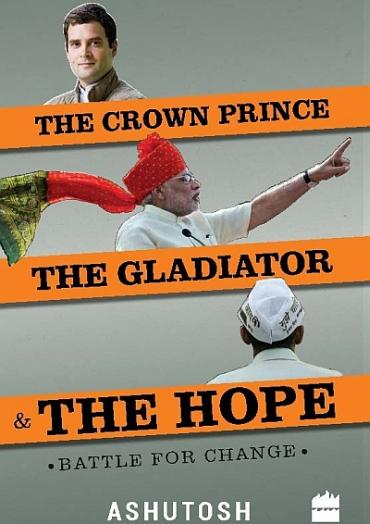 The real question is whether there are limits to the personal discretion of the leader.
He had said almost the same thing albeit better worded than Shazia had said in her press conference; inner-party democracy, decision-making processes and cronyism.
This was a bombshell and if it reached the press there would be serious repercussions to the credibility of the party in general and Arvind's leadership in particular. But there was no way to stop it.
Yogendra was not willing to withdraw his resignation. By 4 pm, the media had got wind of this. Naveen, meanwhile, was taken to task. He also offered to resign.
As he was leaving Arvind's residence, cameras chased him and he stopped to say, 'I have also resigned. If Yogendraji thinks there is problem due to me, then...'
Yogendra's resignation was seen as an intra-party feud.
Manish Sisodia, in response, wrote an angry letter questioning Yogendra and wondering if he was out to destroy Arvind and the party by penning such a letter.
To make matters worse, Anjali Damania, the state convener of Maharashtra, also resigned without giving any reason or informing the party office-bearers -- yet the news spread like wildfire.
Arvind called her up, requested her not do this in this hour of crisis and to come to the meeting.
The press revels in such feuds, and political letters like those of Yogendra and Manish make good copy -- who would know this better than me?
The two letters became points of animated discussion nationwide. In my former avatar, I would have telecast the episode and the events leading up to it all through the day with lots of sound bites, graphics and reactions from experts.
The media did not disappoint me, but unfortunately, I was in a different avatar and the coverage was not music to my ears.
The national executive meeting was scheduled for three days (from 6 to 8 June 2014) to discuss the election results and plan ahead.
It started on a sombre note and despite the palpable tension, with a promise to desist from raking up personal issues; Arvind mooted the idea that Shazia be requested to rejoin the party.
The house agreed to this after a minor debate about the propriety of the invitation as she had left after holding a press conference and whether the same principle would be applied to all those who had resigned.
Anjali Damania, who withdrew her resignation, and Mrs Ramdoss were authorised to speak to her and inform the house. This news was leaked to the media and the national executive expressed its exasperation.
Around 6 pm, Anjali became very distraught and showed us a newsflash on her mobile which reported that two or three television channels were debating the topic: 'How Arvind has ruined the party'.
Arvind's face fell. He rose and excused himself to leave the room.
He started to say something, but couldn't continue. He broke down and as the tears fell unheeded, he crumpled to the floor. Anjali and I rushed to him.
She put her arms around him and tried to console him. Soon Anjali began crying as well and shouted, 'We should all be ashamed of ourselves. This is what we have given him, he who has given us so much.'
After some time, Arvind regained his composure. By now, everyone had gathered around him.
He could barely manage to say, 'I have not left my job and other good things of life just to become the convener of the party. I don't want this. Please elect someone else as national convener.'
And his eyes welled up again. I didn't know how to comfort him; none of us did and our hearts broke as we watched Arvind weep. I offered him some water.
Prashant and Admiral Ramdoss held his hand. It took him longer to attain a semblance of composure. Manish, who was sitting at the other end of the hall, walked up to him and wordlessly took his hand.
Manish and Arvind were the best of friends and had known each for more than a decade. He was the first volunteer who joined his crusade against corruption.
The atmosphere was fraught with emotion and despair. This was the first time ever that Arvind showed despair in the face of adversity.
This was not the Arvind I knew. I have always known him to be an indomitable and courageous person and concurred with his father who once told me that Arvind was very strong-willed and determined, even as a child.
The meeting was over, but we all waited. It was not advisable to go out with swollen eyes and tear-streaked faces; the media would make a meal of it.
It wasn't like he was the first politician ever to have broken down and wept in trying circumstances. I had seen Atal Bihari Vajpayee in tears at the Mumbai national executive meeting after he demitted office. He had then said, 'Apno ke baano ne mara (The arrows of our own have wounded me).'
Yogendra Yadav met Arvind at his residence the next day and Prashant Bhushan also joined them to travel together for the meeting the following day.
They were late for the conference; however, Arvind was back in the saddle, looking far more confident and in command once again.
He was undeniably the leader. There was no challenge to his leadership.
A chapter in the party was over, a new chapter was about to begin. The challenge was much bigger. Iron will was the call of the hour.