'As a child I was very glad to be around him, to breathe his happiness.'
'I was aware that he would focus 100 per cent on whatever he was doing, whether it was playing with me, or going to the bullfights, or painting -- which he seemed to do non-stop,' Pablo's grandson tells Kishore Singh.
Illustration: Dominic Xavier/Rediff.com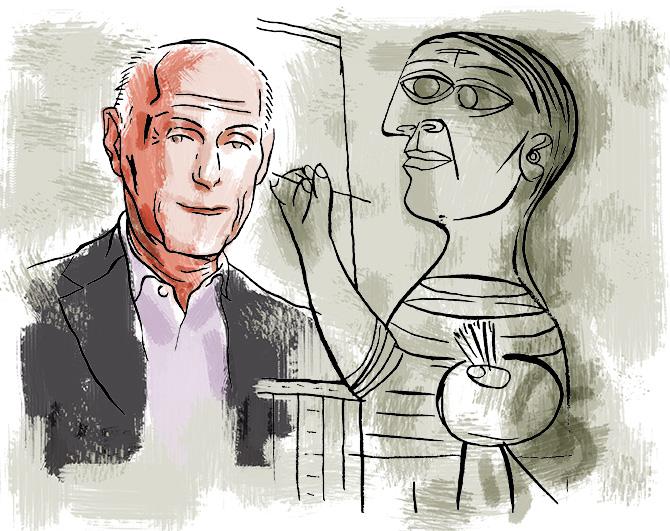 I'm having a hissy fit.
The Qube does not have a record of my reservation, nor of my request for a quiet table overlooking the Leela Palace's gardens in spring bloom. The tantrum works, and an appropriate corner is requisitioned.
By the time my guest arrives, I''m composed and able to offer him a meal that is off the menu as compensation.
I'm meeting Bernard Ruiz-Picasso, the president of the board of the Museo Picasso Malaga, a well-known collector of contemporary art, whose wife Almine Rech has art galleries in several geographies and is the toast of both the art and the social media, but who is in New Delhi to talk about a legacy as the artist Pablo Picasso's grandson.
To be genetically linked to arguably the most significant artist of the 20th century is to be likened to god, especially in Paris and Brussels where Picasso lives, or in his country home in Normandy, or in New York where the couple recently bought a $8.5 million Carlyle home.
This isn't Bernard's first visit to India. He came here as a backpacker in the 1970s headed for the Nepal Himalayas, and again in the mid-'80s when he spent a lot of time in south India.
The country has since changed, New Delhi has become a hub of culture, and life, well, is no longer as simple as it had seemed back then.
But if nostalgia is on the menu, it must necessarily make allowance for Pablo Picasso who Bernard remembers as "tender and sweet, a family man full of the kind of warmth people from the south of Europe seem to naturally exude."
"As a child I was very glad to be around him, to breathe his happiness. Of course, he was quite old at the time, but I was aware that he would focus 100 per cent on whatever he was doing, whether it was playing with me, or going to the bullfights, or painting -- which he seemed to do non-stop."
"He would make drawings during the day, or etchings, meet friends, his art dealers, but his paintings he worked on at night. I don't remember him drinking, there was very simple food on the table, and he was always creating something."
Like Picasso at the time, we're abstaining from wine, but simple food is not a choice.
Bernard is studying the menu keenly, and picks out the starters, paneer and chicken tikkas, which is when I commandeer the lunch order. I offer him a south Indian meal and the staff -- a little wary after my outburst -- acquiesce.
I order dosas as well as appams with the inevitable fish curry and vegetable stew. We will eat well.
We're not done with Picasso yet. "I remember my uncle -- Picasso's second son -- telling me he would see his father receiving a consignment of 80 ceramic plates in the morning, so he would fold his newspaper and begin to paint till they were all finished, but Picasso wasn't."
"So he would pick up a sketchbook and fill all its pages and look around for something else to do till there was no more material left. Then he'd announce he was heading for the beach."
"He was never complacent, never repeated himself -- all signs of a great master."
Our appetisers arrive, Bernard gives them a thumbs-up, but it is the dosa that he can't seem to get enough of. I warn him that he must save space for the main course even as he continues to scoop up the chutneys with his crisp bites.
Picasso died in 1973 when Bernard was 14 years old. A half-brother committed suicide soon after, and his own father passed away two years later.
It was an unsettling time for the family which had been left amazingly wealthy by Picasso but without a formal will, so the settlement was complicated.
"I found myself having to take the responsibility of family affairs," Bernard reminisces. "We were left very rich, but wealth does not give life meaning."
He gave up studies to learn, instead, about art, and how better to organise the estate.
"I was 22 years old by then, and was loaning works to exhibitions, finding out about contracts... It would take me another 10 years among very knowledgeable people before I could define for myself the intentions for perpetuating the heritage I had inherited."
Our appams arrive, accompanied by a sol kadi redolent with kari patta and the tang of tamarind. The vegetable stew is simmered in coconut milk and fragrantly sweet. The Qube is doing us proud.
Bernard eats with his hands, opting for the cutlery only occasionally. In no time the appams are done. It is the most I have eaten for lunch, and Bernard reluctantly declines the offer of a third appam.
The Picasso collection was split among his heirs so each could do with their legacy what they wanted.
"But the value of Picasso's work does not require you to sell them all to live well. The sale of even a few works is enough to organise one's investments."
Fortunately, Bernard says, most have been responsible too.
"We have a family office" -- the Picasso Administration -- "where loan requests are handled and copyright and legal protection issues are taken up by lawyers. Individually, we're free, but decide on applications together, like a family company."
"There are so many Picasso fakes, so we have to fight to protect his legacy not just for ourselves but also for the art world."
Not unusually, there are 15 to 20 simultaneous cases that demand their attention, and the complicated ones have run into decades.
"But we have the resources for it," Bernard explains, "because with a legacy such as this comes responsibility."
Picasso had once requested his son and daughter-in-law -- Bernard's parents -- to act as his messenger and reach out to his friends in Malaga, where he was born, to find a location for a museum for which he was willing to donate his works.
Unfortunately, the Francoist regime in Spain scuttled any such possibility. When, five decades on, a request for a loan of works for an exhibition rekindled that memory, Bernard's mother proposed the setting up of a museum to respect Picasso's wish.
"At first, I did not see where the business was in donating Picasso's works to another country," Bernard smirks. "But I soon realised that my mother was right about her decision to make the donation of a museum in Malaga because the purpose of art is not to be hidden in vaults, but to be offered to people in a beautiful museum."
Museo Picasso Malaga opened in 2003 and, last year, attracted 600,000 visitors.
Bernard's life continues to be linked with art and artists. He signs me a copy of a collaboration between himself and Alexander Calder's grandson, part of continuing to find ways to keep the relevance of 20th century art alive. His wife's galleries have helped him experience contemporary art.
"My life was constantly crossing that of other artists," Bernard smiles ruefully. "So I got interested in studying what they were doing and began to explore contemporary art."
That's how his collection has been formed and consists of, mostly, European and American art from the 1960s on.
Part of it is on display in Normandy in his grandfather's erstwhile studio which is offered to friends to host art events, or occasionally opened to the public to view.
There is much to talk about. Such as the art market -- he thinks the $450 million value for the Leonardo da Vinci auctioned recently is good because it has made "the presence of art" felt -- and how access and education are the key touchpoints for influencing society.
"Because it's new, we're afraid of it," he says of our explorations of art, though he has been anything but anxious about his partaking of a mostly alien cuisine.
Lunch might be over, but there's still time to drift out for coffee in the garden.