More than 25 years after the Babri Masjid was destroyed, another generation proclaims its commitment to building a Ram temple.
Ritwik Sharma reports.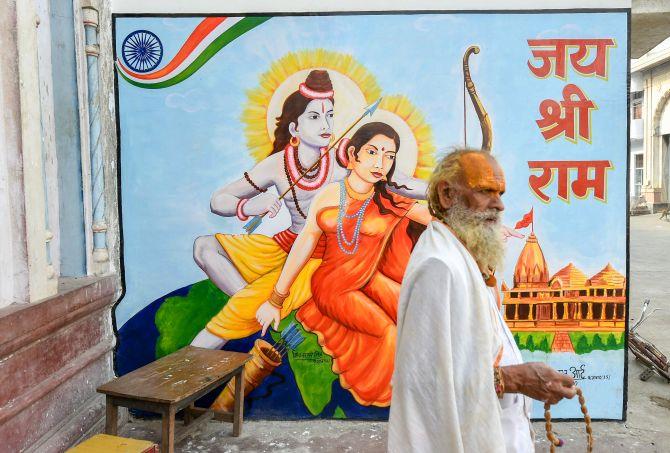 As a saffron-robed crowd begins to disperse at the end of a two-day meeting of Hindu religious leaders at the swanky Talkatora Stadium, a facility named after a Mughal-era garden in the heart of Delhi, Ashok Kumar glances at a fleet of sports utility vehicles.
The 21 year old, who swears allegiance to the Rashtriya Swayamsevak Sangh, the ideological parent of the ruling Bharatiya Janata Party, muses: "Look at these sants. They claim to work for the poor, but move around in Innovas and Fortuners."
The conclave on November 3 and 4 threw the might of sadhus behind the BJP government and called for an ordinance to compel the building of a Rama temple in Ayodhya, Uttar Pradesh.
I spent two days at the event trying to find answers to some questions: What does Ayodhya mean for young RSS members who grew up in a liberalised economy after the demolition of the Babri Masjid nearly 26 years ago?
What is it about Hindutva that brings young men -- I can spot virtually no women here other than the odd sadhvi on the dais -- to events such as these?
What is it about their particular life experiences that draw them to this 'movement'?
I sit back in my chair to listen to Ashok Kumar. If the sadhus earn Kumar's disapproval for failing to detach themselves from material possessions in the manner appropriate to the ascetic, a man called Ravi Prakash wins his admiration. Kumar considers Prakash his mentor.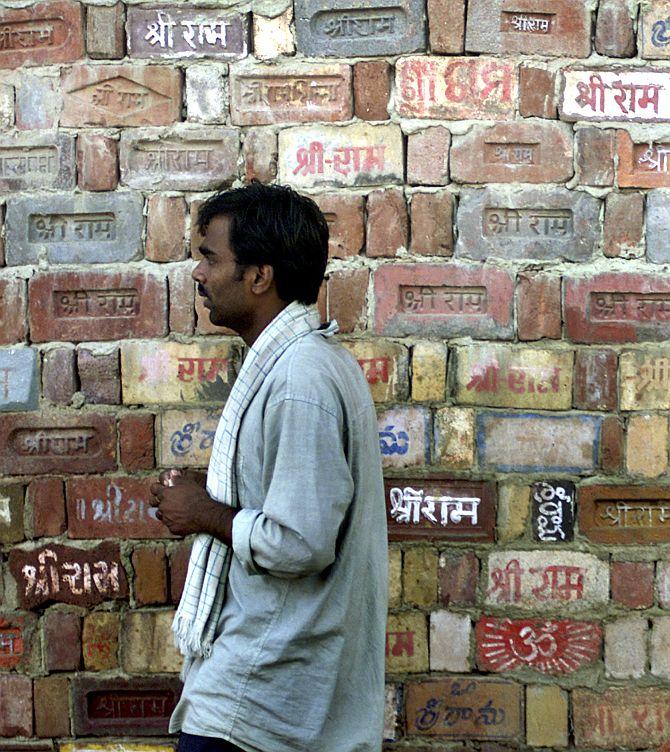 Ravi Prakash is the founder of a voluntary organisation called the Samarpan Foundation Trust which has been providing free medical treatment to leprosy patients for a decade at Tahirpur in Delhi's Dilshad Garden.
Ashok Kumar, a final-year student of nursing at a college in Partapur near Meerut, is one of the children of patients from the cluster of leprosy colonies in the area.
His father, a leprosy patient who volunteered at the Tahirpur trust, died in a road accident in 2012. His mother, a heart patient, stays home, while his younger brother studies at a higher secondary school in Kaithal, Haryana.
"He has been serving people for so long, but he still hasn't bought a car. He says, 'If I take a car, it will deprive a child's fees'," Kumar says of Prakash, who has served as an RSS zilla pracharak (full-time district-level worker) in parts of eastern UP and Uttarakhand.
Kumar rides about 40 km on his bike to college every day. In his batch, he says, there are nearly 30 children of leprosy patients whose education is being funded by the trust. He leaves by 7 in the morning, attends classes and rides home by 3.30 pm.
From 4 to 7 pm, he works as part of the trust's management. Nearly 150 patients, mainly from the leprosy colonies, visit the centre every day where four volunteers and a doctor dress their wounds and administer medicines.
"The government has done nothing for the patients," he says, showing me photos of patients on his iPhone 6S to suggest how negligence for even a couple of days can result in maggot-infested limbs.
Kumar, who belongs to the sizeable Dalit sub-caste of Pasi, says he didn't face casteism. At the trust-run hostel where he studied, children perform a morning havan (sacred fire ritual) and read the Bhagavad Gita in the evenings.
"We didn't feel we were from the scheduled castes as we were allowed to participate in cultural events."
He feels obligated to continue at the medical centre in Tahirpur. He loves to play cricket but spends more time listening to singers Arijit Singh and Atif Aslam on Coke Studio by logging on to the Wynk music app on his iPhone.
The crime saga Gangs of Wasseypur is his favourite film, as is one of its actors, Nawazuddin Siddiqui, whose rags-to-riches story inspires him.
Dressed in a checked shirt, jeans and shoes with red threads tied to his wrist like an amulet and an orange sash with 'United Hindu Front' printed in black around his neck, Kumar is conspicuous in his role of karyakarta (worker) at the conclave.
He was among those tasked with registering the thousands of participants and recording their personal details "so that when the mandir is made, we can summon them if required".
We have interacted for several hours, and by now I understand that I am not going to be given easy answers to the questions I set out with. Kumar's life has been complicated, and so are his politics.
He has been made the head of a BJP unit at his colony, but is at the conclave in the capacity of a volunteer of an NGO called Mission Modi Again PM, which "conveys the prime minister's welfare schemes to people at the grassroots".
He stresses, "Modiji alone is working. In his speeches, he can talk for hours at a stretch, which is also hard work. I don't support those under him."
To iterate that political support can't be blind, he explains that corrupt practices of leaders at the municipality denied his father, a sweeper, a permanent position. "No wonder now both the ward councillor and the legislator in our constituency are from the Aam Aadmi Party."
Kumar plays multiple, overlapping, even confusing roles. Not unlike the mingling of disparate elements at the conclave, where the Akhil Bharatiya Sant Samiti -- an umbrella body of priests, gurus and monks -- occupied centre stage.
And although the Samiti's resolution put pressure on the Centre to push for the construction of the temple -- and even pitched for re-election of the Narendra Modi government -- not all of the clergy's voices were political or partisan.
On day one of the meet, former BJP MP and Ram Janambhoomi Nyas member Ram Vilas Vedanti caused a stir when he suggested a mosque could be built in Lucknow if the temple was constructed in Ayodhya. His remarks were met with indignant retorts from the dais.
But back to my new-found friend. Kumar confesses to have never understood the long-pending Babri Masjid-Ram Janambhoomi dispute but recognises that it's a perennial election-time issue.
"There's a Constitution, the court and an administration. If something is done by force, people from other communities won't stay quiet. Putting pressure here won't make a difference," he says.
He admits to a growing tension in the run-up to elections in a few states and to the Lok Sabha. "Agar baat community pe aa jati hai, hamein toh Hindu ke saath hi khada hona padega, ya toh danda leke ya shaant hoke (If it comes down to a question of faith, I have to stand with Hindus, whether with a stick in hand or quietly)."
Chandrakant Bairagi, 25, and Raj Kumar, 26, from Mandla and Jabalpur, respectively, in Madhya Pradesh, have recently moved to the national capital and are staying at the quarters of Faggan Singh Kulaste, the BJP MP from their constituency. The civil engineers are enrolled at a coaching institute in Delhi's Mukherjee Nagar to prepare for recruitment exams for the posts of assistant and junior engineers.
Both claim to be Kabir panthi, members of a religious community that follows the teachings of Kabir. They are disciples of Mahant Mohan Das, a Kabir panthi guru who works for the poor and is also an Ayurvedic doctor.
I glean two interesting facts from them: That their mahant is linked to the RSS and its affiliate, the Vishwa Hindu Parishad despite being a votary of Kabir's syncretic teachings; and that "he is with whichever party is in power".
"Guruji told me the aim of this meeting is Hindu unity," Bairagi, a lean youth in a black shirt and jeans, says earnestly. His presence here is, at once, based on a lack of faith in the political system as well as a conviction of the need for a political push.
Thus: "Only when saints unite and work together will something happen for the country, because political parties pay little attention to people after coming to power."
And: "The aim of this sammelan is to push for building the Ram mandir. Because then in the forthcoming elections in Madhya Pradesh, Chhattisgarh and Rajasthan, the ruling governments will have a strong chance of winning."
The duo went to RSS schools and later attended VHP shakhas where they were taught of the need to "protect Hinduism".
They believe in their guru's dictum that one can discover divinity by serving the poor. They met him at a satsang (spiritual discourse) four years ago.
A sense of duty, to attend and organise, is instilled in them.
Says Bairagi, "If Mohan Bhagwat (the RSS chief) comes to a programme, we have to go and listen to him."
Both Bairagi and Raj Kumar come from middle-income families. Bairagi's father is a forest ranger, and he has two younger siblings and a mother at home. Raj Kumar's father is an assistant sub-inspector.
"His job is good, but the family is big," he smiles, adding that it includes his mother, two sisters and a brother. They graduated from colleges in Jabalpur and Bhopal under a state technology university.
During their brief time in Delhi, they have been impressed by the city and have formed a positive opinion of the AAP and its leader Arvind Kejriwal. "We want neither the BJP nor the Congress to come to power in Madhya Pradesh, but a new party and leader who is from among the people," says Bairagi.
Raj Kumar, a bespectacled man with an already receding hairline and beard, jokes, "Pehle thhe Diggy raja, abhi Shivraj mama. Mama khud hain ki hamein bana rahe hain, woh bhagwan jaane (Earlier there was Diggy Raja [former chief minister Digvijaya Singh], now Shivraj Uncle [current CM Shivraj Singh Chouhan]. Only God knows whether he is pulling a fast one on himself or us)."
More seriously, he says the sordid Vyapam scam involving government recruitment and admissions in educational institutions has ruined people's lives. With the BJP government at the Centre, too, Kumar says houses and toilets are being built, but there is no employment generation.
"I will vote NOTA next year," he says.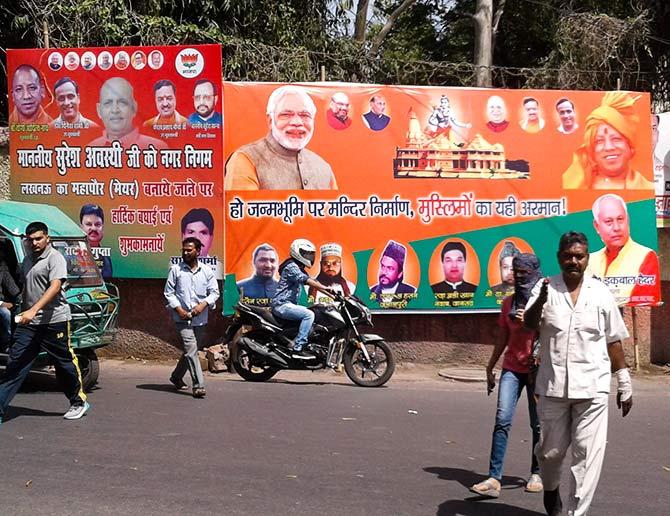 I lead the discussion back to the agenda of the day: The Ram temple. Raj Kumar suggests that a hospital be built rather than a temple. "There is no shortage of temples in India. But people don't visit them. Will they visit a Ram mandir? They will. As a formality," he asserts.
A discussion ensues between the two friends. Bairagi feels Ayodhya ought to mean for Hinduism what Mecca means to Islam. There should be no communal disharmony, he reasons, as it is bad for the economy and everyone stands to lose.
But, if a Statue of Unity could make it to the record books and instil pride, there is no harm in building another statue or a temple. Kumar agrees, "When the mandir is built, it will suppress Muslims, which is only fair. Their numbers are increasing."
Before rushing off, Bairagi fires a parting shot. "News will flash that there was a sammelan on the Ram mandir. Those believing in Hindutva will think Hindus are backing the BJP. So they will vote for the BJP."
I leave too, with a notebook full of quotable quotes. Did I receive answers? I'm not sure. Sometimes, it seems, questions lead only to more questions.