'Only when you see it, you will understand how bad the situation is.'
'The soil in the entire mountain range is soaked with water now and that uproots the trees.'
'It is frightening to see the way the soil drags down the trees with great force.'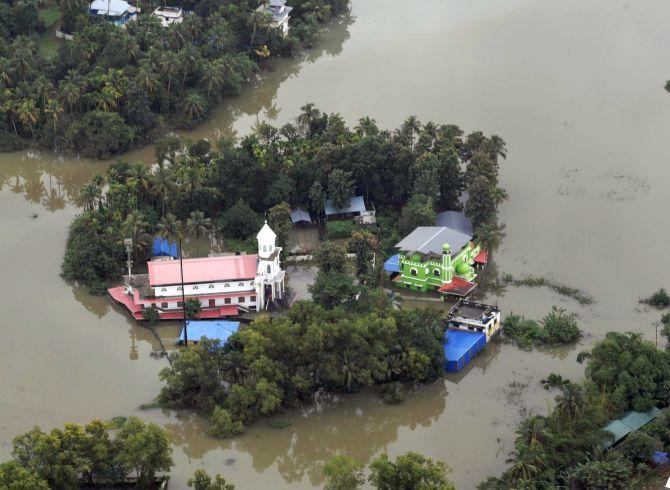 Idukki has been bearing the brunt of the south west monsoon from June onwards. But the intensity of rain reached mammoth proportions in the last couple of weeks.
From then started the sad plight of the entire state of Kerala.
After 26 years, the shutters of the Idukki dam were opened on August 10. Today lakhs of litres of water flow from the dam to the Periyar river. And there is no respite to the rains in the hilly region.
Every day, Nirmala Devi travels a distance of more than 60 kilometres from Thodupuzha to Idukki which is around 1900 feet above, to work in the revenue department of the Kerala government.
As the government staff were on duty even on August 15, because of the worsening situation, she had to report for duty on Independence Day.
While she -- along with her colleagues -- was on her way back to Thodupuzha, a landslide occurred and thus began her ordeal.
All of them had to stay in office in Idukki till Saturday, August 18, morning.
As Nirmala Devi and her colleagues make their way back through a very difficult route expecting to reach home by Saturday evening, she spoke to Rediff.com's Shobha Warrier.
I have been undertaking a one-and-a-half to two hour bus journey every day to Idukki from Thodupuzha even if it is raining heavily.
Some days, there are blockades on the road to the high ranges due to uprooted trees, but within minutes the fire force and the PWD department used to clear the road.
It had been a tough few months for all of us who travel such a distance every day, but the Idukki dam opening its shutters after 26 years was a kind of celebration for everyone as nobody had seen water gushing out of the dam before. All of us went from our office to see the spectacle.
Though August 15th was a holiday, we at the revenue department had to work because of the relief work we were undertaking.
So many of our male colleagues had to go to Munnar, Adimali etc on duty to the relief camps in these badly affected areas. They had to oversee the relief work there.
We thought we would head home by 4 in the evening as it was raining heavily. Around 30 to 40 of us from my office were going to Thodupuzha.
As our bus was coming down, we heard the news that there was a landslide just a couple of kilometres down.
The landslide was so bad that rocks and trees kept falling and we were told that it was just impossible to clear the road soon.
Soon, many landslides started occurring at various locations on the way. The collector ordered all the vehicles to halt so that there would not be any piling up on the road at night.
Soon a vehicle from the collectorate came to pick all us up as the collector wanted everyone to be at a safe place before it got really dark.
It so happened that we could not even reach the collectorate as there was another landslide on the way back. So, our vehicle along with all the other vehicles were taken to the nearest police camp.
There were at least 500 people that night at the police camp, all stranded due to the landslides.
Now how do we let our family know that we are safe? No mobile network worked. Then we found that one worked and we sent a message to Thodupuzha that there was nothing to worry and we were safe.
As they had a canteen, they provided kanji and pickles to all of us.
We were all huddled in the conference room and tried to sleep sitting on the chairs available.
As I had a shawl in my bag, I covered myself and tried to somehow endure the night.
Were we scared?
It is true that the furious sound of the strong winds and extremely heavy rain lashing outside scared us. It was also quite cold inside.
Day two morning. When there was a slight lull in the rain, a jeep came from the collectorate and took us all to the office.
The collector told all of us that there was no way we could go down as the entire route was blocked due to landslides and they had not been able to clear the road.
He told us that vehicles would be allowed to go only when the route was completely cleared. He wanted to take the maximum precaution and didn't want anything bad to happen to anyone on the way.
Unless there was 100% safety on the way, he would not allow any vehicle to go down, he said.
None of the people stranded there had a spare dress to wear. Luckily for me, I had kept a dress in my bag fearing getting wet in the heavy rains.
Day two was spent doing some work by helping the stranded tourists who were brought there. There were quite a large number of north Indian tourists rescued from various locations and now settled at the collectorate.
We had kanji and pulses again for lunch and dinner as rice was what was available and easy to cook for so many people.
By Thursday afternoon itself, we knew there was no way we could go back as there was unprecedented rains in the region.
At night, some of us went to our office which was quite close to the collectorate to sleep.
Though the collectorate has a generator, since there were more than 200 people there, everybody had to sleep on the floor and it was very, very, cold.
In our office, though there was no electricity, we kept a few tables together and wrapped ourselves in the blankets we gathered from the relief materials and tried to sleep.
Though we were all brave during the day, some of the women broke down at night.
To keep their morale high, we cracked jokes and made light of the situation.
Everyone was worried about the situation back home where they had left behind their children, old parents and family.
After comforting our disturbed colleagues, we tried to sleep for some time. It was difficult.
Day three dawned. They had made semiya upma as the north Indian tourists found it difficult to have kanji all the time. The resources were slowly diminishing and new stocks had not come.
We thought some of us women would be able to go back. We knew the main road still remained blocked.
Unfortunately, when they cleared one area, there would be another landslide close to it.
Only when you see it, you will understand how bad the situation is.
The soil in the entire mountain range is soaked with water now and that uproots the trees.
It is frightening to see the way the soil drags down the trees with great force.
If you are in its path, nothing can help you; you will just go down with it.
The emergency route cleared was over the Idukki dam via Vannathura up to Kattapana which they wanted to use to bring essential items.
Anyway, they saw to it that the tourists were sent back first. That meant we had to stay for one more day.
We spent one more cold night with candles giving us company.
There was not much laughter that night as even those of us who were brave till then were also a bit demoralised.
Day four. We got up with the hope that at least today, we would be able to go back home.
By 10.30 in the morning, we came to know that there would be an end to our four-day ordeal. Our jeep was to take the emergency route over the dam up to Kattapana.
I can only describe what we saw on the way as shockingly gruesome.
The road looked like a battlefield where nature fought a big war.
As we moved, we were breathless in fear and could not even utter a single word.
In fact, some of us cried seeing the sight. It took us an hour to cover a distance which normally would have taken just 10 minutes.
We now hope that we will be able to reach home by night.
This is the first time in our lives that we were witnessing rain of this magnitude. Old people say that something like this had happened a century ago.
What we personally went through started only this 15th and it is going to end soon.
There are so many people out there who are still battling the floods. We had had no such problem; we were only stranded.
What we went through is nothing compared to what lakhs of people are going through now.
There are so many people in various government departments who have been working relentlessly for many days.
What nobody knows is the kind of preparation they had done. Their work started from the time water started rising in the Idukki dam, expecting the worst.
Government officials went to each and every house and shop in the downstream, mainly at Cheruthoni where water from the Idukki dam reached first, making people aware of what was going to happen, and asking them to vacate the place. That was why not a single human life was lost.
So many people from the police, health, PWD, forest, revenue and collectorate have not rested for a minute. They are working without even a wink of sleep for many days.
It is easy to criticise, but everybody should realise there are hundreds and hundreds of people who are working selflessly, without expecting anything from anyone.