'The mandir-masjid issue led to a lot of blood, pain and anguish on both sides. It scarred this nation.'
'It is time to educate ourselves and move on.'
Archana Masih/Rediff.com speaks to young Muslims in Bihar.
Ismat Gufarana and Nargish Hussain, both 19, had just finished the computer and typing class they attend together before going to college at 11 am. First year graduation students, they attend college two to three times a month, but attend the computer class regularly.
It is not the college teachers's fault for their no-show, chime the girls in unison, but the students'. "Most of the students take admission from villages nearby and then find the distance too much to travel to college everyday while a majority of students from towns have moved to cities like Patna, Kolkata, Kota for higher education."
"Our friends who have left the town to study elsewhere tell us, 'If you want to pass competitive exams, you have to get out' because the existing standard of education and coaching in our town is below standard."
"No doubt there are better roads, electricity, the town got its first overbridge, an engineering college, even a few restaurants where we girls can celebrate birthday parties, but how do structures of concrete help the ordinary student who wants her exams to be held on time, results declared on time and institutes of higher learning?" asks Ismat, an English Honours student, who enrolled for an English speaking course but discontinued it because the teacher could not speak the language himself.
A medical college is in the anvil in the district, but Ismat, who draws kurta designs on paper sometimes, would have liked a National Institute of Fashion Technology instead. She is unable to pursue a course outside the town because it would cost the family an unaffordable Rs 30,000-Rs 40,000 a month.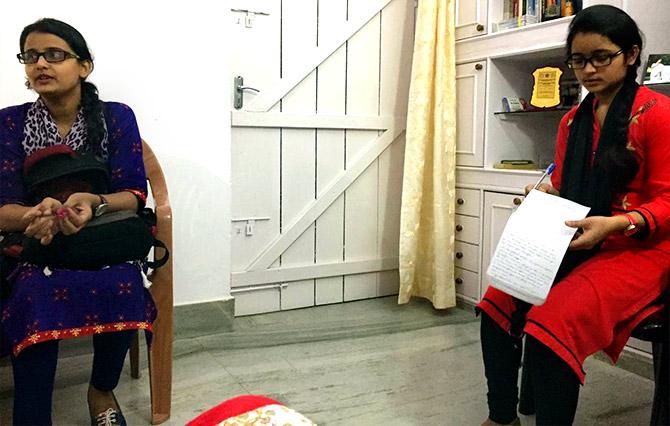 The girls are a group of four friends -- two Hindus, two Muslims -- and talk about starting a jewellery business together.
When they go out to the one restaurant in town where they particularly enjoy the chowmein, they order two plates at Rs 110 each and split it.
Everyday, the four girls go to computer class together. On Eid and Diwali, they go to each others's homes to celebrate.
"They come to our home, we go to theirs, but we never talk of politics. We know politics and religion will force you to take sides and will spoil our relationship," says Nargish.
Television news is turned on in the evening in the home when a somewhat different India shows itself.
"When we watch the news, we see a lot of Hindu versus Muslim discussion, but in our daily life we don't feel an Us vs Them," says Ismat.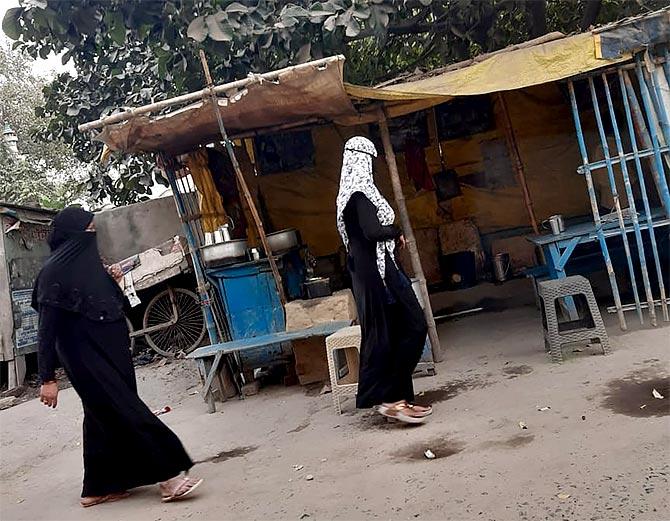 "Hindus and Muslims both live in our mohalla. More Hindus come home for Eid than Muslims," says Ismat, the daughter of a footwear shop-owner and the second of three siblings, who bought a form of Rs 1,500 for a Railways exam for D category jobs in March, but the date for the exam is yet to be declared.
D category jobs are meant for posts like announcers and ticket window staff, she informs you.
"I have never been made to feel Muslim, but I know from the news that there is a lot of discrimination in our country. Not only against Muslims, but against others too."
"If we have to be a country for all, we must make it equal for all."
The girls have never voted and will get the election identity cards made before the Bihar state assembly election next year.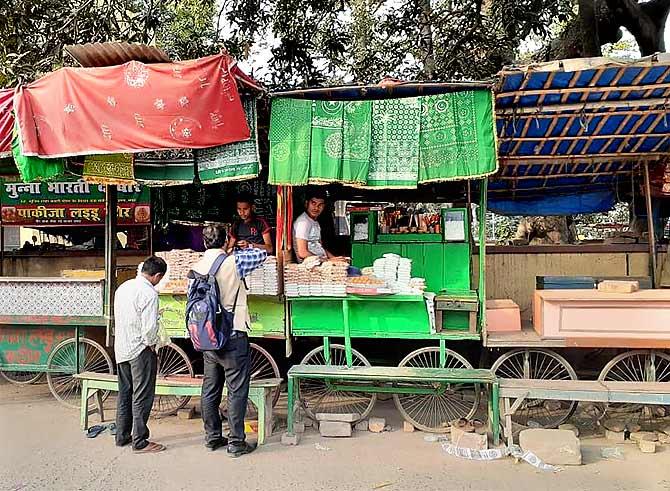 Their young minds and purveyors of thoughts are different from the nuances of an older person like 38-year-old Nadeem Ansari who feels on the surface Muslims and Hindus have a "well-well, fine-fine" relationship, but underneath they are both captives of their own ideology.
Mentioning the Ayodhya judgment, he asks, "It was a verdict, but was it justice?"
"For 30 years, the mandir-masjid issue was a tool for political exploitation. Now the mudda (issue) has come to an end by a court verdict and should be welcomed," he says.
"But we know that in time to come, the Hindutva lobby will bring up other disputed sites where they say temples have been destroyed to build mosques."
"What stops them from demanding that they want the Taj Mahal to build a temple?"
For now, according to him, young Muslims should pursue education as the only way forward and upward.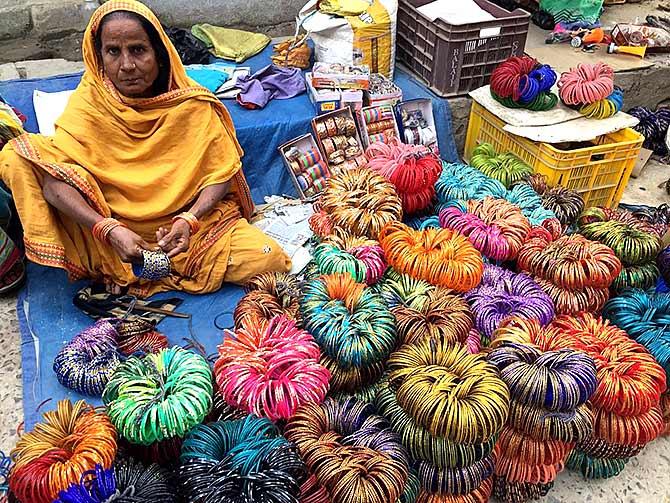 Ruing the lack of quality institutes started by Muslim philanthropists like Aligarh Muslim University and Jamia Milia Islamia, he feels young Muslims would serve the community better by obtaining jobs in government administration than as engineers and doctors.
"Muslims are at the end of queue. By being at a government post and by virtue of it being a Constitutional position, a Muslim can have a larger impact on the community."
"On the other hand, a doctor or engineer only helps the upliftment of one or two families."
Reiterating that Muslims have accepted the Ayodhya verdict, he says young Muslims born after the 1992 demolition realise that education is the armour they need to fend off discrimination.
"The mandir-masjid issue led to a lot of blood, pain and anguish on both sides. It scarred this nation. It is time to educate ourselves and move on."