9 MUST WATCH videos!
Videos: Afsar Dayatar/Rediff.com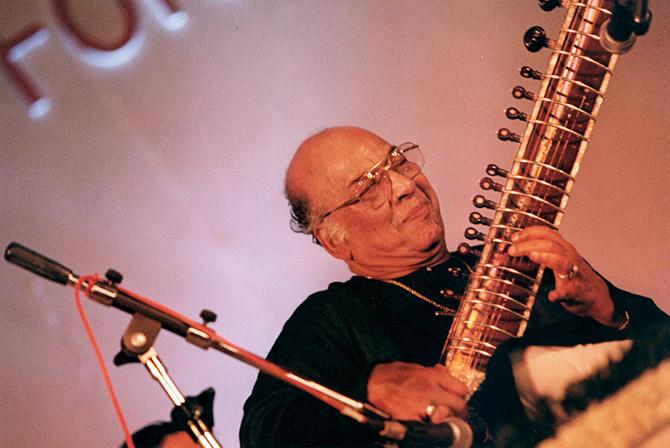 When you think of the classical greats, you think of gravitas, of hours of rigorous practice, of tremendous sacrifices and of the incredible magic they create through their music.
But behind all that are human beings, flawed, generous and full of the stories that have dotted their lives.
In her latest book, The Sixth String Of Vilayat Khan, which was launched in Mumbai last week, Namita Devidayal gently raises the curtain and lets us look into the life of the legendary sitarist.
She also looks at how his success was defined by that of another world-famous sitarist, Pandit Ravi Shankar.
At the book launch, Devidayal discussed the formidable Vilayat Khan, his relationship with Ravi Shankar and the failings that made the supremely talented Ustad human.
Glimpses from the event:
Was Ravi Shankar more popular than Vilayat Khan?
Why Vilayat Khan rejected the Padma awards
Vilayat Khan's backbone
When Vilayat Khan threw a party for his car...
The dark side of Vilayat Khan's life!
The difficult relationship between Vilayat Khan and his brother Imrat Khan
Vilayat Khan's controversial love story
Namita Devidayal reads from The Sixth String Of Vilayat Khan
A performance by Hidayat Husain Khan, Vilayat Khan's youngest son