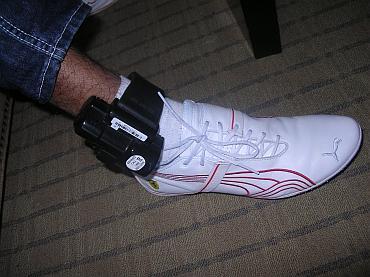 With American authorities cracking down on the Tri-Valley university, the students who studied there have been tagged with radio-transmitters to track them. Ritu Jha tracks their case.
American federal agents raided the Tri-Valley University in Pleasanton, California, and shut it down on January 19, 2011. The students too were hunted by Immigration and Customs Enforcement officers across the United States. At least a dozen Indian students were arrested.
The US attorney's office filed a complaint alleging that the Tri-Valley University was part of an effort to defraud, misuse visa permits, launder money and for other crimes. The complaint calls Tri-Valley a 'sham university' that Susan Xiao-Ping Su, the chief executive officer, and her associates used to help foreign nationals illegally acquire immigration status.
During the investigations, ICE reportedly found that 95 percent of the students in active status were Indian. It found the university had claimed that more than half of them lived at Apartment 55 on 555 East El Camino Real in Sunnyvale, California. The apartment manager reportedly told ICE agents that four students lived there from June 2007 to August 2009, and none thereafter.
Federal officials interrogated students who could be located. Rajshekhara Dasari, 28, a Tri-Valley University student, was held at the Butler County Jail in Ohio on behalf of ICE. The officials had reportedly gone seeking another student when they found Dasari there. He denied having any information about that student; the officials came back later and arrested him.
The Tri-Valley University had 1,555 active F-1 (student visa) students in the 2010 fall semester, during which it had an estimated revenue of $4.2 million. The authorities aim to make Su forfeit five properties, including the university building and properties in Pleasanton and Livermore in the San Francisco Bay Area.
ICE started investigating the Tri-Valley University case in May 2010. They allegedly set up sting operations to expose the fact that Su was willing to keep students on active status even though they were not attending classes at the university.

According to the report, each student paid $ 2,700 to maintain status and got 20 percent back for every new student referred. The students also allegedly got 5 percent of the fees of every student their referred students referred.

The university describes itself as a Christian higher education institution aiming to offer academic programmes in the context of the Christian faith. It offers academic programs in engineering, computer science, mechanical engineering, law, medicine, as well as a Masters Degree in Business Administration and other certificate programs. It also offers online courses and was licensed to operate in Pleasanton. California has a state religious exemption provision.
The Tri-Valley University was also authorised by the federal government to admit international students and to issue I-20s for those on student visas.
ICE says in its complaint that the university, which is not accredited, filed false papers stating that three accredited colleges agreed to give credits for credits earned at Tri-Valley. The Department of Homeland Security approved the university's application to enroll students and provide them with student visas. Federal officials say two of the three agreements from the accrediting colleges were false.
Many students have been arrested for misusing Curricular Practical Training, which the Tri-Valley University was offering to full-time students. "You cannot do the CPT full-time, as many of these students were doing," said Sheela Murthy of the Maryland-based Murthy Law Firm.
Many students are leaving or are in the process of being deported.
Virginia Kice, western regional communications director and spokesperson, ICE, said, "ICE is responsible for enforcing the nation's immigration and customs laws. If ICE encounters individuals during the course of an investigation who are found to be in violation of their immigration status, the agency will take follow-up action consistent with the agency's enforcement priorities… If someone is placed in deportation proceedings, they have full access to due process and an opportunity to seek legal relief from removal through the immigration courts."
ICE seems to be getting more aggressive and tougher by imposing bail bonds on students who they think did not abide with the law, though many students were released on recognisance (no need of bond money) until January 25.
Kice said ICE "carefully considers all aspects of the case, including the person's criminal and immigration history, their ties to the community and whether they represent a flight risk."
Dallas-based Akula & Associates is representing student issues on behalf of the American Telugu Association, which is trying to help the Tri-Valley students. Raj Akula, one of the founders of Akula & Associates, said that until January 27, the firm was aware of over 20 legal notices sent to Tri-Valley students, out of which at least 10 students had been detained across the US.
Akula said his firm had heard that most of the students issued notices were asked to post bonds of varied amounts ranging from $10,000 to $ 22,000.
"We posted a bond for one student for $ 22,000, thanks to the students' friends and family who helped him with the bond money," Akula said. "It is outrageous! We are aware of other students who need money to be bonded out. There are options to get a bond hearing to reduce the bond amount, but that means another three to four weeks of detention for these students."

Image: A Tri-Valley University student with the Intensive Supervision Appearance Program leg iron attached to his ankle. | Photo: Ritu Jha

Watch out for the second part in this series