'We use the word "historic" perhaps too much, but the prime minister's visit certainly was historic in so many ways.'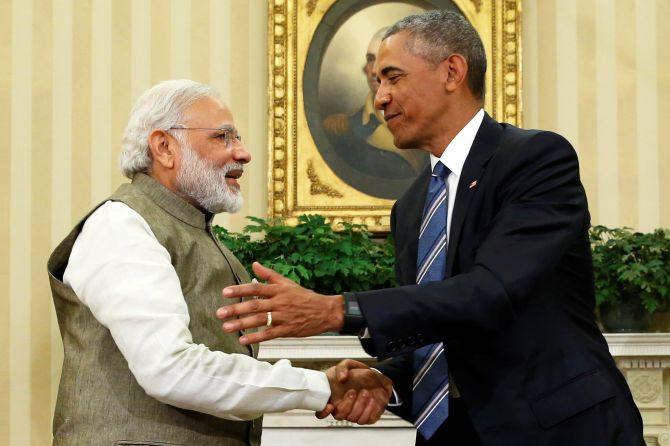 IMAGE: Prime Minister Narendra Modi and US President Barack Obama at their June 7, 2016 meeting in the Oval Office, The White House.
United States Ambassador to India Richard Rahul Verma addressed a conference on security and strategic outcomes, June 9.
The conference was organised by The Heritage Foundation, Washington, DC, and the India Foundation, New Delhi, which is headed by Shaurya Doval, whose father Ajit Doval is India's national security advisor.
This is what Verma, who began his speech thanking Assistant Secretary of State for South and Central Asian Affairs Nisha Biswal and Indian Ambassador to the US Arun Singh, said:
It's good to be back in Washington for Prime Minister (Narendra) Modi's historic visit and to have this opportunity to reconnect with so many close friends. Selfishly for me, it's a welcome reprieve from the Delhi heat -- the temperature there today is 107 degrees (Fahrenheit)!
Let me also thank the Heritage Foundation, including Walter Lohman and Lisa Curtis, for organising today's event. For many years Heritage has been at the forefront of advancing US-India ties, maintaining the highest standards of intellectual rigour and scholarship. We very much appreciate all that you do.
This was a week I will not soon forget. We use the word 'historic' perhaps too much, but the prime minister's visit certainly was historic in so many ways. It was especially moving to see the address to Congress yesterday -- I started working in the House of Representatives when I was 18, and then spent several years working in the Senate.
I have great respect for the institution and it was fitting that the prime minister called our legislative branch a 'temple of democracy.' I also thought it was especially poignant that the prime minister quoted President Lincoln to remind us, during what can at times be a divisive political season, that our nation was 'conceived in liberty and dedicated to the proposition that all men are created equal.'
As my fellow speakers have noted, we are witnessing a transformative moment in the US-India security partnership. Our growing partnership across the domains is underpinned by a shared strategic vision between our two nations in the Indo-Pacific region. Under the stewardship of Defence Secretary (Ashton) Carter and (Indian Defence) Minister (Manohar) Parrikar -- two exceptional champions of this partnership -- defence sales, exchanges, exercises, and technology sharing have reached unprecedented levels.
Beyond defence, our cooperation is enhancing security in every sense of the word -- from environment and energy to cyber and counterterrorism. Today, I'd like to discuss how we got here and what this growing security partnership means for our two nations.
But perhaps it's best to start with the prime minister's own words yesterday. He, of course, referred to the United States and India as 'natural allies' and, like President (Barack) Obama, called our ties 'the defining partnership of the 21st century.' He rightfully noted that we have overcome the 'hesitations of history' becoming 'indispensable partners'.
But the key line for me, and one that reflects how far we've come was when he said 'a stronger and prosperous India is in America's strategic interest.' It is this belief that now forms the basis for so much of our cooperation.
It frees us from thinking about transactions, and it moves us to thinking bigger, with an India that leads on the world's stage, that remains a net provider of security, and, perhaps most importantly, a powerful force for democratic values and the rule of law.
IMAGE: Ships from the Indian navy, Japan Maritime Self Defence Force and US Navy get into formation for a gunnery live-fire exercise as part of Malabar 2015.
Defence Cooperation
With that framework in mind, let me start with defence cooperation, and recount a small gathering that took place about an hour from here in July 1992. With the Cold War at an end, a group of Indian and American officials met at the Airlie conference centre in Virginia to discuss how to improve US-India defence cooperation.
One of the proposals that emerged from the meeting was for a modest bilateral naval exercise, titled MALABAR. Few of the participants could have predicted the dramatic transformation of MALABAR -- and the larger US-India defence partnership -- over the coming two decades.
Today, MALABAR is a trilateral exercise, with regular participation from the Japan Maritime Self Defence Force. When our three naval forces gather next week for MALABAR 2016, it will be among our largest and most complex exercises to date. This year's MALABAR will feature a US aircraft carrier strike group and submarine, maritime patrol aircraft, Indian Navy divers and marine commandos, and a large variety of surface ships. For good measure, we'll also hold a tri-nation naval band performance!
I'm also proud to report that India is now a major defence partner of the United States, and the sharing of defence technologies with India is on par with our closest allies and partners. Yesterday (June 8), we finalised a logistics support agreement. As most of you know, this was in the works for some time -- credit must be shared with my four predecessors in Delhi!
We also signed a technical arrangement to share white shipping data, which will improve cooperation on maritime domain awareness, and an Information Exchange Annex under our Aircraft Carrier Working Group. This annex will further expand US support for India's carrier programme, one of the most exciting defence initiatives we currently have underway.
If the US aircraft carrier was a symbol that divided us in the early 1970s, it is now a powerful aspect of our cooperation that will unite us in the years ahead.
Counter Terrorism and Cyber
As democracies, India and the United States have a unique responsibility in the struggle against violent extremists who seek to harm our citizens.
Last week, I had the great privilege to sign an agreement with Indian Home Secretary (Rajiv) Mehrishi that will significantly expand exchanges of terrorist screening information. The Homeland Security Dialogue next month, one of our cabinet level engagements, will offer further opportunities to deepen counterterrorism cooperation.
In the cyber sphere, our two governments will finalise shortly a joint framework that further reinforces our commitment to an open and secure internet and combatting cyber threats. These shared principles will help protect the rights of our citizens and the security of our two nations.
As of this month, India and the United States are respectively the world's second and third largest internet users. When two democracies, representing more than 600 million internet users, come together to articulate a common vision for cyber norms, it sends a powerful signal to those who seek to use cyberspace for malicious purposes.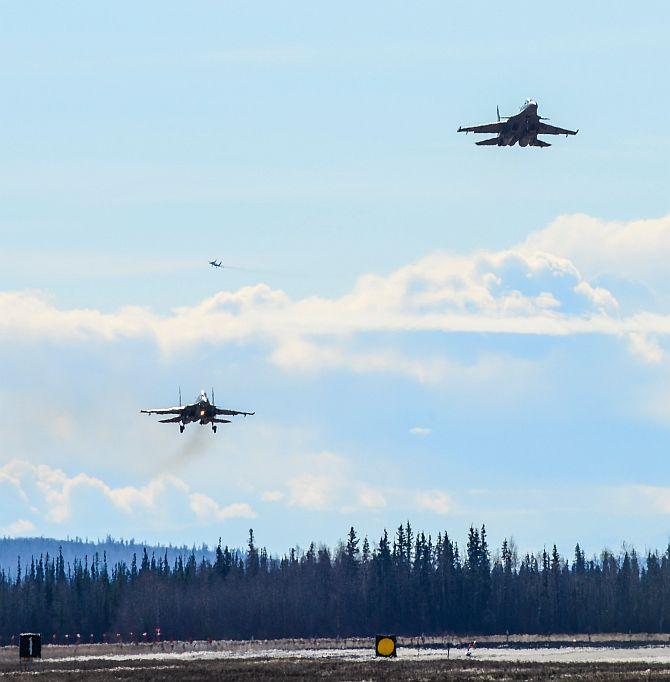 IMAGE: Indian Air Force Su-30MKI fighter aircraft prepare to land at the Eielson Air Force Base, Alaska. India and the US conduct more military exercises together than aniother other two nations. Photograph: Staff Sergeantt Joshua Turner/US Air Force
Beyond Defence: India as a Total Security Partner
These initiatives are expanding our security cooperation in the traditional sense, but let's examine the larger picture. The 21st century is increasingly defined by a new security paradigm, one that includes cyber threats, environmental degradation, climate change, disease, resource scarcity, and other non-conventional challenges.

Against this complicated security landscape, we must deepen cooperation with India across all security domains -- air, space, cyber, and maritime, but also across economic and political domains as well. And we are doing exactly that.

To put it simply, India is a total security partner.
Both of our nations recognise that without a strong economic partnership, our bilateral cooperation in other areas cannot reach its full potential. Our respective roles as security providers depend on our economic prowess.

That is why we continue to expand bilateral trade -- which reached a record $107 billion last year -- and deepen our economic ties.
But we can do more and we must continue to break down barriers to create opportunities for both of our peoples. For example, we are launching a new US-India Innovation Forum, a platform for American and Indian entrepreneurs to share best practices and foster innovation.

We are also working with the Indian government on continuing the reforms -- and some of these are politically difficult -- that will improve India's ranking in the Ease of Doing Business Index.
By continuing to remove barriers to trade and building an open and rules based trade architecture, the US and India can ensure economic security for our citizens and the world.

As Prime Minister Modi said this week, a democratic India can be a driver of the global economy. We couldn't agree more.
In the field of climate and clean energy, I continue to believe that this will be one of the single biggest opportunities for cooperation, and opportunities for growth, in the years ahead.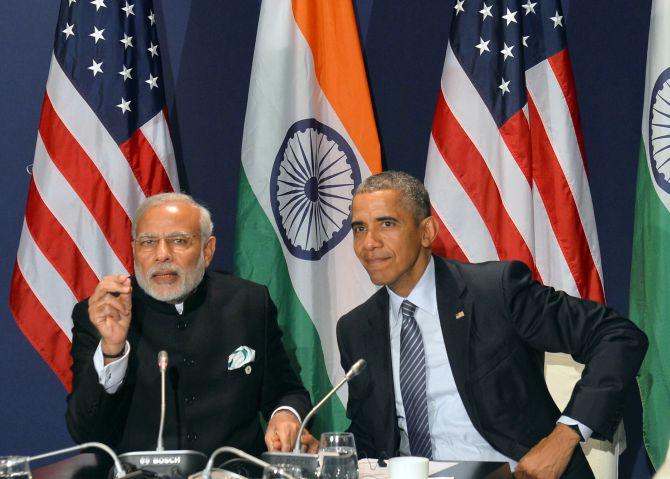 IMAGE: Prime Minister Modi and President Obama on the sidelines of the COP21 -- Climate Change -- Summit in Paris, November 30, 2015. Photograph: Press Information Bureau
Prime Minister Modi and President Obama clearly recognise the grave threat posed by climate change to our two nations and the world, and the importance of our two countries working together to combat this challenge.

At the same time, India has set some of the most ambitious renewable energy targets in the world. Hundreds of billions of dollars will be invested in the years ahead, and US companies are well positioned to lead the charge.
The United States and India once again demonstrated leadership this week by pledging early entry into force of the Paris climate agreement. We're also working together to phase down the use of hydro-fluorocarbonsunder the Montreal Protocol, in a transition that not only benefits the climate but also US companies with leading-edge technologies.
With the new commitments announced this week, and through the US-India Partnership to Advance Clean energy, we have mobilised over $2.5 billion for clean energy deployment.

Furthermore, the agreements reached between the Indian government and Westinghouse for the construction of six nuclear reactors mark a turning point in our civil nuclear cooperation. The deal, which would be enabled by the EXIM bank, aims to provide India with a dependable source of clean power, while supporting tens of thousands of jobs here in the United States.
Together, these efforts to protect the environment and advance clean energy will advance economic growth while strengtheningthe human security of millions around the globe.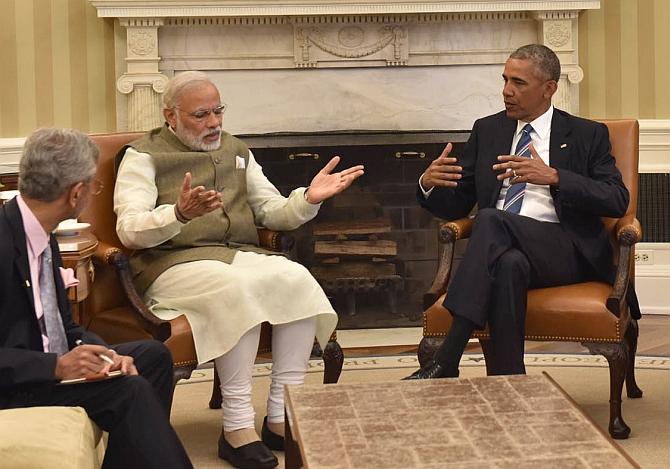 IMAGE: Prime Minister Modi and President Obama make their points as Foreign Secretary Subrahmanyam Jaishankar takes notes, June 7, 2016. Photograph: Press Information Bureau
Supporting Indian Leadership
Prime Minister Modi stated recently that 'India is no longer standing in a corner' on the world stage. The United States welcomes and shares the prime minister's vision.

We have made a clear and strategic choice to support India's transition to become, as Foreign Secretary (Subrahmanyam) Jaishankar has articulated, a leading power. Our actions, as security partners in every sense of the word, speak to this endeavour.
We envision India as a leading power that can uphold international norms and support what Defence Secretary Carter called last week a 'principled security network' in Asia.

A leading power that can grow its economy while at the same time demonstrating global leadership on clean energy and climate. And a leading power that joins like-minded partners to safeguard the global commons.
Realising this vision will require diligent work on part of the bureaucracies in both Washington and Delhi and resilience to overcome obstacles that may arise.

Let us keep at it and work toward realising the full promise and potential of this partnership.

As the prime minister said yesterday, 'the need of the hour is for us to deepen our security cooperation' because ultimately it is our work together that can 'build a bridge to a more united, humane and prosperous world.' That's a goal to strive for. Thank you very much.