'We Indians have forgotten what is good for us. Foreigners say oats are good, so we say the same, arrey, we have oats since ages!'
'When I tell my mother we eat ragi biscuits, she says, "big deal, we used to eat it like sattu or porridge".'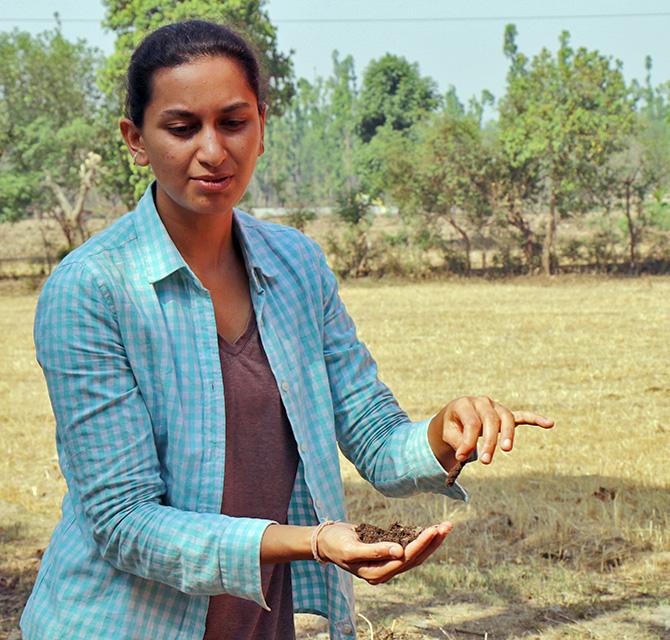 On the second leg of their 2,148 km journey from the foothills of the Himalayas to the Arabian Sea, Archana Masih and photographer Rajesh Karkera met Preeti Virkar on an organic farm in the Doon Valley. A believer of a different kind, her enthusiasm is infectious.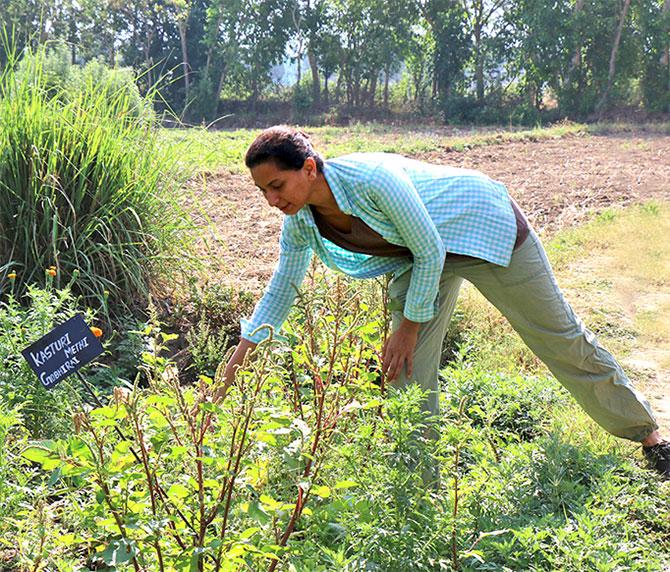 IMAGE: Preeti Virkar may not be strong enough to till the land with a plough and bullocks, but is going to work on her land in a few months.
Day 2: Navdanya Organic Farm. Ramgarh village, Doon Valley
"I am thin, but don't I look healthy and happy?" asks Preeti Virkar with a heartful laugh, standing on the farm opposite a mango-laden orchard called 'Amrapali'.
"After I finish my PhD, I am going home to do farming. In my region they only grow rice, but I want to grow vegetables."
On the outskirts of Dehradun is Ramgarh, a small village in the Doon Valley, home to a farm called Navdanya or 'Nine seeds.' A narrow kuccha road with a hand-made board that you may easily miss, ribbons past trees covered with mangoes that touch the ground.
Trees lie on either side of the road. There is no one in sight except a foreigner picking mangoes that have fallen on the ground, collecting them in his t-shirt. The wide branches hang tantalisingly low that you feel like climbing onto them.
It is a sight that brings alive memories of the summer holidays of childhood and what we are about to encounter is almost as simple and untouched.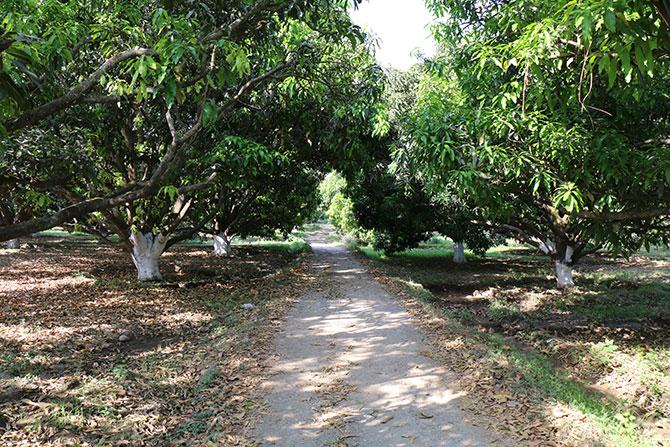 IMAGE: A road through the mango orchard leads to the farm. The Navdanya farm has a mango festival every summer.
Pretty bunches of dried ladies finger, millet, bottle brush hang artistically outside a thatched roof, that one would find at the entrance of rural homes in Kumaon and Garhwal.
Two newly born calves neck their mothers, a bunch of farmers are getting a course in farming, a group of foreigners is immersed in morning meditation under a thatched gazebo.
A man ploughs the field with two bullocks...
And then there's a room that stores perhaps the famer's most precious jewels -- seeds.
Preeti, who is about to finish a PhD in Entomology, tells me that if a small farmer has one cow, a patch of land and saves his own seeds he can cultivate his own land and sustain his family.
The Navdanya seed bank has 2,000 varieties of seeds. Farmers that come for training here are shown how to store them in cane baskets lined with a mixture of cow urine, dung and soil.
"It's simple, once you store seeds that way they will never get infected by pathogens. You don't need all those harmful chemicals," she says, taking us around the farm, in a weathered pair of sneakers.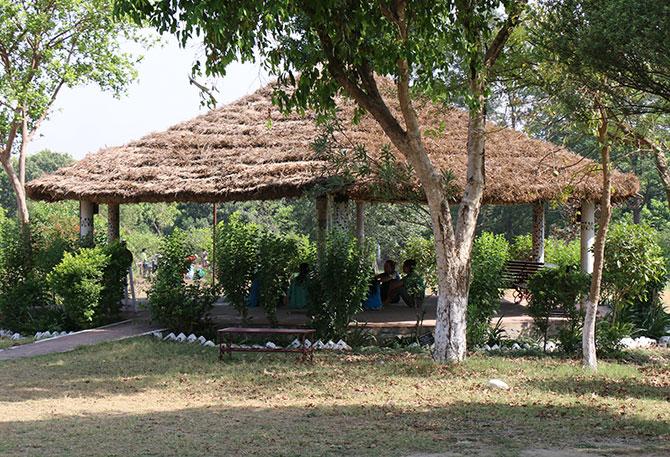 IMAGE: The gazebo where interns and farm residents gather to meditate, discuss or chat.
"We lost our traditional methods of farming to the Green Revolution. The thought was that you can't do farming without chemicals if you have to feed the masses, but what we were growing traditionally was so much healthier," explains Preeti.
Studying for a degree in wildlife science at Dehradun's Wildlife Institute, Preeti, a resident of Pune, first came to Navdanya as part of a study project. She then started giving sessions to interns here and joined full-time last June.
"The Green Revolution brought in mono culture. Organic farming on the other hand, has everything to do with diversity. Look around -- nature is so diverse -- have you seen a jungle with a single variety of trees?"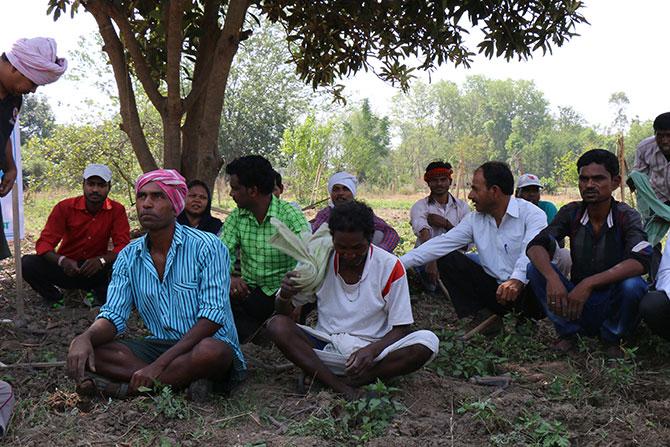 IMAGE: Farmers from Bihar, Jharkhand and Madhya Pradesh attend a 5-day workshop on organic farming.
A group of farmers from Bihar, Jharkhand and Madhya Pradesh, men and women, have just arrived for a five-day course in organic farming. It is still not 10 am and they are at work with cloth wrapped around their heads to protect them from the scorching sun.
Farmers and interns share and learn from each other. They live on the farm where they clean their rooms, wash their dishes and eat simple vegetarian food. The solution to wash dishes is made of reetha (soap nut), that is soaked in water to make a shampoo-like liquid that generations of Indian women have used for their hair.
The dining room has mementos left by farmers and visiting interns -- sculptures, paintings, baskets, lamp shades made of dried grass and leaves. Navdanya offers courses to interns/volunteers from around the world.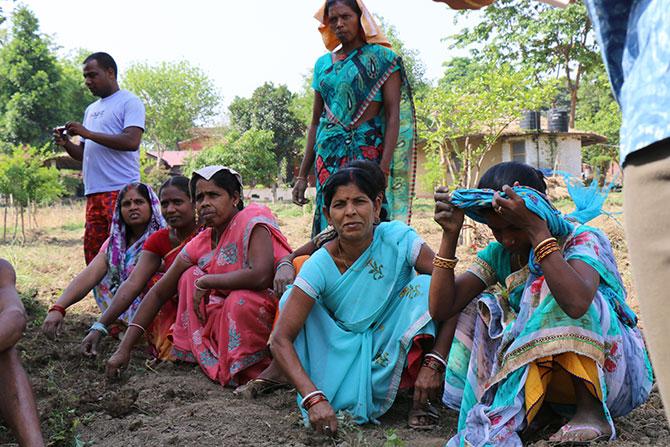 IMAGE: The group comprises representatives from food NGOs. Those who come for training live and eat on the premises, sharing their farming experiences.
Sushil Urao, a farmer from Gumla in Jharkhand, is among the group of farmers that has arrived to learn about organic farming. "Chemical fertillisers and seeds are very expensive and scarcity of water is our biggest problem," he says. "We have many rivers, but no water."
"The government's Krishi Vikas Yojana seems to have ignored farmers who don't have any land of their own," he adds.
The group consists of marginalised farmers who say something I had heard from farmers in Bihar last year while covering the state's assembly election.
"The subsidy that the government provides farmers does not directly reach us," says Saumya, echoing what farmers reeling under another drought in Bihar had said last October.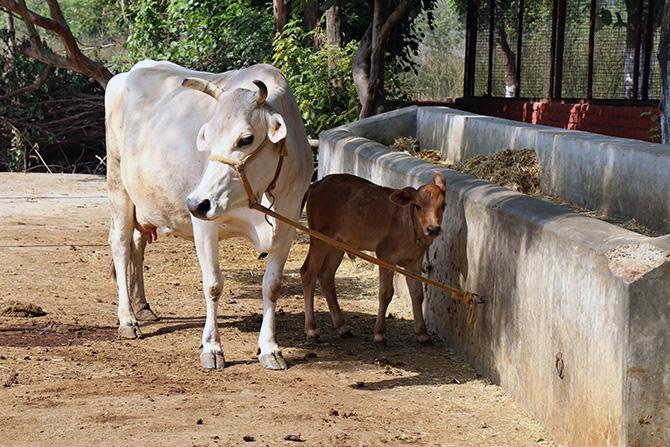 IMAGE: There are 37 varieties of cows in India. Cow urine is used for many purposes on the farm.
I walk away after gently being told that it is time for their shram daan and make my way past the family of pahadi cows.
I am told there are 37 varieties of cows in India. "And we are stuck with the Jersey (not native to India) cow because it gives more milk. These cows may produce less milk, but are drug resistant and provide good labour," says Preeti, caressing the vermi compost, with tiny earthworms wriggling in between her fingers.
The natural manure made from kitchen and farm waste looks like used tea leaves and is a wonderful nutrient for the soil.
Everything that comes from the 60 acre farm is recycled. Most of the food served comes from the farm itself. Navdanya has a staff of over 35, has 122 seed banks in 18 states and has a large community of farmer members.
The organic farm also serves as a model for small farmers -- so that a farmer with a tiny patch of land can see how to make best use of it.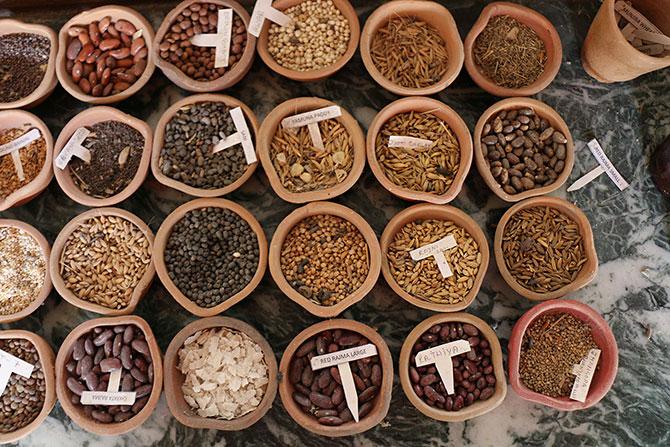 IMAGE: The Navdanya Organic Farm has 2,000 varieties of seeds, the most treasured asset of the farm.
Isn't organic farming harder and more expensive, I ask and I am told that it is at almost zero cost input as what a farmer doing chemical or intensive farming would incur, provided the organic farmer uses his own farm resources well.
Organic products are more expensive because they need a lot of hard work, cannot be grown out of season, but the flip side is that they have long term health benefits.
"Large companies have alienated us from what we actually grew. We have been doing organic farming since our civilisation began," says Preeti with passionate zeal, speaking with the infectious enthusiasm of a believer.
Indians are not eating a proper diet because we have forgotten what is good and that is resulting in either malnutrition or obesity, she feels.
"Foreigners say oats are good, so we say the same, arrey, we have oats since ages! When I tell my mother we have ragi biscuits, she says, 'big deal, we used to eat it like sattu or porridge'."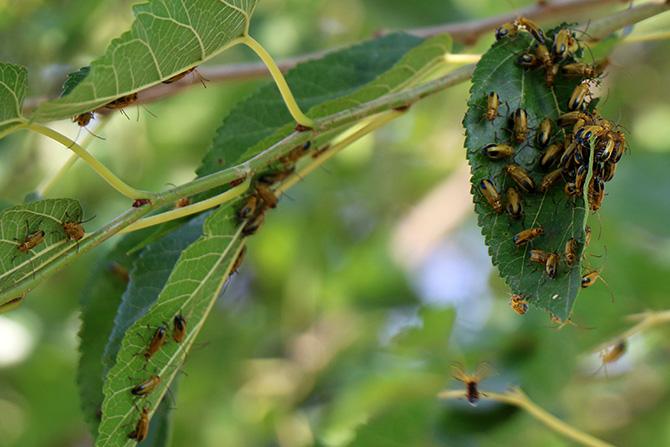 IMAGE: These are what jugnus or fire flies look like! And that's a shahtoot (mulberry) tree.
Dehradun's famous Basmati rice fields and litchi orchards have made way for jungles of concrete. Memories of its trees, flowers and birds can be found in Ruskin Bond's stories, and we owe it to that chronicler of the hills for preserving snatches of what life used to be in these parts at another time.
Just then we cross a mulberry tree with insects crawling on its branches. "See, see, these are male jugnus (fire flies). They are roosting together," exclaims Preeti, pulling down a fire fly to give us a closer look.
And I wonder what a brilliant cluster of light it would have been if it was night.