'I was never a politically active student throughout my life. But now I have to do it because they (those in power) are not listening.'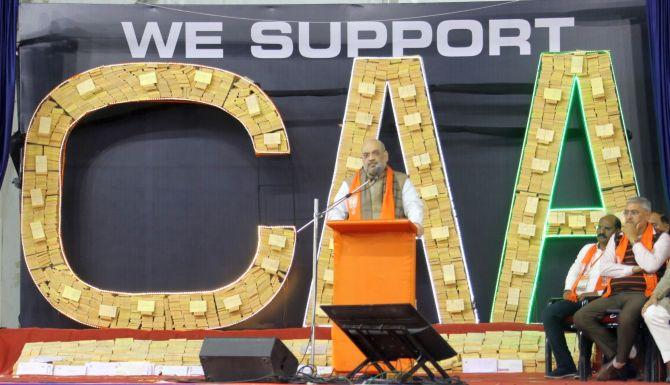 When advocate Surya Rajappan (pictured, below) and her flatmate in New Delhi's Lajpat Nagar area unfurled a banner and shouted 'We reject CAA', little did they think about the amount of attention this would bring them.
Living their lives, going about their chores, the two young women -- Surya declines to divulge her flatmate's name for safety reasons -- have made a mark as Indians who took on Union Home Minister Amit Anilchandra Shah.
Surya, who was not politically active before this incident, says what she did was her duty as a citizen of a free and democratic country, that she holds abiding faith in the Constitution and has no regret about doing what she did.
Surya tells Prasanna D Zore/Rediff.com about her ordeal since Sunday, January 5, when she was hounded by a mob who threatened the two women with violence.
---
This is something I would have never imagined that I would do in my life.
We had been protesting against the CAA (Citizenship (Amendment) Act) when we found that morning that Mr Amit Shah was coming to our neighbourhood (Lajpat Nagar in Delhi).
When we saw the security deployment we decided it was a never again chance and we had to register our protest against the CAA.
We weren't planning to raise slogans. It wasn't part of our plan. We just thought of unfurling the banner and let it be there.
We wanted him (Amit Anilchandra Shah) to see the banner, but nobody (from the group accompanying the home minister) was looking up.
We wanted to draw Amit (Anilchandra) Shah's attention to the banner. Nobody gets an opportunity like this and we had that opportunity.
The thought that it was just the two of us doing this did not even cross my mind. We have been going to different protests in Delhi against the CAA and NRC (National Register of Citizens), so it was not like we were the only ones protesting on that day.
After the incident, so many people from Lajpat Nagar messaged me, saying they were grateful to us for what we did.
The amount of overwhelming support that we have received since then from across Delhi and India -- but not so much from the same locality because it is a BJP stronghold -- is very heartwarming.
Mr Shah visited like eight houses that day in the area and all of them were pre-determined houses (supporters of CAA), obviously for security concerns. But they were pre-determined to prove that people support CAA.
They wanted to create this narrative that logon ko problem nahi hai (that people support the CAA) and the protesters are a misinformed bunch of students who are waylaid by politicians for their own gains.
Nobody would have given much importance to what happened, but for the media that was covering the march and the reaction of the mob that threatened to assault us.
On Minister Shah's reaction after their sloganeering
He did not react at all or look up at us. He just kept walking forward. We were shouting slogans from the third floor balcony of our house.
I can say for sure that Mr Shah heard our sloganeering. He was right below our house and I was really loud. Everyone else heard us.
I don't think he was expecting a protest like this and was caught unawares.
Any regrets?
Of course not! We didn't even regret it when we were being attacked and there was a mob outside our house.
The abuses they heaped on us, the language they used while talking to us didn't scare us at all or make us regret what we did.
I wanted to engage with Mr Shah -- who went the same way on his return journey -- but since he walked away and a part of the crowd started abusing us angrily we engaged into a conversation with them. I was replying to their questions.
I saw Mr Shah walking away and then the mob was at our door.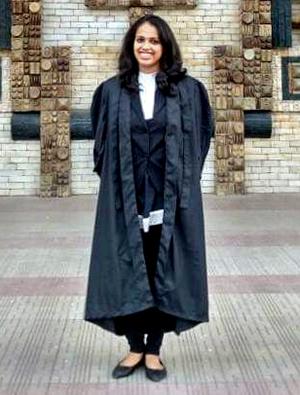 On Minister Shah being a responsible leader, holding Constitutional office
I don't consider him a 'responsible' leader even though he holds Constitutional office.
As India's home minister he should have discouraged the mob from doing what they did.
All one has to do as the home minister or as prime minister -- and not just them, but all the functionaries of the Bharatiya Janata Party and the government -- all they have to do is engage in dialogue (with the protesters).
Tum humse aake baat karo yaar agar tumko lagta hai ke hum misinformed hai; agar hum bachche hai toh humse baat karo na (If you think we are misinformed and are just kids who have no idea about the CAA, then come and talk to us).
We shouted the slogans to attract their attention to the fact that they must strike a dialogue with us.
We also knew for sure that Mr Shah will not hold a dialogue with us at that point of time, but the message that I wanted was that if you think we are wrong, then engage with us in a dialogue.
We are common citizen of India and we have a right to protest peacefully.
If they believe that students are being instigated by their political opponents or the Congress party, then they are wrong to perceive students as stupid and so impressionable that they will fall prey to the designs of politicians.
And even if you think that other Opposition parties are doing it, then please counter them; you spread your own information, but engage in dialogue.
It's a democracy. And if a certain population -- even if it's not like 50% of the population, it doesn't have to be 50% of the population -- even if it's 1% or 2% of India's population, you must engage in a dialogue with them.
Look at what is happening around the country; these are not isolated protests. These protests have been on for more than one month and will continue for many more. Even then you don't think it is important to have a dialogue with the students, then what can we say?
On protesting the same way again
I don't think I have to protest in the exact way again, but if you are asking me if I will protest, then the answer is yes, I will continue to protest.
On feeling secure in Delhi as a woman after being intimidated by a mob
Delhi is my home. I've lived in Delhi all my life and I will continue to live here until the time that I decide I no longer want to live here.
Delhi is infamous for a lot of things, but I have always felt safe in Delhi because I'm privileged, because I know my rights, because I know that I am not alone.
I know what recourse I can take, so I know I can be safe in Delhi. However, I will take all the precautions after the incident has become so viral.
I don't feel insecure, but we are concerned and that's why we taking precautions.
On the precautions they are taking
People don't know where we are living. This incident happened last Sunday and immediately the media wanted to talk to us. But we refused to talk to them because we didn't want to do anything at the spur of the moment then.
We did what we had to do. Now, we have to take care of ourselves. So, we didn't give out our names; people don't have our names and numbers.
JNU happened that evening, which obviously was a much bigger issue and needed to be covered. So that gave us some breathing space to prepare our entire statement (external link).
I didn't do it on my own. About six lawyers, including myself, worked on our statement. It was a very well-thought out statement, which is why I want people to read that statement and then ask me any further questions that they have.
It was a conscious decision to let my flatmate remain anonymous. Whatever information people are sharing on social media about her is incorrect. It is necessary to take these kinds of precautions now.
On being courageous... On expecting trouble
I don't need courage to do what I did. I am a citizen of a free and democratic country. You can't call what we did as being courageous to stand up to Amit (Anilchandra) Shah.
I had made arrangements that if something goes wrong we had contacts who could come to help us.
Obviously, given the times we are living in, we were expecting trouble. But we didn't expect it to blow up this way.
I never expected I would have the opportunity to have my voice heard by so many people across the country.
Now, protests are more of a responsibility for me. I know I have that platform and I have to use that platform judiciously.
In all my interviews, I have categorically said that I don't care about the BJP or the government or Mr Shah; I don't care about them. They can't shake my faith in our country's Constitution.
I was never a politically active student throughout my life. But now I have to do it because they (those in power) are not listening.