IMAGE: Ashwini Bhide, Managing Director, Mumbai Metro Rail Corporation Limited. Photograph: Afsar Daytar/Rediff.com
From being someone who feared travelling by Mumbai's suburban trains to heading the project that may change the way the city commutes, Ashwini Bhide has come a long way.
Syed Firdaus Ashraf/Rediff.com meets the Managing Director, Mumbai Metro Rail Corporation.
As a merit holder in school from her home town Sangli in western Maharashtra, Ashwini Bhide had traveled to Mumbai 30 years ago, in 1985, to attend a ceremony to felicitate her.
That was the first time she took a Mumbai local and experienced first hand what it was like travelling in the city's 'crush hour.'
"I could not travel in the train without the help of my Mumbai relatives. To see so many people boarding the train put the fear in my mind about local trains," she recalls.
Thirty years later, Bhide heads one of the city's most ambitious transport projects. She heads the Metro 3 project which will be a complete underground network.
Managing director, Mumbai Metro Rail Corporation Limited, with a team of 150 people, Bhide intends to complete the project in the next five years. Work begins in 2016. The cost of the project estimated in 2011 was Rs 23,137 crore (Rs 231.37 billion).
Metro 3 will connect Cuffe Parade at the southern tip of Mumbai to the SEEPZ area in suburban north-west Andheri.
The metro line will be 33.5 kilometres long. It will take an hour to reach SEEPZ from Colaba. There will be 27 underground stations (Please check map).
"In 1985," says Bhide, "the local train ride bothered me. Today I feel happy to lead this metro project."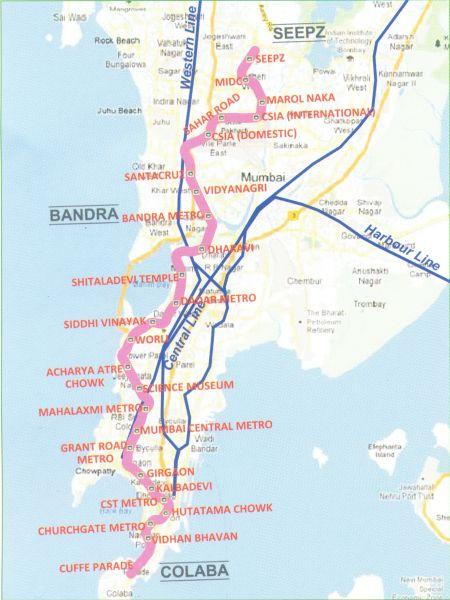 IMAGE: The proposed Metro 3 line in pink. The existing local trains routes are in blue.
Mumbai at present has a single metro line -- the Versova-Andheri-Ghatkopar metro project which commenced operations on June 8, 2014.
The second proposed Mumbai metro line is the Dahisar-Charkop-Bandra-Mankhurd line which is has been in the planning stage for the past six years.
Since the Hornby Vellard project initiated by the then governor of Bombay William Hornby to join the city's seven islands in 1782 not much has been thought of the city's infrastructure.
Bombay did develop into India's commercial capital under the British, but post Independence the city has seen infrastructural chaos due to ill planning and governmental myopia.
"At present 65 lakh (6.5 million) people travel by local trains in Mumbai," says Bhide. "We hope to see 14 lakh (1.4 million) people travel by the Metro 3 project. The burden on the Indian Railways will be reduced by 20 per cent at least."
So will Mumbai be dug up for the next five years till the Metro work is complete? "We are not digging up the entire city," says Bhide. "Once you start the tunnel boring machine beneath the ground and start working, there won't be any disturbance to the city. The work will go on without people coming to know about it."
"However," she adds on a cautionary note, "There will be stations after every one kilometre. Those stations are under the roads because we are following the road alignment. So, every one kilometre there would be some disturbance. But we will not dig everything at one go. It would have to be done in batches and phases."
In terms of connectivity, six business districts -- Nariman Point, Cuffe Parade, Fort, Lower Parel, the Bandra-Kurla Complex and SEEPZ -- will be linked in addition to the domestic and international terminals at Mumbai airport.
"In the monsoon we will have a dewatering mechanism," says Bhide. "Contractors are aware how to take care of it and we will not stop work in the monsoon. We have shared our plan with all the 27 utility agencies and we have a proper plan for them too."
The Metro 3 Web site (external link) will be active and connect with the public via social media.
Compensation for residents affected by the project and cutting of trees at the Aarey milk colony were one of the major concerns raised against the metro project, but Bhide dismisses these issues.
"The Metro car shed will be shifted to Kanjurmarg and we will have a small facility at Aarey," she says.
"Except Girgaon and Kalbadevi (in south Mumbai) all other places (compensation) issues have been sorted out," says Bhide. "We require very little private land. We need 0.55 hectares of private land on a permanent basis. Another 3 hectares private land on a temporary basis for three-and-a-half years, we will take only when we require it. We will give it back to the owners. They are required for the entry and exits of the stations."
"We will offer proper compensation," she adds. "In Girgaon and Kalbadevi, some residents are still not ready. We have appointed special consultants who are talking to them to see how they can be rehabilitated."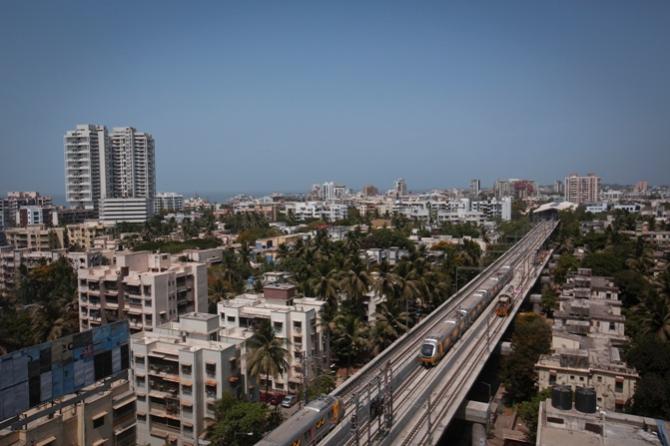 IMAGE: The Mumbai Metro phase 1, that is operational.
Bhide is confident she will complete the project on time. "I have handled big ticket infra projects which changed the face of Mumbai -- the Eastern Express Freeway, the Sahar Elevated Road connecting the international airport. Many flyovers and the monorail phase 1. I completed all the projects on time."
"When the Maharashtra government appointed me as MD for the Mumbai metro rail, I knew what kind of challenges existed and how to overcome them."
"The London tube is a 400 kilometre network," Bhide points out. "In Seoul, they have a 900 kilometre network. In China every city they build has 500 kilometres of metro network. In the next three years Delhi will have 400 kilometres of metro network. Our metro is only 33.5 kilometres in length which will connect all the business districts of Mumbai."