Nikhil Lakshman remembers the times he spent with the legendary writer who passed into the ages six days before his 86th birthday.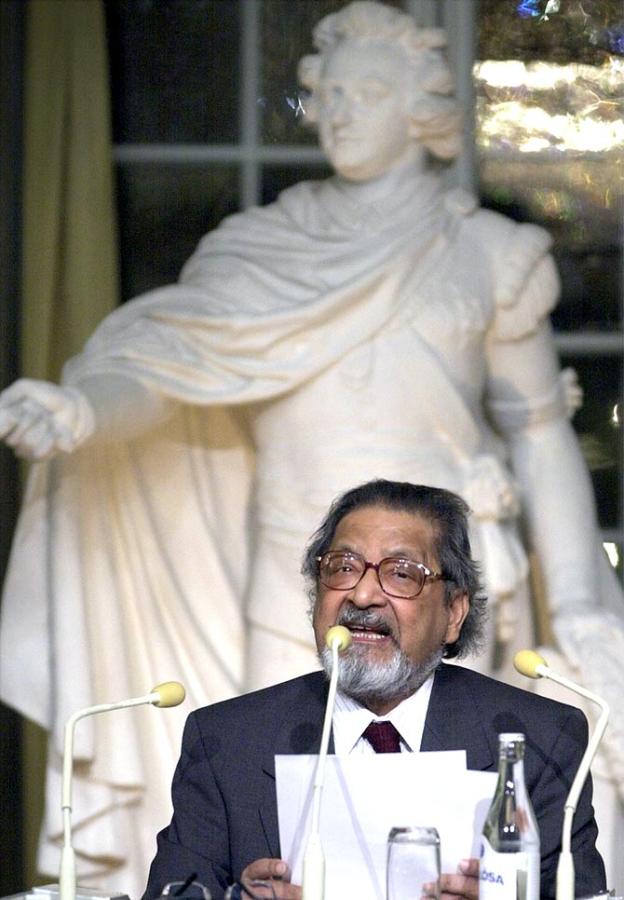 "Niikhiiil!" Mr Nandy beckoned from his cabin door.
At the Weekly -- The Illustrated Weekly of India, Asia's oldest weekly and inarguably its finest, sadly dead these past 26 years -- the tone of an editorial summons indicated what lay in store.
"Nikhil!!!" meant much drama about how one's editorial lapses had destroyed the editor's reputation, perhaps forever.
"Niikhiiil!," on the other end, promised levity, maybe even the chance of going home before midnight.
"Naipaul is in Bombay," Mr Nandy said without looking up, marking requests from other editors. In addition to editing the Weekly and Filmfare, Mr Nandy was also the Times of India's publishing director, the overseer of the group's many magazines at that time.
"Why don't you go, see him?"
"Me?" I gulped.
"The bugger wants to see me," Mr Nandy said, approving some request with his elaborately florid signature, "but I don't have the time."
"He is writing a book on India, and wants some help. He has been a subscriber of the Weekly since the sixties," making it clear that I was to be his envoy.
With understandable trepidation, I called Mr Naipaul's room at the Taj and stuttered my way to setting up a meeting at 3 the next afternoon.
I arrived at the Taj well before 3, waiting anxiously for the lift doors to open and the writer with the famously low threshold for fools to emerge.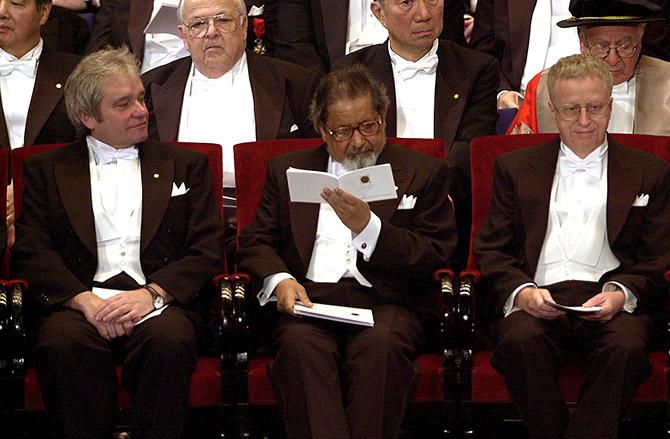 Vidhiadhar Surajparsad Naipaul was a trim, precise of speech, gentleman dressed in a jacket I came to know well, with a manner so charming and genteel that it betrayed the acerbic reputation that preceded him wherever he went.
He outlined what he planned to do in his third book on India -- from what I gathered, a less critical look at the country of his ancestors than An Area of Darkness and A Wounded Civilisation -- and the kind of people he hoped to meet.
I may have mentioned Ratan Tata and Aditya Birla, both names he rejected instantly with a shake of the head, his face momentarily erupting into a rash of irritation.
He wanted to speak to ordinary people whose lives had acquired a trajectory, the momentum of whose existence had taken them on a different route from their fathers'.
I mentioned a classmate from school who was now a successful stockbroker. Mr Naipaul seemed pleased with the choice, and the meeting at the stocbroker's office on Dalal Street went well. His story opens India, A Million Mutinies.
Like most people interviewed for the book, my old friend appears under another name, a choice Mr Naipaul offered each interviewee.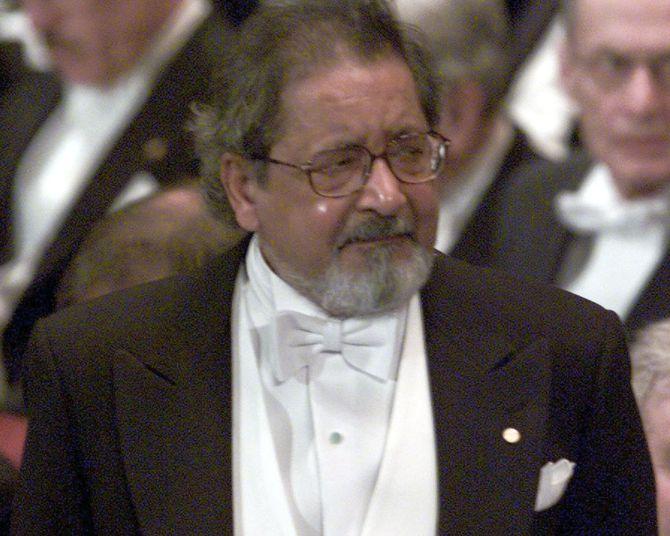 When I called Mr Naipaul next, he sounded pleased and thus began my brief role as one of his Bombay sherpas for his Indian literary expedition.
A few days later, we set out to meet H V Nathan, then the Congress politician Murli Deora's executive assistant.
As soon as I made the introductions, Mr Nathan -- erudite and gregarious -- startled Mr Naipaul by informing him that they had met before.
"In Calcutta, in 1962," Mr Nathan said, adding, "You had come with Mrs Naipaul," at whose mention the writer seemed to freeze.
Mr Nathan used to work as personal secretary for a Bata executive in Calcutta (some years later, he told me the executive's name and mentioned how he used to take the man's eldest son shopping for books -- a child we now know as Vikram Seth).
Mr Naipaul liked Mr Nathan's story very much and they agreed to meet again, this time at the Cricket Club of India close to Mr Nathan's office.
Mr Nathan is one of only two people who gets a full chapter to himself in Mutinies.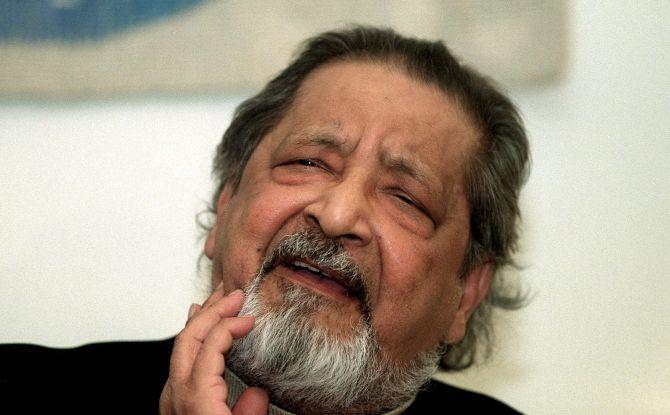 A colleague at the Weekly, Madan 'Nandu' Patil had a brother who was a Shiv Sena pramukh, and Mr Naipaul wanted to meet him.
No, he didn't want Nandu's brother to come to the city to meet him. He wanted to travel to Thane where the Patils lived and meet the Sainik at the modest family home.
So one Sunday morning we set out for Thane by the Central Railway.
Before we left, I met Margaret, his companion at that time. She was Argentinean though she had an English sounding name, Margaret Gooding (which I discovered only years later when search engines arrived).
Unlike me or others in his presence, Margaret was undaunted by Mr Naipaul.
"Don't you let him bully you," she said, "Vidia is a big bully."
Mr Naipaul appeared not to hear what she said, putting on his hat, indicating that we should leave for Thane.
That morning before I set out from my Andheri, north west Bombay, home, I had asked my father for some money.
"What for?" the pater asked.
This was, folks, in another time when 29 year olds had their funds disbursed by watchful parents.
"I am going out with Mr Naipaul," I said.
"So?"
"I may have to buy first class tickets."
"He is a big man," my dad insisted, "He will do all the spending."
He then relented and gave me Rs 800 for the day.
I was right. I had to buy Mr Naipaul's tickets.
Everywhere we went, I did the spending. Vidia Naipaul was tight-fisted, a fact confirmed by Charudatta Deshpande, my late friend who also took Mr Naipaul around Bombay.
One late evening, as he interviewed 'Anwar' (in Mutinies) at a cramped eating house in Nagpada, central Bombay, I not only had to order plate after plate of gulab jamuns and sundry snacks each time the surly man at the counter threatened to evict us -- "Arre, woh chauthe table se hatao yaar, kitne der se baite hain (remove those people from the fourth table, they have been there for so long)" -- but also eat all of it.
Mr Naipaul refused to drink or eat anything outside the Taj -- he even turned down the bottle of lemonade which Anwar's father so thoughtfully offered him at their home earlier that evening.
When Anwar and Mr Naipaul stopped speaking some two hours later, I was sick with all the gulab jamuns I had eaten.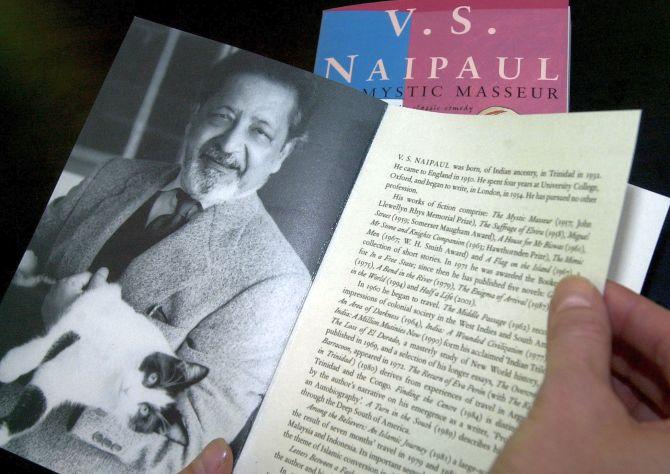 At Nandu's home, I glimpsed his meticulous reporting process. As I translated the back and forth from Marathi into English and vice versa, Mr Naipaul noted down every word Mr Patil the shakha pramukh, said.
His impressions, he told me on the train headed back to VT, he would add in the notes he would type up that evening.
"Won't you be tired?" I asked.
"That doesn't matter," he said, "If I don't write it all up tonight, everything will fade away."
His questioning was so painstaking and so precise that a priest he interviewed at a relative's home later inquired of his host what exam Mr Naipaul was appearing for!
I used the time on the train to inquire about many things -- sadly I didn't take notes of our conversation that November afternoon and most of what was said has been erased from memory -- but this much I remember (I paraphrase, of course):
His impressions of other writers from his native Trinidad (Derek Wolcott, C L R James and his own brother Shiva Naipaul): Dismissive.
Magic realism: The reality of Latin America is complex and dire. You need realism to tell that story, not fantasy.
Everything said was delivered in perfect prose -- often repeated multiple times for resonance -- impressions that could have leapt off the pages of his books.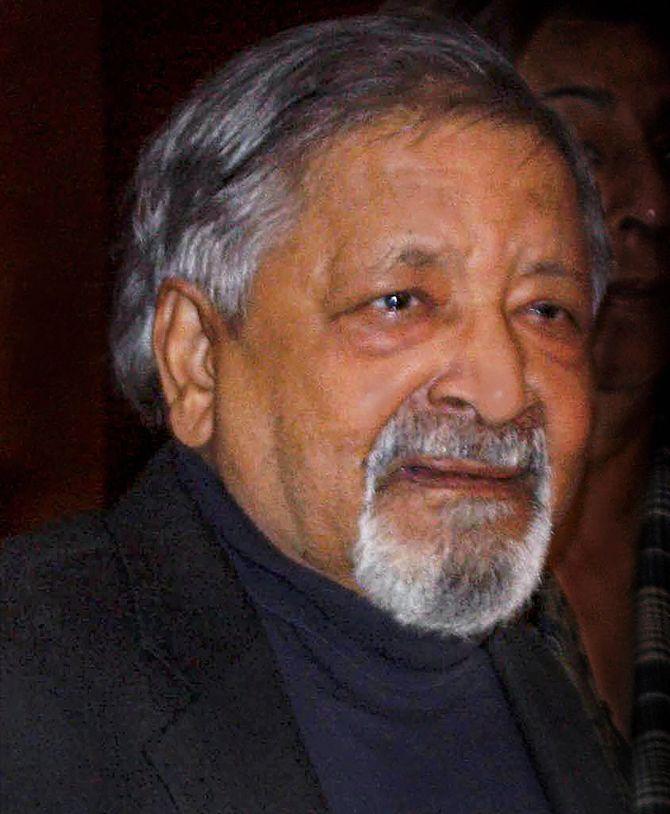 I even asked him about a story I had read in Esquire, of a young writer eager to confirm his impression that Ved Mehta, the Indian-American writer was not really blind -- given the texture of observations in his books -- going up to an Indian looking writer at a New York literary party and making faces at an impassive face.
'Ved Mehta is really blind!' the Esquire story recalled the young man telling his companion after he returned to her side, to which she replied, 'but why were you making faces at V S Naipaul?'
Mr Naipaul had not heard the story before, was unamused by it, and confirmed that such an incident had never occurred.
After we arrived at VT station, Mr Naipaul wanted his shoes polished.
As the shoeshine man made Mr Naipaul's shoes gleam, listening to our conversation, he turned to his mate and, looking Mr Naipaul up and down, declared, "Hamar jaise dikhta hain, lekin is ka Angrezi to suno, bilkool sahibon jaise (He looks like us, but listen to his English, he speaks it like a sahib)."
Mr Naipaul at that moment was apoplectic about that week's cover story in the Weekly, which had revealed Viv Richard as the father of Neena Gupta's daughter.
"Why would she have wanted to have a child by that n....?" he asked, using that foul 'n' word.
I was equally apoplectic -- it was the only time in the two or three weeks I spent in his company that I raised my voice with him.
"Why not?" I demanded, "Viv Richards is one of the greatest cricketers of all time!"
Mr Naipaul shook his head in violent disapproval, then looked at me to pay the shoeshine man.
Many years after Mutinies was published, I heard he was visiting Mumbai. He had been knighted by then, had married again -- this time to a Pakistani Muslim (irony of ironies! for a writer with such pronounced anti-Muslim views). The Nobel Prize would come the next year.
He asked me to see him at the Taj the next morning.
The moment he saw me, I discerned disapproval.
"You have become so fat!" he exclaimed, ignoring my greetings. "How did you become so fat?"
"If you came to me for a job, I would throw you out!"
"Don't you exercise?"
I walk when my job gave me the time, I muttered weakly.
"Walking won't do!" he exclaimed again, looking at me with disgust, "You need to go to a gymnasium!"
"Come!" he commanded, "Let us walk!" ignoring my suggestion that we retire to the Sea Lounge for a cup of tea.
So for the next hour or so, we walked the length of the Taj corridor from the lobby to the gates where the terrorists made their way in some eight years later.
Back and forth. Back and forth. Back... well, you get the picture.
I don't remember anything of what he said in response to my many queries -- only his constant admonishments to me to lose weight quickly.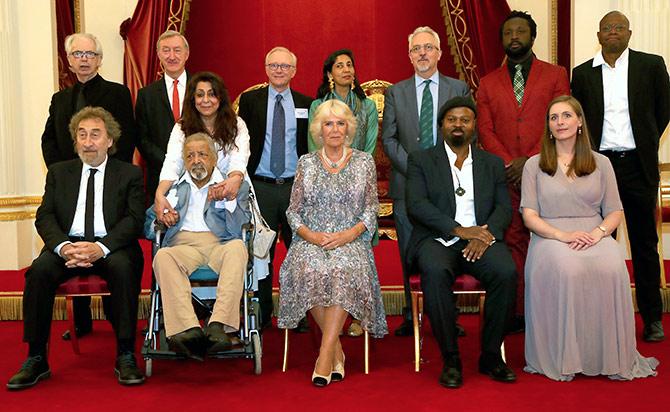 Death, I guess in some way, intruded onto his consciousness. Both his beloved father Seeparsad and his brother Shiva had died early -- Mr Naipaul himself had tried to gas himself some years after he arrived in England from the Caribbean, convinced that success was not in his destiny -- and his careful lifestyle enabled him to beat the curse of the other Naipaul men.
He died on August 11, six days before his 86th birthday.
Some credit for his longevity must accrue to Lady Nadira who is said to have dragged the bitterness out of his being in the 18 years they spent together.
When I learnt from her husband during the walk in the Taj that morning that Lady Nadira wanted to go shopping, but didn't have a car, I offered my Maruti 800 and the driver.
Jalender Patange, the driver, returned with effusive tales about Lady Nadira's kindness. She had called him "Bhai", and had taken care of his meal requirements, something I doubt her husband would have done.
"Naipaulsaheb gele? (Has Naipaulsaheb passed away?)," Mr Patange asked me on Tuesday morning as we left for work.
He shook his head in disbelief, telling me in Marathi, "chahan log hote (they were good people)," recalling how when he had mentioned in passing to Lady Nadira that his young daughter had burnt herself, she had come down with chocolates and fruits from the Taj for the little girl.
At one pit stop, outside the Cottage Industries emporium in Colaba, south Mumbai, Lady Nadira had emerged and quickly sat down in the car.
Sir Vidia followed some minutes later, puzzled by the row of Maruti 800s outside the Cottage emporium.
He went to each car and tried to open the door.
Inside my car, Lady Nadira giggled.