Hugging Saint Mata Amritanandamayi's hospital has developed protein nanomedicines for drug-resistant leukemia and nano-structured wafers to prevent recurrence of brain tumours. Nikita Puri/Business Standard reports.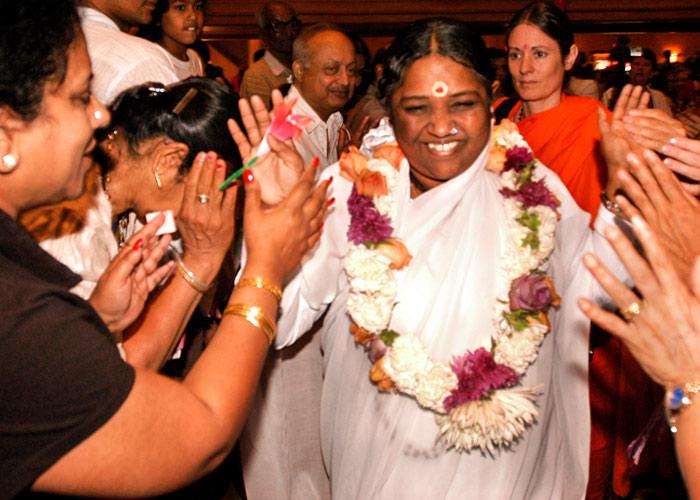 As it begins to pour at Amritapuri, Mata Amritanandamayi's ashram in Kollam in Kerala, hundreds of people gather in an open hall. Mostly foreigners, they are dressed in white and are wearing rudraksha malas and bracelets.
Unfazed by the rain, Amritanandamayi makes her way across water puddles in her white sari, and the meditation begins. The only ones who aren't sitting cross-legged with their 'spines erect and eyes closed' are the armed men in uniform by the doorways, and the two men in safari suits next to where Amritanandamayi is seated.
It has been about two months since Amritanandamayi's ashram has seen 'Z' category VIP security in action, after she returned from her annual international tour.
Hawkish, the men attempt to observe all of the 3,000 ashram residents who frequent the salmon-coloured buildings here. Today is one of their better days: on a regular 'darshan' day, thousands stand in queues for hours for a few seconds with Amritanandamayi who turned 64 on September 27.
The most prominent of India's modern-age gurus such as charismatic Jaggi Vasudev (Sadhguru), self-proclaimed peace ambassador Ravi Shankar (Sri Sri) and contortionist Ramdev (Baba) use their words and the glorious potentials of yoga to draw crowds; Amritanandamayi pulls them straight into a hug during sessions that can go up to 22 hours without a break.
It is these embraces that have earned Amritanandamayi the title of 'Amma', and 'the hugging saint'. These hugs have captured the devotion of millions across the globe, and have helped build her multi-faceted empire of ashrams, schools, universities and hospitals across India. She has reportedly embraced over 36 million people.
Amritanandamayi's first disciple, Amritaswarupananda Puri, often translates for her. He met her when he was a student; today his ochre-coloured robes mark him as a sanyasi. He leads the way to her residence, only metres away from where she was born as Sudhamani to Damayanti and Sugunanandan Idamannel.
Her father may have owned some cattle and a few boats while he traded in chemmeen (sundried shrimp), but their family was still low on India's infamous class rungs.
In her small living room, there are no photographs of her having rubbed shoulders with the world's who's who, like leaders at the United Nations and Vatican's Pope Francis, or of the work she has done through her charities (Mata Amritanandamayi Math and the Mata Amritanandamayi Mission Trust).
The story of how she became 'Amma' has been told many times over, yet she narrates it like it has never been told. "I was seven or eight years old when I'd go house to house to collect fodder for the cattle my family owned. This was when I first saw suffering and the harsh realities of life. Many were starving, and the elderly had no one to look after them," recalls Amritanandamayi.
"I just couldn't bear it. I wanted to hurl myself into fire."
Karma, a voice told her, was why some suffered and others didn't. "But if someone is running and the person falls into a ditch, is it our dharma to walk away saying that the other person's karma resulted in their downfall? My dharma is to serve people," she says.
"I even began stealing from those who had enough," she says, thinking about the times she pilfered rice, cooked and uncooked. Between bouts of laughter, she says her father wasn't too pleased when his daughter, who had to drop out of school early on, starting bringing in children and elderly to their home for a bath or a hot meal.
Soon, people started coming to her on their own. "This became a daily routine. I lost all sense of differentiation; a woman and a man became the same to me," she says, weaving in the analogy of how one arm doesn't hesitate to comfort the other arm when hurt.
Figurines of deities like Krishna, Ganesha, a portrait of Jesus and a Hanukkah lamp are all present in her room.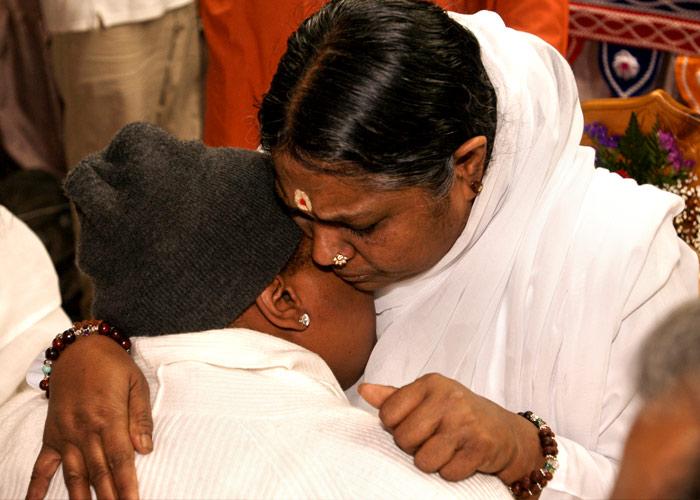 While compassionate, Amritanandamayi has also been defiant. She grew up in a society where women weren't to be heard or seen in public places. But Amritanandamayi would sneak out to meditate on the beach at odd hours, often dressed up in her brother's clothes.
Some in her extended family felt her actions were bringing dishonour, and there were even two attempts on her life when she turned down marriage prospects.
APJ Abdul Kalam donating 10 months of his presidential salary to Amritanandamayi's charity in 2003 is a seal of approval for her work, and though she continues to be courted by the political powers that be, the guru has received criticism too.
A book (Holy Hell) penned by a former ashramite, makes up for a bulk of this. Much to the dismay of her followers, she brings up the topic herself and heartily laughs at the allegations.
"When I went to the US for the first time in 1986, people said I had married a foreigner. When I came back after the tour, they said I was back because I was HIV positive. That's just how rumours work," she says, adding how she "still loves them".
Maneesha V Ramesh, director of the department of wireless networks and applications at Amrita University, feels Amritanandamayi is always in touch with people's problems. When her team had received a grant to research early landslide-detection technology, "Amma told us to return the grant if our research wasn't going to actually help people," she remembers.
Soon enough, the technology was successfully tested in Munnar and then taken to Sikkim and Uttarakhand.
Low cost, subcutaneous insulin delivery is another ingenious finding that is expected to soon come out from Amrita University. There's an enormous amount of research being done in India, but "it's the leadership that makes all the difference," feels Ramesh.
In 2010, a fishing boat in the Arabian Sea collided with a ship. Several were killed, some were never found. "Amma called me and asked what I felt about this. I said I felt sad. She then asked me if 'that was it'," recalls Ramesh.
The incident prompted Amrita University to develop "Amrita OceanNet" to communicate with and track fishing vessels in real time 60 km into the sea. This is a god-send to fishermen who are away for days at a stretch.
"Amma has an intuitive grasp of the challenges involved in translating theories into applications. Knowledge doesn't mean anything without awareness, and Amma is established in awareness," says Shantikumar V Nair, director of the department of nanosciences and molecular medicine at Amrita Institute of Medical Sciences in Kochi.
Nair recalls the time when they discussed medical implants with Amritanandamayi. "She said 'sukshma' materials were far superior than metal implants," he says. Roughly translated, "sukshma" means "subtle", or "nano".
"I realised she was talking about nano materials," says Nair.
Today, the hospital has developed protein nanomedicines for drug-resistant leukaemia and nano-structured wafers to prevent recurrence of brain tumours. These developments are exciting and the team's efforts should be lauded, says Vishal Rao US, surgical oncologist at Bengaluru's HCG Cancer Centre.
"The beauty of nano-technology is the power it has to condense a molecule and take it to places where it conventionally wouldn't reach. We cannot wait for the West to solve problems, and India can lead the world with breakthroughs with such research," says Rao.
After making strides in 3D organ-printing, Amrita's researchers have developed their own 3D printer to test printing of blood-vessels.
Soon, Amritanandamayi will hit the road in the camper van she fondly calls the "washing machine" (because of how she's tossed about in it). Bathed in the comforting fragrance of talc used by mothers and grandmothers, her embrace is enveloping and comforting. As she draws in people to be part of "something greater than yourself," this is Amritanandamayi's way of changing the world, one hug at a time.
Images: Mata Amritanandamayi, the hugging saint, on a visit to New York. Photographs: Paresh Gandhi/Rediff.com.