PM Modi invoked memories of Partition in his speech to Parliament this week.
'Where children are told soothing bedtime tales, our daily fare were stories of the bloodshed my family had witnessed, scenes, my father said, of the sewers turning red and the overpowering stench of corpses,' remembers Sunil Sethi.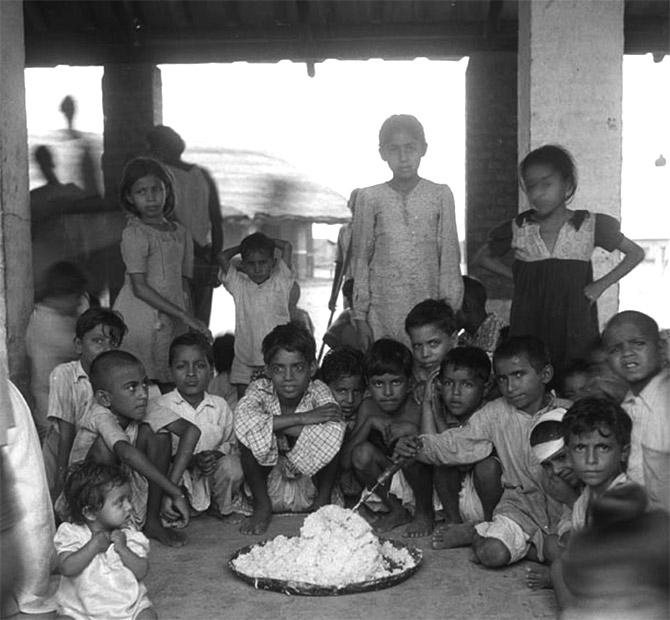 IMAGE: In this photograph taken on September 27, 1947, at the Kingsway refugee camp in Delhi, children help themselves to the rice provided for their meal. Photograph: photodivision.gov.in
In the entrance hall of Bikaner House, the capital's new cultural hub, is placed a large map of India in outline.
Next to it are reels of black string and scissors; visitors are invited to plot their family's migration during Partition.
'Trace your family's journey on the map' reads the heading over a dense criss-crossing of strings to numerous cities from Muree to Calicut, and Quetta to Chittagong, in the undivided sub-continent.
You can also join the exercise online at www.1947partitionarchive.org by recording the privations and horror your parents or grandparents endured during that blood-spattered chapter of history.
Like the European Holocaust, the attempt is that memory should not suffer the erasure of a terrible time when sectarian violence left 2 million dead, 12 million displaced, thousands of women raped, towns and villages torched.
I am not a child of Partition, but grew up in close proximity to it.
I was born and spent my early years in Amritsar, seven years after the event, where my family had a settled history of a century or more.
Our extended family home was a rambling, red brick bungalow called Sunbeam off Mall Road in Civil Lines, where the family moved from the old city in the 1930s.
In a happy if spartan childhood, I am old enough to remember a world of smelly thunder boxes and iceboxes, coal fires, boiler stoves, and table fans that let off puffs of smoke, steam, or cool air to fend off the city's bitter winters and scorching summers.
Where children are told soothing bedtime tales, our daily fare were stories of the bloodshed my family had witnessed, scenes, my father said, of the sewers turning red and the overpowering stench of corpses.
The strangest account was of my grandmother's disappearance at the height of the killings.
She was an unlettered but iron-willed matriarch, wrapped in widow's weeds of white dupattas, who, with very little money, had brought up six able-bodied sons to find their way in the world.
During those fateful months she refused to leave her crumbling home in the inner city because of its closeness to the Golden Temple, her place of daily worship.
Now, with an outbreak of cholera, acute shortages of food, water and petrol, links between the old city and Civil Lines snapped.
For five days her sons looked for her in vain; finally, summoning their youngest brother, an army lieutenant, they made it to the Golden Temple, a teeming mass of refugees.
Leaning against a gilded pillar, they found her in the inner sanctum, serenely reciting the Gurbani.
But when they tried to lift her, my frail grandmother proved unaccountably heavy. She was seated, it turned out, on a wooden dowry chest filled with her gold ornaments.
'Where did you think I would go?' she irritably asked. 'I could only go to the Home of my Saviour.'
Talismans my brother and I possess of that summer are two small Afghan carpets with the traditional pattern of Islamic charbaghs.
They are the parting gift of an Afghan merchant of our father's acquaintance whom he hid in his office before finding him safe passage across the border.
For years afterwards, they exchanged letters but never again met.
My wife's families, on both sides, are from Lahore; although not bloody, their migration was grim.
Later on, when they retired in Delhi, they only seemed mildly interested in my trips to Pakistan.
They did not ask questions nor express a desire to revisit their childhood homes, schools, and colleges or the scenes of their courtship. They politely changed the subject.
It is human nature to excise our blackest experiences, to exercise what Salman Rushdie's mother memorably called 'forgettery'.
Among the many stories recounted in Amritsar's Partition Museum, the painter Anjolie Ela Menon describes her family's evacuation from Murree, where her father was an army surgeon. She was seven at the time but gives a graphic account of him 'operating on wounded people left on the road'.
Then she asks: 'It strikes me as strange that very little art came out of those experiences. I think we don't want to remember.'
For many like them, the past was another country.