'Do you think Indian voters are so immature that they can be impressed or won over by such freebies before the elections?' Election Commissioner Sunil Arora asks A K Bhattacharya.
Illustration: Dominic Xavier/Rediff.com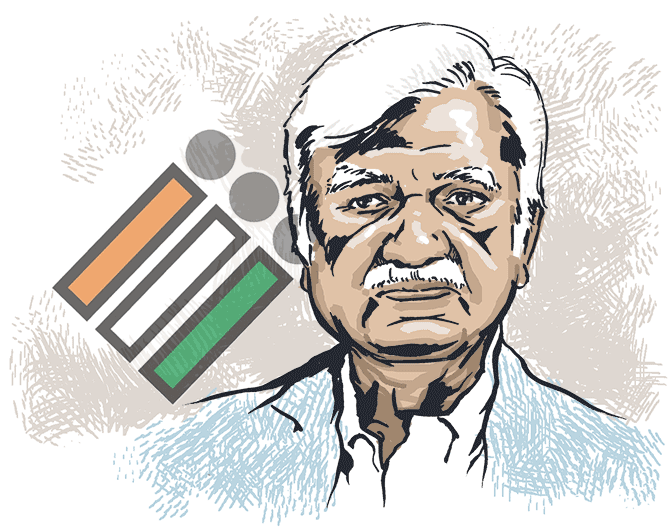 Sunil Arora, the newly appointed election commissioner, says he has no preference for any restaurant when I ask him for his choice where we could host him for lunch.
But he quickly adds, humming and hawing a little, that he would like to avoid the India International Centre simply because he wishes to have his meal and conversation with me without being interrupted or accosted by some of his former colleagues in the government.
Arora retired from the Indian Administrative Service just about 18 months ago and I fully sympathise with him.
Knowing that he hails from Punjab, though his state cadre in the IAS was Rajasthan, I give him three restaurants to choose from and one of which is known for authentic Punjabi food. But Arora surprises me by not opting for the restaurant offering Punjabi food and instead settling for Pickwicks, a quiet restaurant at The Claridges, known for its buffet spread of assorted dishes.
As we are seated at Pickwicks (Arora has reached well before our mutually agreed time and has already helped himself to some cut fruit), I cannot resist asking why he chose Pickwicks over the one that offered Punjabi fare.
"There is a lot of noise there," Arora explains. He is not wrong. Pickwicks is quiet with just a couple of tables occupied by guests though we are well past the traditional lunchtime.
Arora started his working life as a teacher in a Punjab college before joining the IAS in 1980. That two-year teaching stint seems to have given him a don-like behaviour of not allowing himself to be disrupted when he is talking.
A gentle smile and a wave of the left hand are his stock weapons of choice so that he can complete what he wishes to say.
Arora is known for his quiet decisiveness as a bureaucrat -- from the way he handled a communally charged situation at Nagaur in the late 1980s to his role in handling the Indian Airline plane hijack in 1999, managing Indian Airlines as its CEO and dousing the fire of students' unrest at the Pune-based Film and Television Institute of India in his capacity as secretary of the information and broadcasting ministry, the post he held before his superannuation in 2016.
I notice the same decisiveness is on display when he chooses what he wants to eat. Arora looks at the menu card at my insistence to check if he wishes to go for a la carte instead of the buffet.
All that he chooses from the menu is tomato shorba, suggesting that shorba is always superior to soup. I quickly follow suit. And he announces that after the shorba, he would go for the buffet spread.
I see this as an opportunity to ask the question that I have been dying to ask. How does he justify the Election Commission's decision to delay the announcement of assembly poll dates for Gujarat even as the schedule for Himachal Pradesh was announced?
Arora looks unperturbed. Taking a sip of his shorba, which he is clearly enjoying, he says with a smile that is clearly aimed at dismissing my suggestion: "I knew you would ask this question. So I had got prepared a list of the past instances of the polling dates for these and other states being announced separately."
He fishes out a sheaf of documents containing the details he is talking about.
I am still persistent arguing that the delay gives the ruling party, which happens to be the same in both the state and at the Centre, leeway to announce projects and schemes to woo voters and take advantage of an un-level playing field.
Arora retorts that the delay in announcing the dates for Gujarat is in response to a request from the state that its flood relief work might be affected if the dates were announced along with those for Himachal Pradesh.
Then he adds with a wry smile: "Do you think Indian voters are so immature that they can be impressed or won over by such freebies before the elections?"
I reckon that in Arora, the government at the Centre has found an able and sympathetic officer, who would eventually be the chief election commissioner well before the general elections are held in 2019. Arora's tenure is scheduled to end in October 2021.
We have finished the shorba and have moved to the buffet spread. Arora's decisiveness is on display once again. He goes for a chicken preparation and a mutton curry.
A little bit of rice pulao, a vegetable preparation based in spinach paste and some naans complete Arora's platter for lunch. I avoid the red meat and instead go for steamed fish.
Arora looks at my choice of fish approvingly, in a way that is a comment on my Bengali roots. Can the state and general elections be held together by the end of 2018? My question prompts Arora to reveal what the Election Commission had in mind when a statement on its readiness to hold such simultaneous elections was made.
What the Commission has talked about is its preparedness to hold state and general elections together, he explains, but the legal feasibility is something that legislators have to mull over.
"Combined elections in all state assemblies and the Lok Sabha will require a Constitutional amendment," says Arora. That places the entire debate on this issue in a proper perspective.
We change the subject of our discussion, even as Arora goes in for a refill, but returns only with a small portion of chicken. I ask him if he would agree that so far in his career as an IAS officer, his stint outside the government has given him more satisfaction and in this respect he is among a handful of bureaucrats, whose contribution as a manager of an enterprise has surpassed their role as an officer of the government.
He doesn't wish to answer the question, but describes at length his days as the chairman of Indian Airlines. Arora spent about five years as the head of Indian Airlines before it was merged with Air India -- a decision, it seems, he still cannot come to terms with.
The two organisations have been merged, but there are no synergies to be exploited as the merger remains only on paper. Employees of the two organisations still treat themselves as representatives of their erstwhile companies.
I ask what made him take steps such as triggering a fare war to compete with private airlines. He says his goal was to increase the market share of the airline he was heading. He took all the steps that were necessary to achieve that goal.
With pride radiating on his face, Arora says he succeeded in building a first-rate top management team at Indian Airlines that any company would be keen to have.
It is now time for dessert. Arora goes for a small bowl of custard and I help myself to some fruit. Arora also wants some coffee on the table. We are about to leave.
I ask Arora if he would like to be remembered for his chairmanship of Indian Airlines during its most crucial juncture facing intense competition in the market or for his current stint at Nirvachan Sadan that should see him supervise the most crucial general elections in recent times in 2019 -- one that will decide if Prime Minister Narendra Modi will make a comeback.
Arora looks at me for a few seconds and asks me: Do you really want me to answer that question? By now I am convinced that Arora may have retired as a bureaucrat, but the caution and circumspection that bureaucracy has taught him are yet to desert him.