In 2016, the Tamil Nadu railway police rescued 2,128 children; nearly six children a day, or a child every four hours.
Rediff.com's A Ganesh Nadar reports..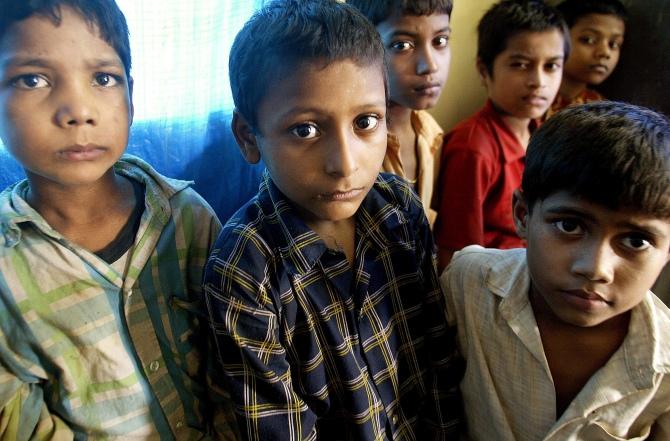 When you step into the bustling railway station in Chennai, you will probably not spot them.
They are not on your agenda, neither the police nor the children.
Yet, day in and day out, amid the rush of people that is part and parcel of life in a major railway station, the railway police in Tamil Nadu keep an eye out for runaway and lost children.
In 2016, they rescued 2,128 children; this averages out to nearly six children a day, or a child every four hours.
1,594 of the rescued children were from Tamil Nadu; the rest from other states. Only 20 families had filed missing reports.
The reason Chennai has managed so many rescues are the child help desks at the city's long distance railway junctions, Central and Egmore.
Their success rate has inspired the railway department to situate six more such desks at Madurai and Coimbatore and four in Kerala.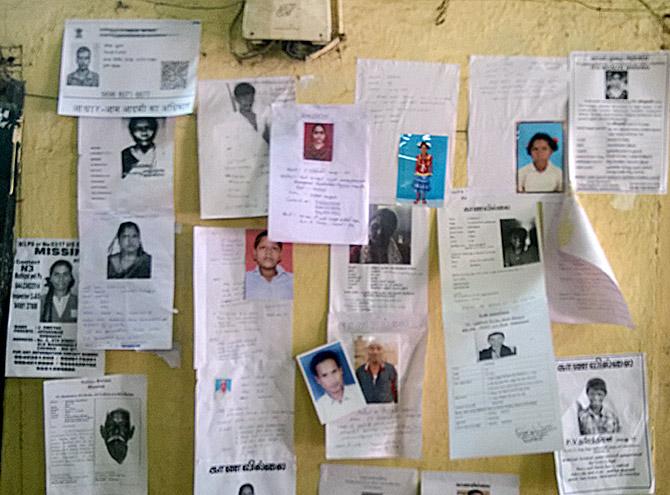 Superintendent of Police Sundar of the Government Railways Police works out of Tamil Nadu's busiest station, Chennai Central, from where you can catch a train to almost every part of the country.
"We rescue children found loitering alone on the railways platform. We also check on children who seem like they are accompanied by someone who seems like a broker and rescue them if needed. We try and locate the parents by talking to the child," Sundar tells Rediff.com
If they are unable to find the parents within a couple of hours, they hand the child over to the child welfare officer appointed by the government. "These officers keep the children in government-run homes until the parents are located," Sundar adds.
He suggests I speak to K Manimegalai, the lady police officer assigned with the responsibility of rescuing children.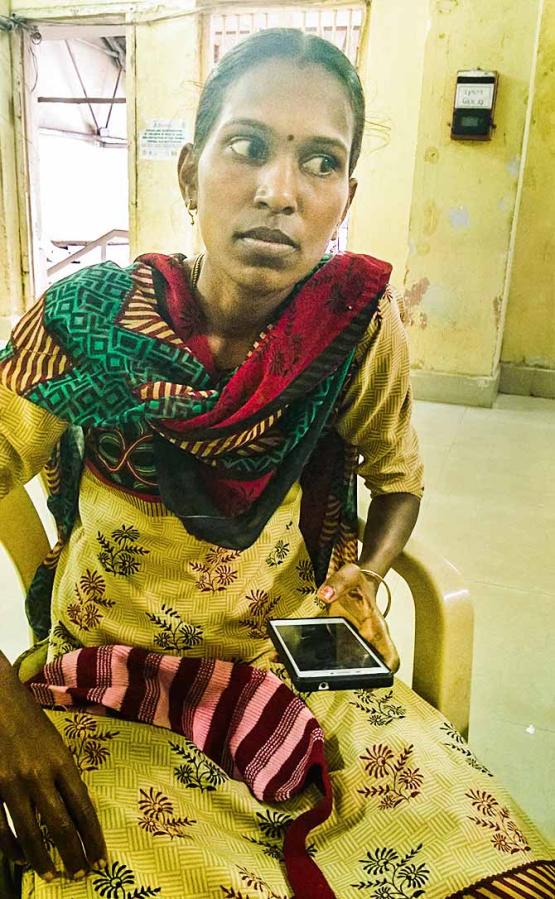 Manimegalai, who joined the railways police three years ago, was assigned to duty at the Central station nearly two months ago. In 24 days, she says she has rescued 22 children.
"Most of them are poor and belong to Tamil Nadu. Sometimes, they come with brokers who promise them work," she says.
When such a child is found, the brokers are arrested. "Child labour is a crime in India. The children are sent back to their parents or handed over to the ChildLine representatives present at the station," Manimegalai adds.
The ChildLine helpline is run by an NGO and funded by the Union ministry for children and women.
"A 15-year-old girl I rescued on January 1 is still here," says Manimegalai. "She arrived on the Andaman Nicobar Express (which runs from New Delhi to Chennai) from Haryana."
Manimegalai tried speaking to her with the help of a policeman who speaks Hindi, but could not convince the girl to return home.
"We handed her over to the ChildLine representatives after preparing a memo and taking her photograph," she says.
"If there is someone who seems below the age of 18 loitering on the platform, I question them and, if necessary, bring them in," she adds.
She does not wear a police uniform because "it scares children. I don't want them hiding from me, which will make my job harder," she explains.
When she is off duty, her colleagues keep an eye out for runaway and lost children. "They will wait for me or hand them over to ChildLine and later inform me. The child is safe as long as s/he does not leave the platform."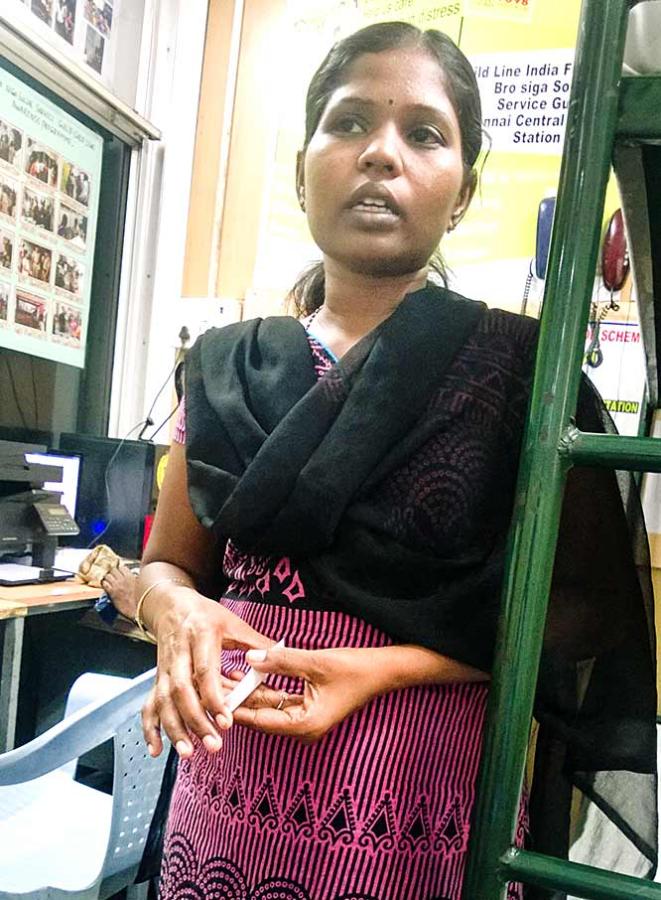 A Malini, a rather determined looking young woman, is the ChildLine coordinator at Central station.
"There are 12 of us, including counselors, operators and coordinators," she says. "We work in shifts. Between us, we are available 24 hours a day, 365 days of the year."
Malini has been working with ChildLine for two years.
The ChildLine desk is a large cabin with two rooms, provided with bunks that remind you of the ones you see in two-tier compartments on long-distance trains. This is where the ChildLine employees rest.
There is a phone helpline (1098 caters to both children and women) that is manned round the clock.
Like Manimegalai, ChildLine coordinators make rounds of the railway station every day.
"I know which child is lost by the look in their eyes," says Malini. "I can spot a broker immediately. If I suspect a child is not with a parent or a close relative, I immediately take the assistance of the police to arrest the broker while we rescue the child."
She too speaks about the runaway girl from Haryana, who she has now sent to a government home. "She says her father comes home drunk and beats her and her mother. She has an elder sister who is married and a brother who drives an auto. She wants to stay and study here."
In this case, the child welfare officer will get in touch with the child welfare officer in Haryana and the girl will be sent to Haryana.
"If the girl doesn't want to go home she can stay at the government home in Haryana and they will provide for her education till she is 18," says Malini.
She also points out a seven-year-old boy who, she says, was abandoned by his parents a few hours ago.
He seems poor and is holding on tightly to a bundle of clothes and a backpack that he says belongs to his family.
He told Malini that he has a baby sister. Apparently, his parents had a fight and his mother ran out of the station carrying the baby. His father went chasing after her. They were yet to return.
The boy, who only speaks Hindi, told Malini he was not hungry or thirsty.
"We cannot remove him from here (they are waiting at the spot where they found the boy) as his parents might come back, so we are keeping him company. We will send him to the government home if his parents don't return by the end of the day."
The boy's eyes moistened when we spoke to him, but he did not cry. They didn't waver from the entrance of the station, through which his quarreling parents had disappeared a few hours earlier.
MUST READ features in the RELATED LINKS below...