Nearly eight years after he disappeared from the heart of Srinagar, Mehran Latief's family has not let go of Hope.
Hope that they will see their son again. Soon.
Mukhtar Ahmad/Rediff.com reports.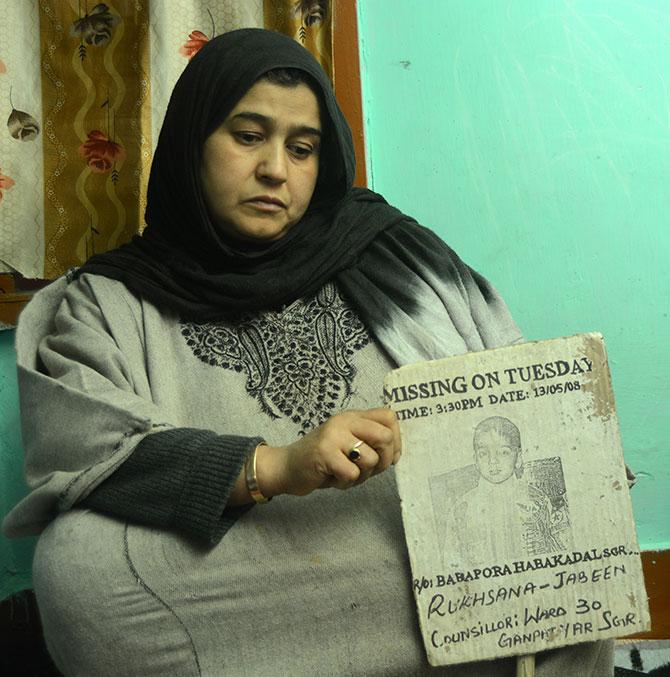 IMAGE: Mehran Latief's grieving mother.
The sun set on the Latief family's happiness on the bright afternoon of May 13, 2008. That was the afternoon four-year-old Mehran stepped out of his home to buy sweets for himself.
He never returned.
"That day, I fetched him, and my two children, from school. At home, he ate the lunch his mother had prepared for him," recalls Mehran's uncle, Mohammad Yusuf Mir.
"Then, he went out to get some candy from the local shop. That was the last time his mother saw him. He just disappeared," says Mir.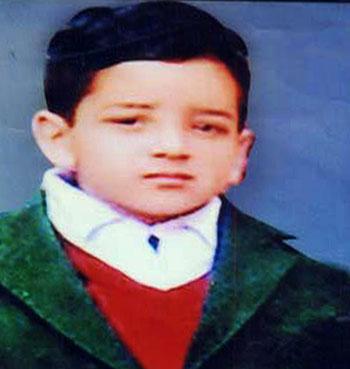 After searching for him in the area, the anxious family lodged a missing persons complaint with the local police station.
"We got up early next morning and left for Jammu. En route we searched almost all the Jammu-bound vehicles in case he had been kidnapped. Our efforts drew a blank. In Jammu, we went to each and every place," says Mir.
"Our search for Mehran next took us to Mumbai. We contacted people there, but that effort too did not bear any fruit."
A senior police officer said Mehran is the only missing child case that had remained unresolved despite their best efforts.
The local newspapers highlighted the four year old's disappearance, a rare phenomenon in the Kashmir Valley which has been rocked by violence for a long time now.
When all efforts failed, the Latief family appealed to the state high court for intervention. The high court transferred the case to the CBI.
"The CBI officers detained me. We were subjected to thorough questioning. However, there has been no headway barring one incident when we received a call from the CBI that the child had been located in Rajasthan. We went there along with a CBI officer, but, to our disappointment, the boy was not Mehran," says his uncle.
Due to the shock of losing her child, Mehran's mother fell sick and had to be hospitalised for a long time.
"We have suffered a lot. But our hope to find Mehran lives on. We have faith that fate will reunite us with Mehran some day. After all, miracles do happen," says Mir.
Photographs: Umar Ganie/Rediff.com