Prakash Bhandari chalks the journey of Lalit Modi from his troubled adolescent days to his mid-life crisis, from his grand success at the India Premier League to his dramatic exit from it.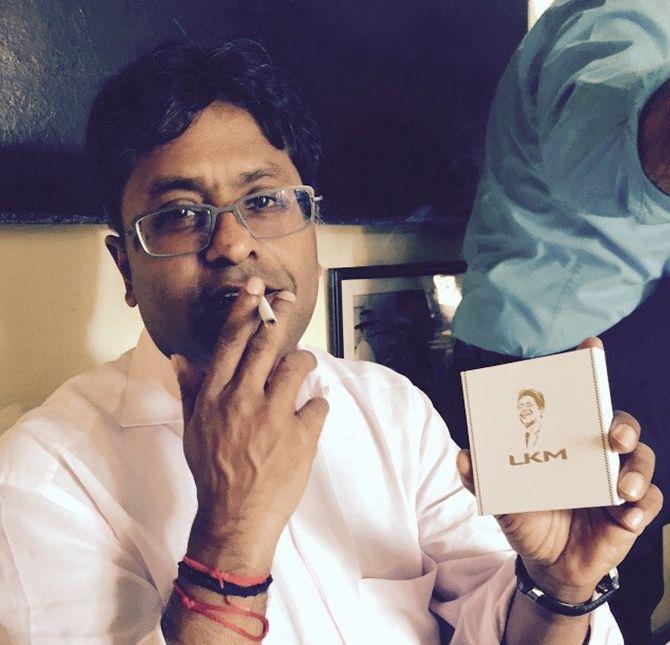 Former IPL boss Lalit Modi poses with a case of his personalised cigarettes. Photograph: @lalitkmodi/Instagram

He leads a flamboyant life in London, wining and dining with the rich and the famous. A social media addict of sorts, his Instagram page reflects his extravagant lifestyle -- lunching with supermodel Naomi Campbell in Havana, partying with Paris Hilton. He travels around the world in a private jet. But is Lalit Modi's honeymoon coming to an end?
The Enforcement Directorate is likely to issue an Interpol red corner notice against him under the Prevention of Money Laundering Act. He is wanted in India in over a dozen cases.


But the former India Premier League boss seems unruffled by all this. His fight is now against time. The hope is to get British citizenship and escape from the clutches of Indian laws.
Modi is up against some big names. He has ruffled feathers in the government as well the opposition. But this is not the first time he finds himself on a sticky wicket.
He has always been a problem child. Modi, who studied in Nainital and in Himachal Pradesh, was expelled from Nanital's St Jospeh's College for bunking classes.
Later, he went to the United States to study business administration. Three decades ago, while he was a sophomore at Duke University in North Carolina, he was arrested for drug possession and kidnapping and unlawfully restraining a 16-year-old. He pleaded guilty to charges of possessing cocaine, false imprisonment and assault, documents obtained by The American Bazaar reveal. Modi, then a student, was indicted on February 24, 1985, for kidnapping.

After serving punishment, he returned to India and started living in Delhi with his father Krishna Kumar Modi, who owned Godfrey Phillips, the manufacturers of Red & White cigarettes. He set up his own business which failed and then started eating into his inheritance.
In Delhi, Modi met Minal Sagarani, daughter of a Sindhi businessman Pesu Aswani. She was then married to Jack Sagrani, but later divorced him and married Modi, who was 10 years younger, much to the annoyance of his parents.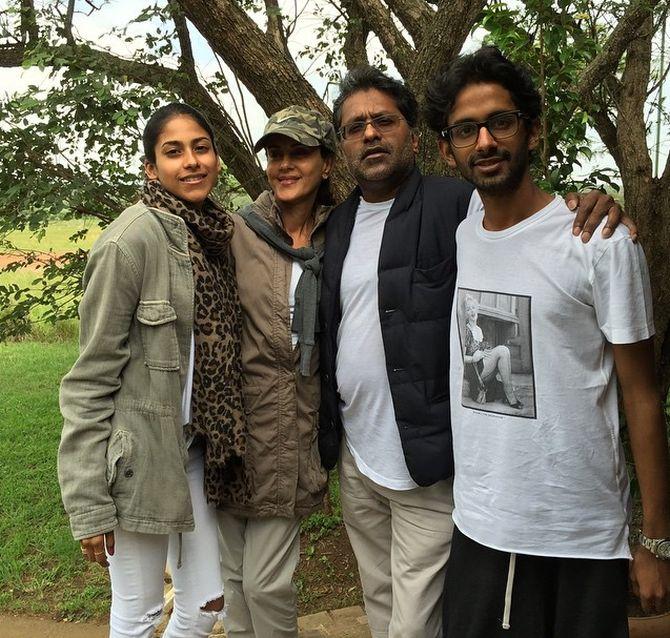 Modi with his wife Minal and children Aliya and Ruchir at Serengeti National Park in Tanzania. Photograph: @lalitkmodi/Instagram.

After the marriage in October 1991, the couple was asked to shift to Mumbai, where a small maintenance allowance was given to Lalit by his father. They first lived in K K Modi's flat at Sterling Apartments on Mumbai's plush Peddar Road. Years later, they purchased Minal's father's house in Juhu.
Modi launched Modi Entertainment and briefly tied up with Disney. However, this business too did not succeed.
But Lalit's fortune started smiling on him when he shifted base from Mumbai to Jaipur. This is when his family association with Rajasthan Chief Minister Vasundhara Raje helped. He soon became an 'extra-constitutional authority' in the Rajasthan government. Modi started dealing with the real estate operators. During the Bharatiya Janata Party reign under Vasundhara Raje, allegations were made that it was Modi who was running the state. He was accused by the Congress of taking bribes for granting favours to real estate companies.
But he had his eyes on cricket. The idea of a football-like league involving corporates was his dream.
He knew that a foray into Board of Control for Cricket in India was needed to transform the face of cricket in India. He made his entry as the vice president of the Himachal Pradesh Cricket Association and then moved on to Punjab. But there was little he could do here.
Raje helped him get a foothold in the state cricket association. At the helm since 1972 was the Rungta family.
Modi was aware that defeating the Rungtas in the Rajasthan Cricket Association elections was close to impossible. He thus influenced Raje to introduce the Sports Act under which all the state sports bodies would be regulated.
After the Sports Act was passed in the state assembly and using the influence of district collectors and police officers, Modi managed to beat the Rungtas.
After becoming the president of the RCA, he started calling the shots in the BCCI. His manipulative tactics enabled him to win the confidence of Sharad Pawar who helped defeat Jagmohan Dalmiya as BCCI chief.
Impressed by Modi's business acumen, Pawar put him in control of BCCI's marketing affairs. Under him, the board's profits soared to over $1 billion (about Rs 6,300 crore) in 2006. Two years on, his brainchild -- the Indian Premier League -- took cricket's economics to a different level.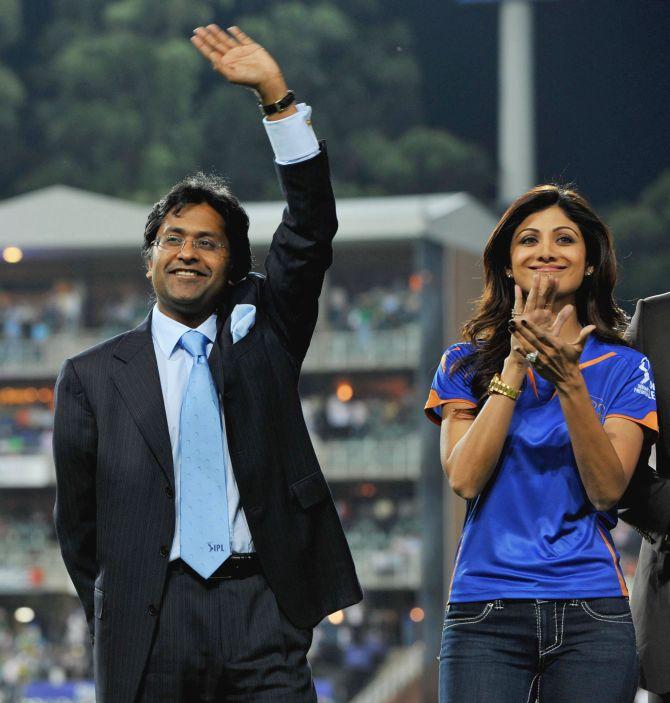 Modi with Bollywood actress Shilpa Shetty, who had a stake in the Rajashtan Royals franchise.
Photo by Duif du Toit/Gallo Images/Getty Images

Modi revolutionised cricket with his pet project in 2008 and was dubbed as the czar of IPL. The players made big bucks; the league gave a platform to domestic talent who couldn't make it to the national team otherwise. The crowds loved the shortest format of the game -- there was cricket; there were cheerleaders and more. This was something cricket-crazy India had never seen before.
The IPL was a roaring success and became synonymous with LaMo. He won accolades as an able sports administrator. Along came great power. In 2009, the league hit its first roadblock. The then Union home minister P Chidambaram did not give a go-ahead for the second edition of the tournament, as it clashed with the Lok Sabha elections. But there was no stopping Modi. He moved the venue to South Africa.
Since then, the IPL has only grown and is now worth $4 billion (about Rs 25,200 crore). Modi is cricket's answer to Don King of boxing and Bernie Ecclestone of Formula One, the BBC said in a 2010 article.
But did Modi become too big for his boots? He took up cudgels against the International Cricket Council and alleged match-fixing in the Champions League T20 tournament. He accused the ICC of being in the know but not making it public, thus causing ripples in the cricketing world.
The rise of Modi continued and ahead of IPL's third edition he saw the entry of two new franchises -- Subrata Roy's Pune Warriors and Kochi Tuskers. The Kerala team's stint lasted barely a year and was riddled with controversy. Hours after signing the franchise agreement, Modi revealed its shareholding patterns on Twitter. Among the shareholders, 4.75 per cent of the sweat equity was owned by Sunanda Pushkar -- identified as a "businesswoman who had interests in the Gulf" -- who was then the partner of Shashi Tharoor, at that time a minister in the United Progressive Alliance government. Tharoor was forced to step down over allegations of holding a hidden stake in the team from his home town.
In the rather eventful year of 2010, Modi made a lot of enemies, some of them senior cricket board members. And the Kochi 'expose' boomeranged; it indirectly led to Modi's dramatic downfall. The BCCI's inquiry report on the Kochi team charged him of rigging bids, arm-twisting and bringing disrepute to the board.
In the middle of the 1PL in April 2010, its chairman was suspended. A suspension notice and a 34-page letter stating 22 charges of impropriety were served to Modi.
In March 2012, New Zealand's Chris Cairns won a libel trail case against Modi for a tweet in January 2010 accusing the former cricketer of a past record of fixing.
On September 6, 2013, BCCI's three-member committee consisting of Jyotiraditya Scindia (now Congress's chief whip in Lok Sabha) and Arun Jaitley (now finance minister) accused Modi of several charges of irregularities. He was banned for life by the BCCI.
More than two dozens cases of financial irregularities, money-laundering and criminal cases have been filed against the former IPL king by various investigative agencies. The ED has issued three show-cause notices to him in connection with an alleged dubious transaction of Rs 90 crore with the International Management Group, a UK-based company, Cricket South Africa and Performance Deposit issue.
The king has now become a 'fugitive'. He lives in London in a five-storied mansion which has eight bedrooms, seven bathrooms, two guest rooms, four reception rooms, two kitchens. He pays about Rs 12 lakh rent per month, has a staff to look after the mansion and drives a chauffeur-driven Ferrari.
But what exactly is his source of income? Sources close to Modi said he was a successful businessman.
Friends of Modi say that he was living comfortably in London. But now, with allegations against External Affairs Minister Sushma Swaraj and Raje of aiding Modi, the ED could open a can of worms. Modi will now have to face the wrath of the Narendra Modi government.