Indian Americans are not just shining in the fields of technology, education and management. You can now spot them everywhere -- in politics, in research, in the movies, even on YouTube, says Ignatius Chithelen.
Illustration: Uttam Ghosh/Rediff.com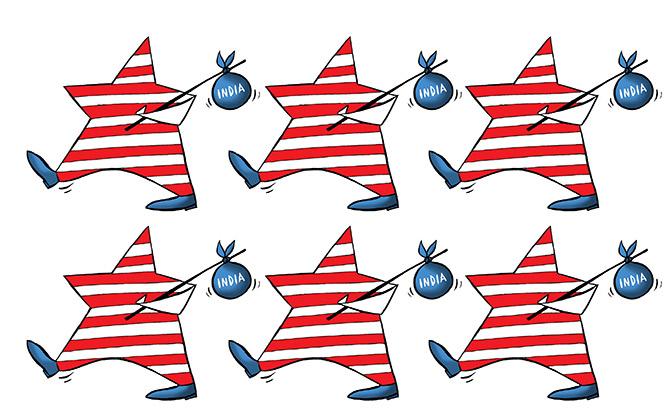 Besides technology and management, Indians in America have attained success in a wide range of fields from research to gaining stardom on YouTube.
Indians in America have achieved success in medicine, research, teaching, politics, music, comedy, writing, fashion and sports, besides technology and business.
Siddhartha Mukherjee is a cancer surgeon who teaches at Columbia University. His book, The Emperor Of All Maladies: A Biography Of Cancer, won a Pulitzer Prize and was made into a documentary.
He is a Rhodes Scholar who studied at Oxford, Harvard and Stanford.
Sanjay Gupta is a neuro-surgeon who teaches at the Emory University School of Medicine, Atlanta.
He is the chief medical correspondent for CNN and winner of multiple Emmy awards, (which is) given to professionals in television.
He got his medical degree from the University of Michigan.
In the field of research, in 1968, Hargobind Khurana got the Nobel Prize in medicine for his work in the field of genetics.
A PhD from the University of Liverpool, he conducted studies in biology and chemistry at the University of Wisconsin and MIT.
In 1983, Subramanyan Chandrasekhar got the Nobel Prize in physics for his work in the astrophysics of stars. He got a PhD from Cambridge and taught at the University of Chicago, where he guided over 50 PhD students.
NASA's premier Chandra x-ray astronomy observatory, located at Harvard University, is named after him.
In 2013, Raj Chetty was awarded the John Bates Clark medal by the American Economic Association. The medal recognises achievements by an economist under age 40. Several past winners have gone on to win the Nobel Prize.
A professor of economics at Stanford University, Chetty got a BA and PhD from Harvard University.
A year later, Manjul Bhargava won the Fields medal, the highest award in mathematics. Earlier, at age 28, he was hired by Princeton University making him the second youngest full professor in the history of the university.
Bhargava told Quanta Magazine that Sanskrit poems and playing the tabla, an Indian percussion instrument, helped him solve math problems. He got a BA from Harvard and a PhD from Princeton.
Several Indians head major universities and schools.
Renu Khator is president of the University of Houston, which has about 36,000 students. She got a PhD in political science and public administration from Purdue University.
Nitin Nohria is the dean of the Harvard Business School. He is a graduate of IIT Bombay and a PhD from MIT's Sloan School of Business.
Thomas Zacharia is director of the US government's Oak Ridge National Laboratory. It conducts advanced research in artificial intelligence, nuclear reactors, national security and other areas. It has an annual budget of over $1.4 billion.
In 2018, working with IBM and Nvidia, the laboratory launched the world's fastest computer with a peak performance of 200 million billion calculations per second. The computer is faster than the Chinese machines that held the title for five years.
Zacharia has a BS in mechanical engineering from the National Institute of Technology, India, an MS from the University of Mississippi and a PhD from Clarkson University, New York.
Comedians and YouTube stars
In the fields of arts and culture, Zubin Mehta was the musical director of the New York and Los Angeles Philharmonic Orchestras.
Vijay Iyer, pianist and jazz musician, is a MacArthur Fellow. He has a PhD from the University of California, Berkeley.
Norah Jones's songs have won numerous Grammy awards. She is the daughter of Ravi Shankar, the noted Indian sitar player.
Sixth Sense, a film by M Night Shyamalan, was nominated for an Oscar award. He is a graduate of New York University.
Aziz Ansari is creator of Master Of None, the popular comedy show on Netflix which won an Emmy award. He studied business at New York University.
He grew up in Columbia, South Carolina, where his Indian father worked as a doctor.
Lily Singh has 12 million subscribers for her Superwoman videos on YouTube. She has expanded from comedy into acting, selling lipstick, promoting consumer products for a fee and writing a bestselling book, How To Be A Bawse: A Guide To Conquering Life.
Since 1987, Ajai Singh 'Sonny' Mehta has been editor-in-chief of Alfred A Knopf Publishers. His book authors have won 34 Pulitzer prizes.
Sree Sreenivasan was the chief digital officer of the Metropolitan Museum in New York. Earlier, he was the dean of students at Columbia University's school of journalism.
He has a master's degree from the school and a BA from St Stephen's college Delhi.
Bibhu Mohapatra is a fashion designer whose clothes are worn by Glenn Close, Jennifer Lopez and other Hollywood stars. He studied at the Fashion Institute of Technology, New York, after getting a MS in economics from Utah State University.
Sunil Gulati was president of the US Soccer Federation from 2006 to 2018. He played an important role in popularising the game in the US.
He teaches economics at Columbia University.
At age five, he emigrated with his parents to the US, from Allahabad, India.
Gulati is a graduate of Bucknell University and got an MS and MPhil in economics from Columbia.
Republican and Democratic politicians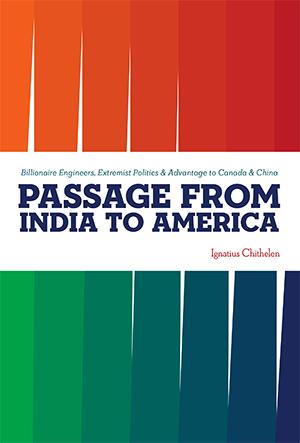 Prominent Indian American politicians include Nimrata 'Nikki' Haley who was elected governor of South Carolina. A Republican, she is the US ambassador to the United Nations, appointed by President Trump.
Her first job at 13 was helping with the accounts at her parents' clothing store in a small town in North Carolina. Her parents are Sikhs.
Some of her political opponents attacked her for presenting herself as a Christian Methodist to win votes.
Piyush 'Bobby' Jindal is another Republican. He was twice elected to the US Congress and as governor of Louisiana.
Jindal reportedly sought to disassociate himself from his Indian heritage, especially during his election campaigns.
Rohit 'Ro' Khanna, a Democrat, was elected to the US Congress in 2016. He represents parts of the Silicon Valley area of California.
Earlier he was an official in the commerce department under President Obama.
He taught economics at Stanford University, studied economics at the University of Chicago and law at Yale.
Khanna's inspiration for public service comes from his grandfather, who spent years in jail for participating in India's independence struggle against the British, according to his Web site.
Kamala Harris, another Democrat, was elected to the US Senate from California in 2016. Earlier, Harris was twice elected as California's attorney general.
Her mother Shyamala Gopalan, an immigrant from Chennai, was a breast cancer researcher. Her father, who came to the US from Jamaica, taught economics at Stanford University.
Harris' parents divorced when she was seven and she was brought up by her mother.
Harris studied political science at Howard University and got a law degree from the University of California, Hastings College.
Her Web site notes that she is the second African American woman senator and the first South Asian American senator in US history.
Before one election, Harris asked her aunt in Chennai, India, to pray and break coconuts at a Ganesha temple, according to Rediff.com. Her aunt added that Harris is a caring person, 'Whether black or brown'.
Excerpted from Passage From India To America: Billionaire Engineers, Extremist Politics & Advantage to Canada & China by Ignatius Chithelen, with the kind permission from the publishers, Bryant Park Publishers, New York, 2018.