'It was amazing to see the speed with which the lines flowed from his pen!' remembers Ambassador Placido P D'Souza.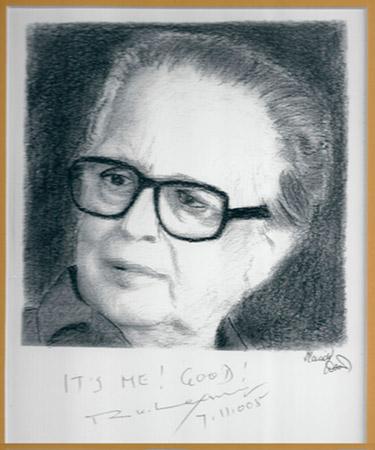 In the early 1950s, when I was in college in Pune, my daily nourishment in terms of news and comments came from the only daily that we could afford, The Times of India. I had no access to radio, and television, of course, had yet to come to India.
It was then that I was introduced to R K Laxman, through his daily pocket cartoon You Said It in The Times of India, and later, his illustrations in The Illustrated Weekly of India. I would study his drawings carefully, as indeed those of Mario Miranda, another icon of mine in those days.
My career in the diplomatic service took me all over the world, but my interest in these two cartoonists remained unflagging, as did my firm conviction that they needed to be more widely known outside India.
When I was posted to New York as India's Consul General in 1981, I suggested to the Ministry of External Affairs that we should hold an exhibition of the works of Indian cartoonists in the USA.
Image: Placido P D'Souza's sketch of R K Laxman, autographed by the legendary cartoonist.
I felt this would be an effective way to exemplify the vigour of India's democracy. The MEA readily agreed and selected four Indian cartoonists -- R K Laxman, Mario Miranda, Abu Abraham and Sudhir Dhar. However, some of the cartoons they sent for display were disappointing in that Laxman was represented by a series of his drawings of crows which fascinated him for some reason.
I asked the ministry to replace them with some of his cartoons and this was done and the exhibition was opened by the then president of the Asia Society. It was such a success in New York that it was then taken to other cities in the US.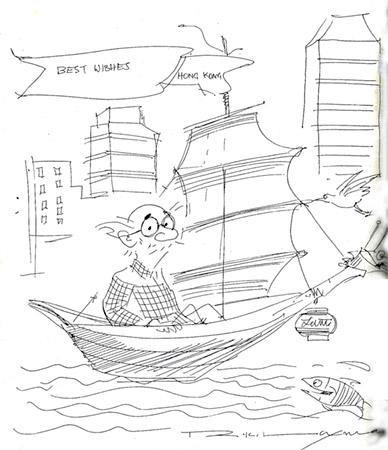 I met Laxman for the first time in the late 1980s in Hong Kong where I was then the Indian Commissioner. He was on his return journey from China and came to our home for dinner.
At my request for his autograph, he on the spot, did a quick sketch for me (seen alongside) which I later reproduced in the journal India Digest that I initiated in Hong Kong.
It was amazing to see the speed with which the lines flowed from his pen!
Our friendship grew apace, and I would see him whenever I happened to be in Mumbai. We kept in touch and he gave me permission to reproduce his cartoons in India Digest.
On my retirement, I continued to bring out New India Digest under the auspices of a non-profit trust that was set up in Pune with major financial support from the Mallya Group.
Later, Laxman readily agreed to do pictures for the covers of New India Digest for special issues of this journal, two of which are reproduced below.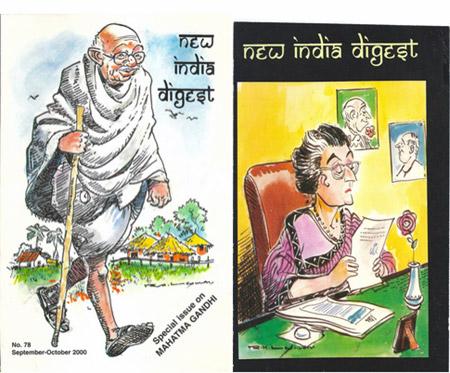 The journal ran for 15 years, but I still would see him from time to time, though that became difficult after he suffered a stroke.
He was indeed not only a great cartoonist, but also a true gentleman and friend.
Placido P D'Souza is a former Ambassador of India.
REDIFF RECOMMENDS