'He was an embodiment of old school courtesy and grace. It was embarrassing when he would insist on receiving and seeing off guests at the gate of his house! A trait he shared with another great soldier of India, Sam Manekshaw,' remembers Colonel Anil A Athale (retd).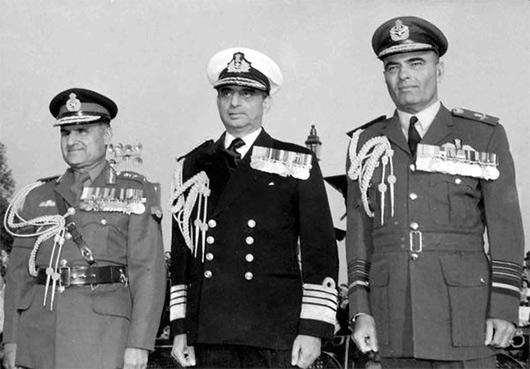 In Air Chief Marshal Hrushikesh Moolgavkar's passing away on April 9, India has lost an illustrious son who served the motherland faithfully till his end.
It was a strange coincidence that I, an army officer, 30 years his junior in age and several notches in rank, became acquainted with him. In 1997 when Inpad brought out a publication Nuclear Menace: The Satyagraha Approach, I approached him to preside over the release of the book.
That was the starting point of a very enlightening relationship for me. Some of the air chief's insights are of relevance even today.
Air Chief Marshal Moolgavkar was commissioned in the Royal Indian Air Force in 1940 and saw action in Burma. After Independence, he was the operational commander of the air operations in Kashmir. There is fair bit of literature about the army action in Kashmir during that first war that India fought after Independence, but unfortunately, the air force's role has not received adequate attention.
It was the air action in strafing and bombing the vehicles of raiders between Baramulla and Srinagar in October 1947 that really saved Srinagar and the Kashmir valley from falling to Pakistan.
Without the motorised transport, the raiders progress slowed down. The air force offensive during the day was relentless. This forced the raiders to hide during the day and move only by night (India had no night-fighters at that time).
The use of air power had a demoralising effect on the raiders since they had no air support of their own and no anti-aircraft guns. By all reckoning, the attack and the capture of the Zozila pass on November 1, 1948 was a turning point in the battle for Ladakh.
But for this success, Ladakh would have been lost to Pakistan. Close air support under (then Wing Commander) Moolgavkar played a very crucial role in the eventual success.
He led from the front and carried out many sorties in support of the army operations in Punch-Rajouri as well. Moolgavkar was awarded the second highest gallantry award, the Maha Vir Chakra, for his actions and leadership.
Lamentably even the official history of that war has only sketchy details of the air operations. As an afterthought, this lack of understanding the air-land battle concept persists to date on both sides of the LoC. The role of airpower in the Kargil operations in 1999 is similarly underestimated.
One other serious consequence of this and also because of political reasons, we have completely ruled out the use of air power in Kashmir in anti-insurgency operations.
As a true professional, Air Chief Marshal Moolgavkar was forever concerned with the lack of defence consciousness in India's top leadership. He regaled us with this story of Jawaharlal Nehru and his naivete.
In the 1950s Air Chief Marshal Moolgavkar was India's defence attache in London. At that time our government was keen to purchase modern guided missiles for the air force. While Nehru was visiting the UK, he arranged for the firm concerned to display a short demonstration film for the prime minister.
Electronic display systems were not invented at that time and a projector was set up at the Indian high commission. A senior director of the firm made it a point to be present out of respect for the prime minister.
The brief film was a very realistic and ended with a loud bang as a missile shot down an 'enemy' plane in a cloud of flame. Nehru got up in a rage, and shouted, 'I will have nothing to do with these sort of weapons,' and stormed out of the room followed by his daughter Indira.
A few minutes later, Indira returned to the room, apologised for what had happened and thanked the director for the trouble he had taken to arrange the display.
Given this kind of climate of ignorance and suspicion, it is due to the perseverance of people like Air Chief Marshal Moolgavkar that we still have an efficient air force.
Air Chief Marshal Moolgavkar was an avid flyer and continued to fly even as an air marshal. In his long career, he flew almost 67 types of aircraft. In 1973, he took over as the AOC-in-C Western Air Command, the biggest command in terms of resources.
In 1976, he was awarded the PVSM for distinguished service. On February 1, 1976, he took over as the Chief of Air Staff of the Indian Air Force. From then till the end of his tenure in October 1978, Air Chief Marshal Moolgavkar took upon himself the task of bringing under control, the IAF's accident rate.
He was always known as a stickler for flight safety, even from his station commander days. As chief, Air Chief Marshal Moolgavkar implemented several reforms and rules that saw improvement of flight safety across the Indian Air Force.
With an eye on the future, he also introduced the 'deep selection policy' wherein more than one batch was considered for selection to higher rank, thus promoting merit over seniority. This was quite controversial and was reversed later, but showed clearly that Air Chief Marshal Moolgavkar was first and foremost a professional.
His tenure as air force chief coincided with the Emergency. Post the Emergency, he was one of the courageous few who testified before the Shah Commission giving details of how Indira Gandhi's pilot son Sanjay Gandhi interfered in aircraft procurement. No wonder he was disliked by the 'dynasty' and his immense talents were never utilised post retirement.
Air Chief Marshal Moolgavkar did most of his schooling in England, yet after retirement made the effort to master Marathi! I still recall a function where at our behest he gave a full-fledged talk in Marathi.
A yoga and physical fitness fanatic, he maintained excellent health right into his 90s. He had a way with machines and took delight in tinkering with cars/scooters etc -- but above and beyond all this -- he was an embodiment of old school courtesy and grace.
It was embarrassing when he would insist on receiving and seeing off guests at the gate of his house! A trait he shared with another of the great soldiers of India, Sam Manekshaw!
He was among the founders of a discussion forum 'Club of Twelve' in Pune. The group met monthly and discussed issues of national importance. He remained active almost right till the end.
I was privileged to have met him several times and been given the pleasure of his acute intellect and insights. My tributes to a great flyer and excellent human being, RIP Sir.
Colonel Anil A Athale is a military historian and coordinator of the Pune-based think-tank Inpad.
Image: Air Chief Marshal Hrushikesh Moolgavkar, right, with then naval chief Admiral Jal Cursetji, centre, and army chief General T N Raina.