In a reputed school in Delhi, two sets of parents rushed to get Aadhaar cards made on being told that without them their children would not be allowed to appear for the final Board examination.
In Bengaluru, a techie was unable to withdraw his provident fund because he did not have an Aadhaar number.
And a father from Mumbai knocked on the court's doors after his son was denied admission to a college for want of this contentious card.
Veenu Sandhu glimpses the Aadhaar nightmare.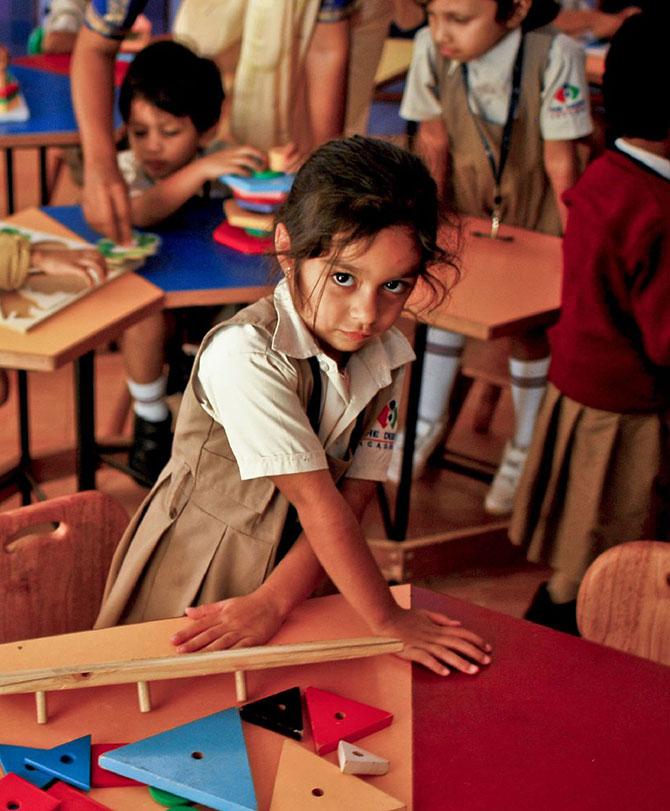 In a nation divided by many things, the 12-digit unique identity number is holding lives to ransom.
With opinion about Aadhaar often oscillating between two extremes, a small -- and shrinking -- group of individuals across the country has chosen not to equip themselves with the identity number that requires them to share their biometric and demographic data.
At least not until India's apex court mandates them to do so.
Meanwhile, the unique ID number, which was originally proposed in 2009 as a voluntary welfare tool that would help the State reach every last, poor citizen of the country, has assumed a form that few seem to be clear about.
Despite the interim order of the Supreme Court in 2013, stating that 'No person should suffer for not getting Aadhaar', the scheme was being interpreted arbitrarily by agencies and institutions such as banks, insurance and credit card companies, school boards, universities, mobile service operators and even hospitals.
If not their top managements, then the junior staff that deals directly with people invariably pushes customers, clients and applicants to cough up their Aadhaar numbers.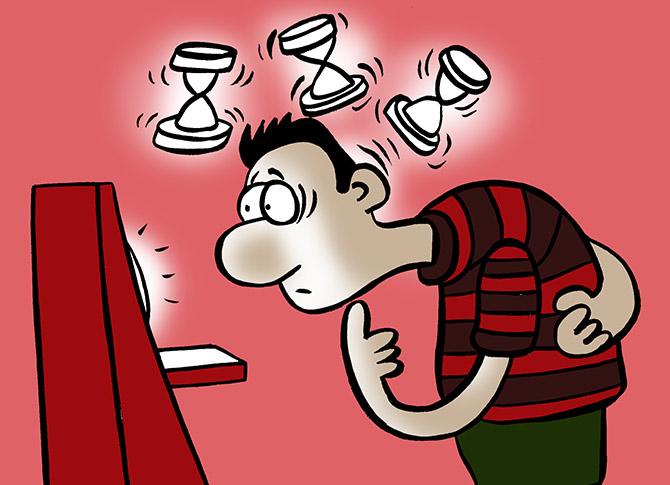 Caught in this ever-increasing confusion are those who have either voluntarily chosen to live life without Aadhaar (subject to the court ruling) or those who are simply uncomfortable sharing their or their children's sensitive data with anybody who demands it for a service.
Some are holding out. Others have been pushed to a point where they no longer can.
Sibal Sridhar, who has been working in Delhi for over two decades, went without salary for three months after joining a new organisation because of the difficulties in transferring his employee provident fund account for lack of an Aadhaar number.
This was despite the Employee Provident Fund Organisation clarifying in March this year that employees like him will have to give a written undertaking to their employer stating that they do not have an Aadhaar number.
The undertaking would then be forwarded to the regional provident fund commissioner's office for processing.
After some back and forth, the employer told Sridhar that it would be best for all if he simply applied for an Aadhaar number, which he has now unhappily done.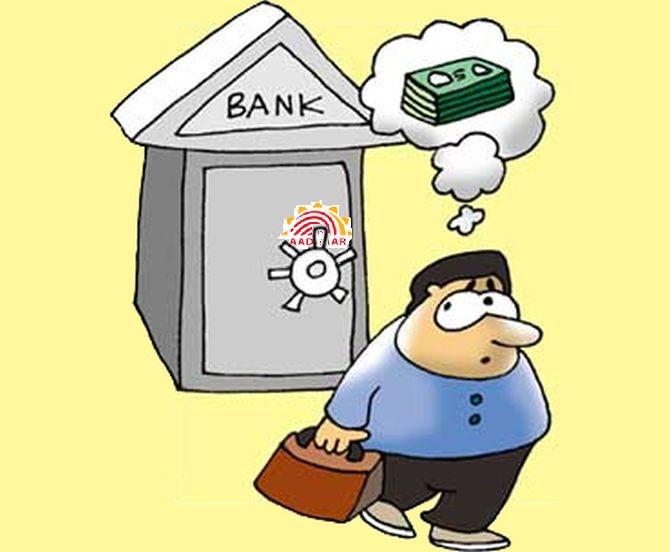 This is one reason that Gurugram-based Abhineet Mohan is dreading the time he decides to switch companies. He has already had bitter experiences for not possessing the unique identity number.
"My wife and I wanted to upgrade our car, so I approached a bank for a loan. I had every possible document -- my career record (salary slips), gas bills, property papers, bank account details, and so on," he says.
Everything was on track, till the bank asked for a copy of his Aadhaar card.
"When I said I didn't have one, they said they could not sanction a loan."
So he approached another bank, and then another.
Frustrated, but determined not to succumb, Mohan called the car dealership to cancel the booking.
The dealer, also determined to make a sale, contacted the bank and convinced it to sanction the loan.
"I have a credit rating score of over 750. All my earnings and savings are in the bank. I pay my bills online, and on time," says Abhineet.
And yet it was the car dealer, and not he, who finally got the bank to do the job without an Aadhaar number, he adds, appalled.
This wasn't, however, the only problem he faced as an Aadhaar-less citizen of India.
"People who are resisting Aadhaar are like those tribes who live hidden in the Andaman and Nicobar forests. They don't want to come out and embrace the modern world."
When his new car met with an accident, the insurance company refused the claim because he could not furnish an Aadhaar number.
"'It will cost you Rs 60,000 to get the car fixed, Sir. Just get an Aadhaar,' the insurance guy told me," says Mohan.
He dug in his heels and demanded that the company put the reason for denying the claim in writing on its letterhead or he would go to court.
The company buckled. "Every step of the way is a fight now," he says.
A senior official with a leading insurance company, who does not wish to be named, says a premium amount or claim above Rs 100,000 requires the claimant to submit Anti-Money Laundering documents, including proof of residence.
An Aadhaar card as proof of residence is only one of many documents that can be submitted.
"But why not just get an Aadhaar number?" he adds. "To my mind people who are resisting Aadhaar are like those tribes who live hidden in the Andaman and Nicobar forests. They don't want to come out and embrace the modern world."
The mother of a Class 3 student in Noida said the class teacher told her that failure to submit the Aadhaar number would affect the child's promotion to Class 4.
This is one of the sentiments that is pushing Aadhaar.
"And so is ignorance at the junior staff level," says a high-ranking bank official. He, too, does not wish to be named -- a recurring request from officials in matters concerning Aadhaar.
The banker, too, has found himself at the receiving end of this Aadhaar-for-service frenzy. During a routine annual medical check-up, the woman at the cash counter of the diagnostic centre insisted that he produce his unique ID card.
"She said her seniors had directed her to ask for it," he says.
Hospitalisation of a loved one -- and children's education -- are emotional areas that force Aadhaar compliance.
Several school boards, both central and state, have been instructing affiliated schools to collect students' Aadhaar numbers.
The mother of a Class 3 student in Noida said when she got such a notice from school, she called the class teacher who told her that failure to submit the Aadhaar number would affect the child's promotion to Class 4.
Another parent said his daughters, in classes 4 and 8, were humiliated by their teachers because of his resistance to Aadhaar and lack of Aadhaar cards. He has now filed applications for the unique ID for them.
A circular from Gerry Arathoon, chief executive and secretary, Council for Indian School Certificate Examination, to principals of affiliated schools spelt out that students in Classes 9 and 11 who do not have an Aadhaar card should obtain it by July 31, 2018.
If they failed to do so, the circular added, the 'schools will not be allowed to confirm their candidature for the Year 2019 Examinations and their admission cards will not be issued as their names will be automatically withdrawn'.
Arathoon confirmed that such a circular has been issued. "Aadhaar is compulsory for everybody now," he says.
The Central Board of Secondary Education also requires students to submit their Aadhaar number to be allowed to sit for their Class 10 and 12 final examinations.
Bengaluru-based Amit Bansal, co-founder and CEO of NextElection, a new community-driven town hall platform for politicians, journalists and citizens, is waiting for the Central Board of Direct Taxes to comply with the recent Delhi high court order so that he can file his IT return.
In July this year, the court asked CBDT to accept e-filing of returns without quoting an Aadhaar number or Aadhaar enrolment number.
The court said there should be an 'opt out' option for people filing their returns online, says Tripti Poddar, the Delhi-based advocate for the petitioners in the matter.
Like Sridhar, Bansal has had trouble with his employee provident fund as well.
The alumnus of the Indian Institute of Management-Bangalore wanted to withdraw his PF when he was launching his own company, but has not been able to do so without an Aadhaar number.
He also wants to register his company and apply for a Director Identification Number (DIN) -- a unique number given to an existing or potential director of any incorporated company. While the form for this puts an Aadhaar card in the list of conditional (optional) documents, the experience is that the form does not get uploaded without the Aadhaar number attached.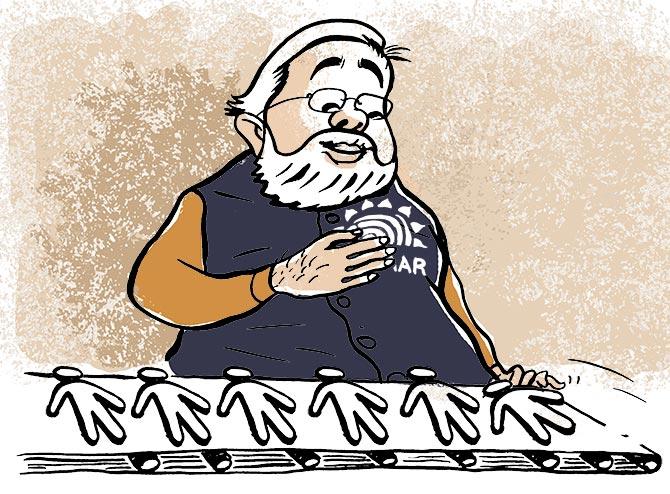 "The system is booby-trapped," says Delhi-based Siddhantrao Hemant who has had a DIN for 17-odd years and holds statutory positions as director in some companies. He has been resisting Aadhaar all this while, but no longer.
"Now if my DIN goes into default, then every company of which I am a director runs into a problem," he says. "So, for someone like me the stakes of resisting Aadhaar have gone up exponentially. I am willing to stick my neck out, but when other people are involved, it is not fair for me to continue doing so."
His voice drops as he says that now he has no choice but to get himself an Aadhaar number. "I feel really bad because it has taken a huge emotional cost."
The list of stories is long. On a visit to London, one person found that his forex card would not work. His bank told him that was because he had not submitted his Aadhaar number.
Another could not get a pre-paid phone connection converted to post-paid.
Yet another opted out of her mobile wallet when it insisted on an Aadhaar number.
"What they are doing is limiting our options, excluding us, slowly but steadily," says Abhineet Mohan.
Meanwhile, far away from the courts, at the Tirumala temple, flocks of the devout, too, are told that an Aadhaar number is a must for sarva darshan and that voter ID cards can be submitted only if they don't have Aadhaar.
Thus putting god, too, on the side of Aadhaar card-holders.
Some names have been changed on request.