'Women were the victims because it was a ladies night.'
'Whichever club you go to in Mumbai it has the same entry, same exit points except for very few which is very rare.'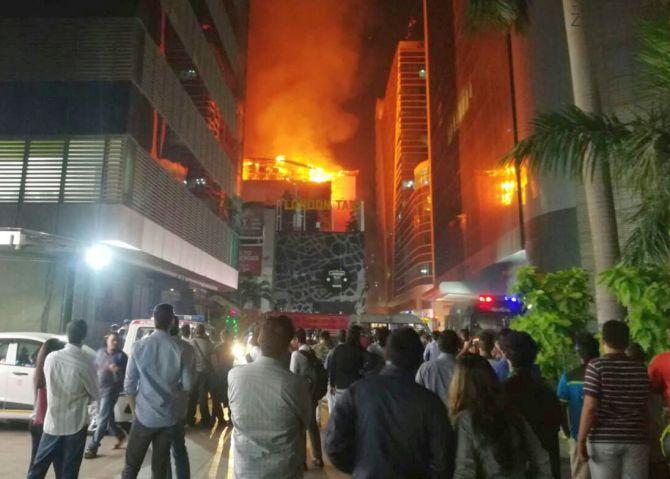 The lounges, eateries and clubs -- some 20-25 or so of them -- at Kamala Mills, central Mumbai, are a haunt for many Mumbai youngsters.
They are considered 'lit' and 'poppin' -- great places for an evening out.
1 Above, a rooftop lounge, situated on the fourth floor, its entrance next to Mojo's Bistro, opens at about 9 pm daily. It has a small dancing area in front of the DJ.
Rohan Shah (name changed) happened to be at this club on Thursday evening and he and his friends barely escaped with their lives, a few minutes after the fire began.
Here is his account of the evening, as told to Rediff.com's Vaihayasi Pande Daniel:
We entered the club (1 Above) at 10.30 pm (Thursday).
We took seats and started partying at 11 pm.
We ordered food -- tacos and paneer chilly -- and were having it.
It was only half crowded. Around 30, 40 people.
On weekends it is much more crowded.
It wasn't that crowded because it was a Thursday night, a ladies night.
We just went to 1 Above because one of my friend's exams got over. She just wanted to go out somewhere to have a quick dinner.
We got a seat after half an hour waiting.
We were about five people.
We ordered food and started eating our food at around 11.50 pm.
Then we started dancing because the music was nice at that point of time.
We were dancing and eating simultaneously.
The party was going smooth. Then more people started entering at 12, 12.15 am.
At around 11.45 pm I saw Asit Kumarr Modi who produces the serial Taarak Mehta ka Ooltah Chashmah.
I recognised him.
I went to him and asked, "Are you Asit Kumarr Modi?"
He told me, "Yeah, I am Asit Kumarr Modi."
"I am a big fan of yours. I like your show," I told him.
I clicked a picture with him. He clicked a picture with me.
Then he just bounced (left).
He had come with his wife. He just came to have a look.
Then we again started eating and dancing.
At 12.30 am my friend (the girl whose exams had got over) shouted, "Aag lagi, aag lagi! (There is a fire!)."
I was sitting at the other end.
My back was facing the fire.
The fire started from the ladies washroom or something.
I think above the ladies washroom. From the left hand corner.
Not from the washroom area, but from the rooftop above the washroom area.
1 Above is covered with a rooftop.
When you enter the club the gents' washroom is on the right side and the ladies washroom is on the left side at the corner.
So wahan se aag start huee upar rooftop se (the fire started from the rooftop).
I saw the fire.
It was spreading quickly.
There was no wind because it is a closed area. No ventilation.
The place was covered from all four sides.
Within a couple of seconds the fire started spreading.
Because (the rooftop) was basically made of straw and bamboo sticks, it caught fire and started spreading. People started panicking, moving here and there.
I gathered my group and told them, "Run, run, run."
And then we ran away. We ran outside directly.
People weren't screaming. They were just running here and there.
They were rushing towards the entrance.
They wanted to get out towards the exit. Same entry, same exit, started rushing over there (at the door).
Somehow we managed to escape.
I was closer to the exit and I knew where the exit was. I have been to 1 Above many times.
My table was near the exit. I was sitting in front of the exit.
Entry and exit is in the same place. It is a narrow passage. We were nearby so we could easily escape.
We ran outside. We couldn't find the way to get down.
The lift wasn't coming up and we were many people.
The lift could not fit all of them. So I was shouting for some emergency exit.
There was an emergency exit opposite the gate of 1 Above.
Entrance ke samne emergency exit thi, woh khola aur neeche gaya. Bas stairs se neeche gaye (The emergency exit was in front of the entrance. We opened that and went down the stairs).
Then we went home.
The fire was on the rooftop and it was burning.
Upar jal raha tha (the rooftop was burning).
It started creating a lot of heat. It (was difficult to) wait there. It was very suffocating so I had to leave somehow.
The girl who was celebrating her birthday was sitting at a middle table.
She was sitting exactly in the middle, centre table. There were 10, 12 people in her party. They were, I think, 25 feet away from the exit.
I didn't look for fire extinguishers because at that point in time I just wanted my friends to be safe.
Women were the (main) victims because it was a ladies night.
There was a girl's birthday and there was one other birthday happening also.
Whichever club you go to in Mumbai it has the same entry, same exit points except for very few which is very rare.
There was a watchman standing at the emergency exit (that night at 1 Above).
He wasn't even caring about himself.
He was saying, "Aap jaa sakte hai. Bhago, bhago (You go. Run, run)."
He was guiding us. I went through the emergency exit for the first time. I didn't know how to go. The watchman told us.
I thank god (for his escape).
IMAGE: Flames billow from the building at Mumbai's Kamala Mills on Thursday, December 28, night. Photograph: Sahil Salvi