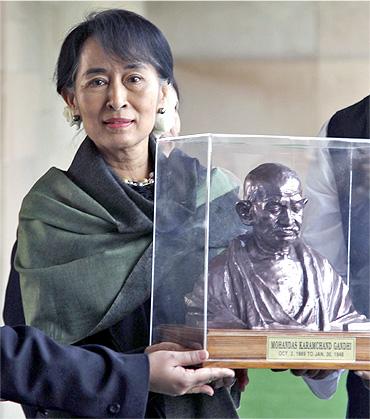 For two years beginning 1961, the Congress party's headquarters in New Delhi played host to Aung San Suu Kyi, Nobel laureate and leader of the non-violent movement for human rights and democracy in Myanmar (the erstwhile Burma), who is currently on a  visit to India. Suu Kyi was barely 15 when she arrived at 24 Akbar Road with her mother, recounts Rasheed Kidwai
It was a chilly winter morning in January 1978 when Shoban Singh and 20 other karamcharis (workers) of the breakaway Congress headed by former Indian prime minister Indira Gandhi entered 24 Akbar Road. A Type VII bungalow in Lutyens's New Delhi, 24 Akbar Road belonged to G Venkatswamy, a Rajya Sabha Congress member of Parliament from Andhra Pradesh. Venkatswamy had chosen to side with Indira Gandhi when most Congress leaders had stayed away, fearing that proximity to her would invite retaliation from the ruling Janata Party.
It was a testing time for Indira and her party. She was herself 'homeless'. Her Mehrauli farmhouse was half-built and she was losing friends fast. Even trusted friends such as Teji Bachchan (Hindi film actor Amitabh Bachchan's mother) had begun complaining that the government-run Censor Board was troubling her son, and producer Manmohan Desai, who had made many blockbusters starring Amitabh. Family loyalist Mohammad Yunus offered his residence, 12 Wellingdon Crescent, for Indira and her family as their private residence, while he moved to private quarters in South Delhi.
Yunus, a Pathkun, had been a close associate of Indira's father, Jawaharlal Nehru, the first prime minister of India. And he had maintained his links with Indira and her sons, Sanjay and Rajiv Gandhi. Yunus's son, Adil Shaharyar, was a close friend of Rajiv, Sanjay, Amitabh Bachchan, Amitabh's brother Ajitabh, and actor Kabir Bedi. Sanjay and Maneka Gandhi were married at 12 Wellingdon Crescent, when Yunus was still living there.
Yunus was privy to many tales about the Nehru-Gandhi family. For years, he served as a credible voice of India's unofficial number one family, which remained reticent on most personal matters.
Yunus had started off as a freedom-fighter. In 1947, the year in which India gained independence, he was inducted into the Indian Foreign Service by Nehru. He served as Indian ambassador to many countries, including Turkey, Indonesia, Iraq and Spain, and remained close to the Frontier Gandhi, Khan Abdul Ghaffar Khan. After his last official posting as secretary to the ministry of commerce, Yunus acted as special envoy for Indira. He served as administrator of the Indian Trade Fair Authority and chairman of the National Herald group of newspapers. In 1989, he was nominated to the Rajya Sabha, courtesy Rajiv Gandhi.
12 Wellingdon Crescent became home for the Gandhis. Indira, Rajiv, his wife, Sonia, their children, Rahul and Priyanka, Sanjay, Maneka and five dogs moved in, leaving virtually no scope for any political activity from there. So, 24 Akbar Road was like a boon granted, though it might not have seemed so straight off, considering the state of shambles in which it was at the time. Facing the Indian Air Force chief's residence and the Intelligence Bureau's political surveillance unit (which still exists), it had five near-empty rooms, a living and dining room, and a guest room. The outhouses were a picture of neglect and the garden, a mess, with unruly hedges and weeds everywhere. It had a wicket gate link to 10 Janpath, which was then the office of the Indian Youth Congress and is now the home of Congress chief Sonia Gandhi. Decades later, 10 Janpath and 24 Akbar Road established a formidable link, bringing fame, fortune and effective leadership to the Congress.
This was not 24 Akbar Road's first brush with history. For two years beginning 1961, it had played host to Aung San Suu Kyi, Nobel laureate and leader of the non-violent movement for human rights and democracy in Myanmar (the erstwhile Burma). Suu Kyi was barely 15 when she arrived at 24 Akbar Road with her mother, Daw Khin Kyi, Aung San's widow, who was appointed Myanmar's ambassador to India.
24 Akbar Road was named Burma House by Jawaharlal Nehru in recognition of Daw Khin Kyi's special status. The house built by Sir Edwin Lutyens between 1911 and 1925 was regarded as a singularly fine example of British colonial architecture and a masterpiece of early Modernism.
Suu was a young girl with thick, long plaits of hair when she chose for her own the room that is currently occupied by Rahul Gandhi in his capacity as general secretary of the All India Congress Committee. Suu picked the room because it had a huge piano. Every evening, a teacher would come to give her piano lessons. She quickly developed a penchant for the nuanced subtleties of Western classical music. Years later, while under house arrest in a dilapidated lakeside habitation on University Avenue in Rangoon, Suu's fondness for the piano provided her much relief and she often played for long hours to relieve the depression of her confinement.
Suu loved 24 Akbar Road, which she found imposing on the outside and wondrously cool inside with its large, elegant rooms. Biographer Justin Wintle observes that it was at 24 Akbar Road that Suu experienced luxury for the first time in her life, 'even if her mother did her best to replicate the frugality that had characterised their life in Rangoon'.
At 24 Akbar Road, Suu learnt to make Japanese flower arrangements and she played with Sanjay and Rajiv Gandhi in the extensive and 'magnificent' garden. Both Sanjay and Rajiv were her contemporaries, one born a year before her and the other a year later. She was often seen in their company at Rashtrapati Bhawan, where they took riding lessons from the presidential bodyguards.
While it is not clear if Suu took any great shine to Indira Gandhi, the young girl began schooling at the Convent of Jesus and Mary School, a distinguished Catholic establishment close to the Cathedral of St Joseph at Gol Dak Khana.
Suu completed her secondary education and then enrolled at Lady Shri Ram College to study political science. In 1962, the now famous Delhi college was still in its infancy -- just six years old. It was located in Daryaganj at the time and boasted of 300 students. Its founder, Lala Shri Ram, was a leading industrialist, philanthropist and a friend of Nehru. Suu was grounded in the complexities of political thought via classroom teaching. She learnt to recognise the vital living qualities of modern democracy -- a system characterised by its 'multi-voicedness'. Her time in India contributed greatly to crafting Suu Kyi into the politicised entity she is today.
At LSR, Suu was introduced to a formal and pedagogic way of politics and the philosophy of Mahatma Gandhi, whose advocacy of non-violence and passive resistance based on civil disobedience and satyagraha provided a model for opposing authoritarian regimes and became embedded in Suu's mindset. Years later, she was heard assimilating what she had learnt while living at 24 Akbar Road and studying at LSR, 'It is not power that corrupts, but fear. Fear of losing power corrupts those who wield it and fear of the scourge of power corrupts those who are subject to it.'
At another level, 24 Akbar Road 'reunited' the Nehru-Gandhi links to the Mughals, even if only through a road named after the greatest Mughal emperor. The Nehrus were initially Kauls of Kashmir, who were invited to Delhi in 1716 by the Mughal king, Farrukh Siyar, who had a sense of scholarship and was known to house poets and men of letters in his grand durbar.
Extracted from 24, Akbar Road by Rasheed Kidwai, published by Hachette Books India
Image: Myanmar's opposition leader Aung San Suu Kyi with a bust of Mahatma Gandhi at his memorial at Rajghat in New Delhi November 14, 2012. Suu Kyi is on a six-day visit to India. Photograph: B Mathur/Reuters