The Women's Reservation Bill has been a political raw nerve for nearly a decade now. It has always triggered heated debates in Parliament and outside.
Its advocates say the Bill is essential for active political participation of women.
Opponents argue that reservation would only help women of elitist groups gain political power, aggravating the plight of the poor and deprived sections.
If you are wondering just what the Women's Reservation Bill is and why it is so controversial, read on.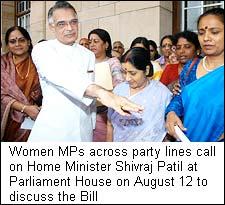 How did the Women's Reservation Bill originate?
The proposed legislation to reserve 33.3 percent seats in Parliament and state legislatures for women was drafted first by the H D Deve Gowda-led United Front government. The Bill was introduced in the Lok Sabha on September 12, 1996. Though it has been introduced in Parliament several times since then, the Bill could not be passed because of lack of political consensus.
What does the Bill provide?
Reservation for women at each level of legislative decision-making, starting with the Lok Sabha, down to state and local legislatures.
If the Bill is passed, one-third of the total available seats would be reserved for women in national, state, or local governments.
In continuation of the existing provisions already mandating reservations for scheduled caste and scheduled tribes, one-third of such SC and ST candidates must be women.
What is the argument in favour of the Bill?
Its proponents say it would lead to gender equality in Parliament, resulting in the empowerment of women as a whole. Historically, the Bill's supporters say, women are deprived in India. Increased political participation of women will help them fight the abuse, discrimination, and inequality they suffer from.
Does reservation for women exist in panchayat elections?
Yes, 33.3 percent seats in panchayat elections have been reserved for women already. The experience of women's reservation at the panchayat level has been very encouraging. A million women are being elected to the panchayats in the country every five years. This is the largest mobilisation of women in public life in the world.
Then why is there opposition to the Bill?
Various political parties have staunchly opposed it because they fear many of their male leaders would not get a chance to fight elections if 33.3 percent seats are reserved for women. The Bill has also been opposed by politicians from the socially and economically backward classes. They argue that reservation would only help women of the elitist groups to gain seats, therefore causing further discrimination and under-representation to the poor and backward classes.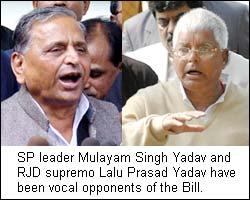 Who

are the main political opponents of the Bill?

From day one, Lalu Prasad Yadav of the Rashtriya Janata Dal and Mulayam Singh Yadav of the Samajwadi Party have been the main political forces opposed to the Bill.

Why?

Lalu says the Bill 'would deny adequate representation to other sections of society.' He favours 10 to 15 percent reservation for women. 'My party is not opposed to women's reservation, but the case of Dalits, backward classes, Muslims and other religious minorities should not be overlooked,' is his argument.

Mulayam favours making it mandatory for political parties to give 10 percent of election tickets to women.

His argument is that if inadequacy of representation is the issue, why not reservation for Muslim women (there are only two in the present Lok Sabha)?

If 33.3 per cent reservation for women is added to the already existing 22.5 percent for scheduled castes and tribes, more than 55 percent of seats in Parliament would be reserved. This would not be fair to other sections of the population, the present Uttar Pradesh chief minister says.

How many women are there in the present Lok Sabha?

In the May 2004 general election, 539 candidates were elected to the 14th Lok Sabha. Only 44 of them are women. The low number of elected women prompted the Election Commission to write to the government about the need for providing adequate representation to women.

What is the status of the Bill now?

The law ministry has prepared two drafts of the Women's Reservation Bill.

The first envisages reservation of 33.3 percent seats for women within the existing strength of the two Houses of Parliament.

The second calls for increasing the strength of the two Houses by 33.3 percent. The existing 545 seats in the Lok Sabha will increase to 900 if this draft of the Bill is enacted.

But consensus has been elusive on either of the two. Prime Minister Manmohan Singh convened an all-party meeting on Tuesday to arrive a political consensus on the issue. All the parties agree reservation for women is a must, but they continue to differ on the quantum of reservation.

Photographs: Dijeswar Singh & Ranjan Basu/ Saab Press