Iran has long been a country of questions.
Questions it has inspired in those within and without its borders.
While America thrives in painting it as a part of the axis of evil, its neighbours regard it as a stumbling block of sorts.
So, when 14 Indian women journalists were issued an invitation to the land once known as Persepolis, Managing Editor (National Affairs) Sheela Bhatt jumped at the chance.
This, the second in a series of features from that country, is her attempt at finding a few answers.
Part One: Persepolis and Pyar-Mohabbat
How many for normal dishes?" Every time we went to a restaurant in Iran, our guide Sohrab Salek would invariably put forth the question.
By normal, he meant non-vegetarian.
In Iran, people who abstain from meat are regarded as abnormal. Which doesn't mean vegetarians should stay away from Iran, of course. Quite the contrary.
Iran is an absolute must even for vegetarians, because the Iranians have classical dishes made mainly of spinach, carrot, tomatoes, cucumber, chickpeas, eggplant, lentils and more. They grill asparagus, peppers and zucchini, using corn oil or olive oil liberally.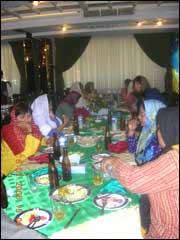 For Indians, it's a delight because it reminds us of our ethnic dishes. Believe it or not, Iranians have their own version of Baingan Bhartha. Communicating with waiters isn't difficult either, considering the Farsi words namak, gosht, chay, anar and paneer mean what they do in Hindi.
Before I talk about fine Iranian cuisine for vegetarians, I must take my hat off to the country's fruit and vegetable growers. The salads, fruit and dry fruit are of an extremely high quality. There is no way a vegetarian can go hungry, also because the Iranians have a superb variety of naans and bread, all a delight to have with natural honey, butter or cheese.
Unlike European or American fruit that look great but taste unexciting to the Asian palate, I relished the cherries, sun-dried figs, oranges and hazelnuts.
Salek was my guide to good food. On my first day, he introduced me to yoghurt with large doses of garlic. The yoghurt was thick and silky smooth, the garlic was cut thin. The buffet table also boasted a variety of salads like Borani Bademjan -- eggplant salad. I picked a salad of spinach and onions, with bit of mint and walnuts, mixed in garlic yoghurt. There was also a lot of Sholezard -- saffron rice with salad and garlic yoghurt.
If garlic yoghurt isn't your kind of thing, try Doogh. It's a kind of club soda mixed with mint yoghurt. The biggest foodie discovery of my trip to Iran, however, was Ash-E-Jow, barley soup made with butter and parsley. It was fresh, wholesome, and attractive to look at. Another funny thing was, in most restaurants, we would order potatoes only to be served French fries.
In Iran, chay (tea) normally means apple tea without milk. Don't miss it. Also, like Indians, Iranians make a variety of pickles. The ones here have a dominant sour taste, but are made using age-old recipes. There was one with mixed vegetables, like cauliflower, that was very reminiscent of pickles from North-West India.
I was also catered non-vegetarian items on my plate. Not once, but thrice. At a private lunch, a kind lady who served me innocently said, "The soup is sprinkled with tiny pieces of beef. But don't worry, there isn't too much of it!"
All said and done, I enjoyed my vegetarian food in Iran.
Then again, when you have a 2,500-year old culture to explore, food is often the last thing on your mind.
 Photographs in the series: Devirupa Mitra and Ipshita Banerji
Part III: Iran: Tough nut for US to crack