Eighteen years ago, there lived an Indian boy in New York City who revelled in a pretty ordinary life. The only child of a medically inclined couple -- father a surgeon, mother a nurse -- Dimple Bhatt grew up relishing his childhood in the Big Apple. He was captain of his school's track team, made it to the junior US Open in tennis, and aced his classes without lifting a finger.
"I cruised right through high school, never studied for the SATs and, later, the MCATS. I guess I was one of those obnoxious people who didn't have to study to do well," he recalls. In fact, Dimple set a record in high school for unexcused absences -- 67 during his senior year alone! And then came the day he was reincarnated.
Dimple was a freshman in New York University in the fall of 1989. One day, he and a group of his friends decided to go on a joyride. What they didn't expect was to have their car hydroplane on the slippery street and crash into a tree.

Dimple and his friends were relatively unharmed, but the crash rendered them almost unconscious. Dimple managed to extricate himself from the wreckage, and proceeded to pull his friends out from the smoking vehicle.
The stress of the rescue operation ruptured his aorta. "It is hard to locate a tear in the aorta," he says. "The doctors had to stop the heart to find the tear and, when all was said and done, I had lost blood supply to my spinal cord for too long a time."
The consequence of this ill-fated accident is Dimple had to be hospitalised for a year and, after that, was permanently wheelchair-bound. He lost mobility to his lower limbs, a severe blow to the former athlete.
Everything that used to be easy for him became challenging. Things he took for granted shone with new value in his eyes. "I am more inspired from life's letdowns than other things," he says. "I don't dwell on the past; I am forever thinking about the next step."
Dimple threw himself headlong into his work. This summer, he graduated from Stony Brook University with a joint MD-PhD degree. His research in the neuroscience graduate programme, which involved the study of recovery of function after spinal cord injury, was widely published and recognised -- all the more poignant for the closure it offered toward his own condition. He is soon embarking on a residency in neurology and psychiatry at the New York-Presbyterian Hospital Weill Cornell in Manhattan.
But here's what makes him, in the words of friend and colleague Dr John Sarnoff, a 'genius': Dimple has managed to do all this and sell a book, two screenplays, gain a position on the US Paralympic fencing team and record a music album!
While he hides his creative side under a pseudonym -- "part of being a good Indian boy" -- he did divulge that his book is an epic drama set post 9-11 that travels back to India and features reminiscences of our ancestors. "I am already published in several high profile magazines for my research, but this lets out my creative side," he remarks.
Dimple's success with his screenplays is interesting in that he has managed to not stick with one genre or theme. He has sold a dark comedy to October Films productions and a psychological thriller to Fox.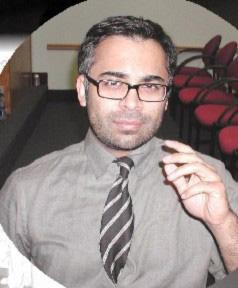 On the musical front, his two-person band, Invigo, is close to signing a record deal with Warner Music. A musician since high school, Dimple used to spin tunes as a DJ, or rather, as MDPhDJ. He has progressed to juggling the guitar, vocals, keyboard, writing and mixing his own songs. "I am trying to record 13 songs before a meeting (with Warner)," he says. "We do live shows in NYC and Ithaca." Maybe they won't be local much longer.
Possibly his strongest achievement is his fourth rank on the US Paralympic fencing team. Dimple only started down this road last year. "NYU had a world class fencing team," he notes. "In my first national tournament, I got two bronze medals. The number of points you get over time determines your eligibility to the Olympic team." Even though fencing wasn't part of his youth, it has become a focus these past few years.
Says his father Dr Harshad Bhatt, "Whatever Dimple attempted (in childhood), he would invest so much dedication that he would not rest until he either succeeded or became the best in the field. Everybody had high expectations for him. In his fifth grade at Mt Vernon, his teacher presented him with a birthday card that had a couple of rare two-dollar notes stuck on, asking him not to forget her once he became a big man." Dimple hasn't failed to meet those expectations.
The question we wanted to ask is how he still finds time to eat, sleep, and juggle a job. "Time is tricky, but it helps that I'm an insomniac," he laughs. On a more serious note, he credits the majority of his achievements to the support extended by family and friends.
At one point, Dimple spent three months working as a medical assistant in a London clinic for refugees from Africa. During that time, he noticed that, while they received plentiful medical attention, they didn't get sufficient psychological attention. His long-term goal, then, is to set up invasive psychiatric clinics in West and Central Africa. During his residency at Cornell, he plans to get this started with the mentorship of chairman Jack Barchus, acclaimed psychiatrist and UN advisor on genocide.
His mother Manjari Bhatt says the one thing she always taught Dimple was to be true to himself and be a giver, not a taker.
Both parents strongly feel Dimple's spiritual upbringing was the major force behind his ambition and drive. His close friend of 11 years, Dr Sarnoff recalls even in medical school, Dimple was an inspiration to everyone, not because of his overcoming a wheelchair, but because of his "excelling both in science and on an interpersonal level."
Do labels such as 'handicap' affect this modern day Ben Franklin? "We all have handicaps, some are just more obvious," he states. "The thing about being a doctor is you get to see everyone's limitations. The only thing that really heals is relationships."
Speaking of relationships, Dimple is single and adamantly opposed to the
desi
tradition of arranged marriages. "After the record deal, I'm going to be a rock star, and that will be the end of my singledom," he laughs.