As Congress President Sonia Gandhi turns 70, here's recalling her extraordinary life in pictures.
In 1968, Sonia Gandhi could not have imagined the twists her life would take when she married Rajiv Gandhi, the elder son of then prime minister Indira Gandhi, a pilot with Indian Airlines with no political ambitions whatsoever.
But fate, it seems, had other plans for her. First, her brother-in-law Sanjay Gandhi's untimely death in an aircrash in June 1980 forced her husband into the world of politics to help his mother -- 'I fought like a tigress against it,' she has said many times about that time.
Second, four years later, when her mother-in-law was shot down by her bodyguards in her home, Rajiv Gandhi was catapulted into the prime ministership and Sonia Gandhi, for whom the world of politics had been an entirely different universe, was exposed to it from up close along with her husband, who had won the biggest electoral mandate ever in India.
Fate played its cruel hand once again, in May 1991, when Rajiv Gandhi was killed in a bomb blast by Sri Lankan Tamil assassins outside Chennai.
As the Congress party looked to her for leadership, Sonia remained unmoved. She would have nothing to do with the world of politics, she was determined.
Yet, in 1998, as the Congress party hurtled from one electoral rout after another, she finally yielded to the call of the partymen and assumed the role of Congress president.
Six years later, she would lead the party to power at the head of an electoral alliance, and repeat the feat in 2009.
2014 marked the Congress' lowest point in its electoral history; yet, as Sonia Gandhi said in a recent television interview, ups and downs are part of politics. She ought to know.
From 1968, when she married into the Nehru-Gandhi family, she has observed from up close the vicissitudes of politics.
As the Congress president turns 70, here's looking back at her life since the time she was a foreign-born daughter-in-law in India's most powerful political family, to the time she emerged as one of the key players in India's politics.
---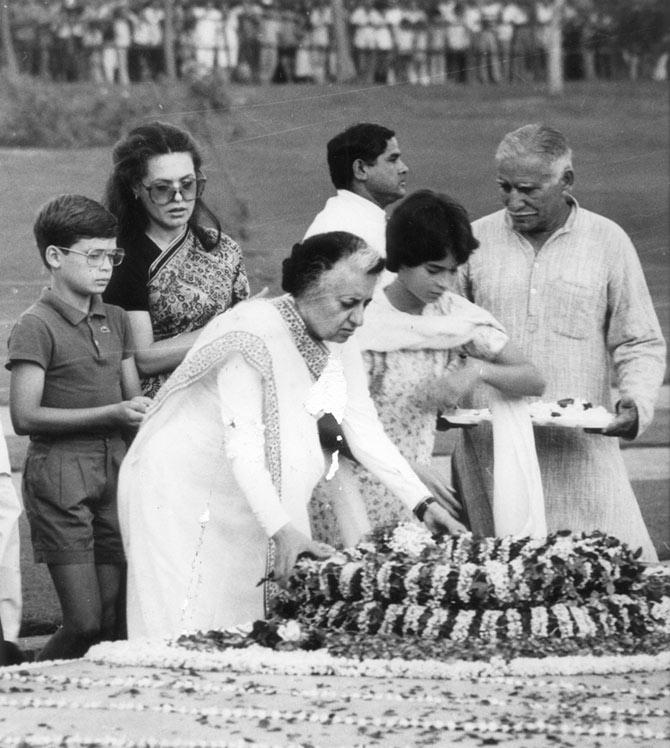 IMAGE: Prime Minister Indira Gandhi lays a wreath at Shantivan, New Delhi, on May 27, 1983, on the occasion of her father and the country's first prime minister,Jawaharlal Nehru's 19th death anniversary.
To her left is a young Priyanka Gandhi, and behind her are Rahul and Sonia Gandhi.
---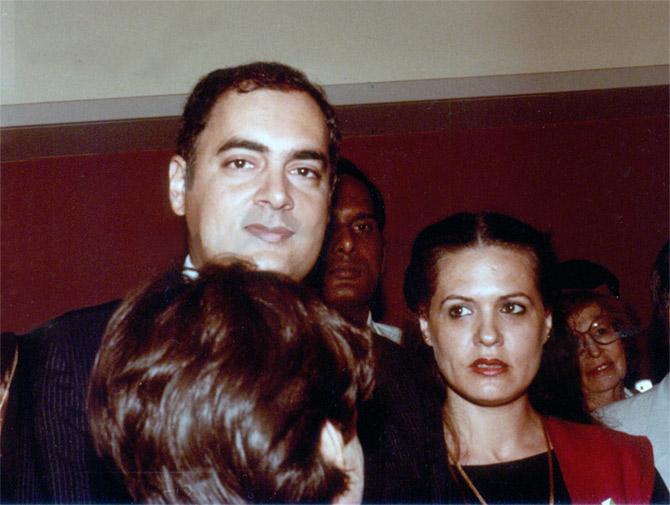 IMAGE: Rajiv Gandhi and Sonia Gandhi, photographed during a visit to the US in 1982. Rajiv was a member of Parliament from Amethi then, elected to the Lok Sabha in August 1981 after his brother Sanjay perished in an air crash in June 1980.
---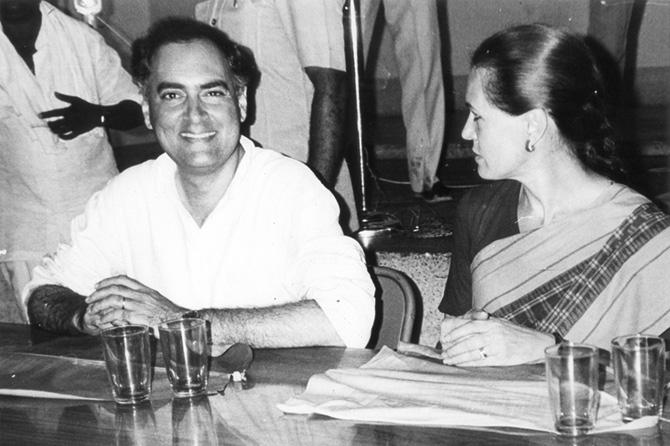 IMAGE: Prime Minister Rajiv Gandhi and Sonia settle down for a traditional meal served on a banana leaf during a tour of Tamil Nadu.
---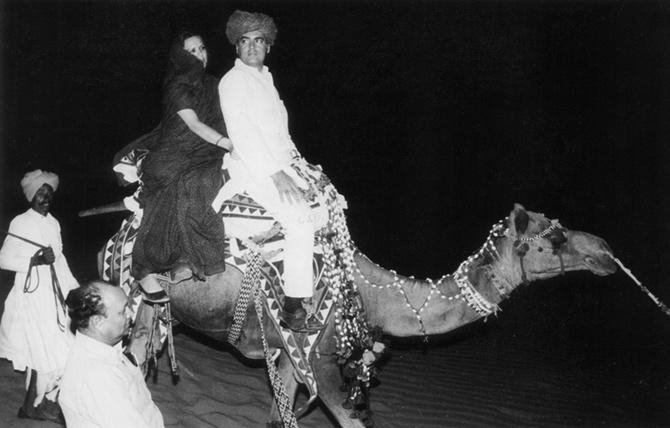 IMAGE: Rajiv and Sonia catch the sunset at the Sam sand dunes during a desert safari in Jaisalmer, Rajasthan, August 9, 1985.
---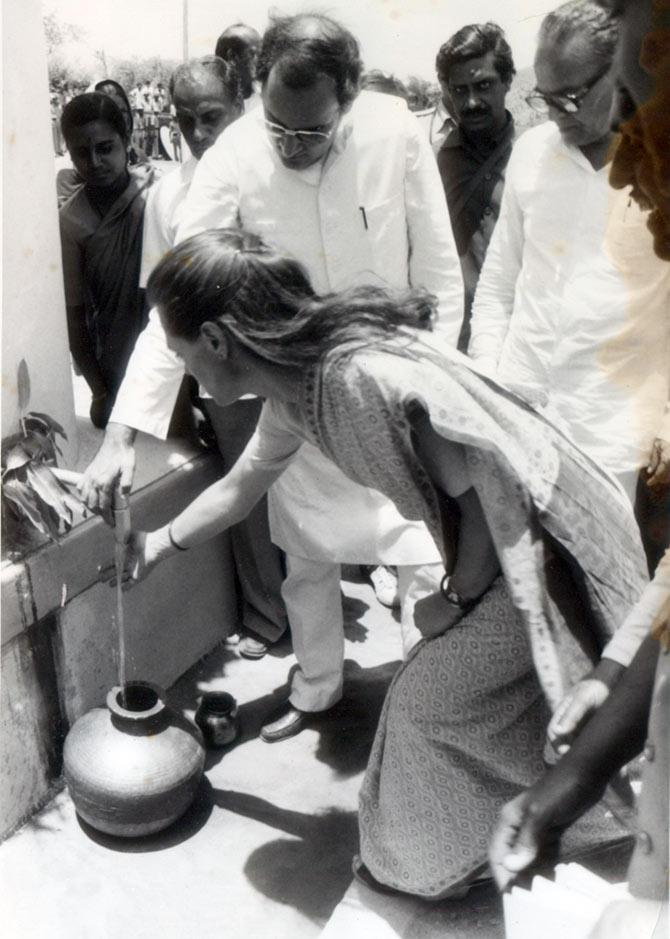 IMAGE: Rajiv and Sonia inaugurate a drinking water supply scheme at Challakere village in Chitradurga district, Karnataka, April 12, 1986.
---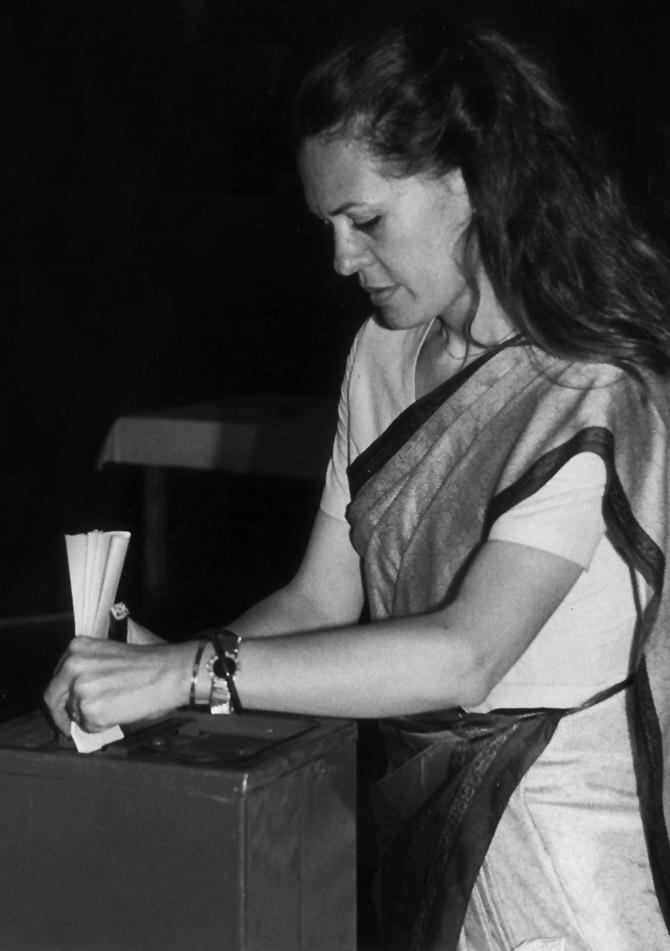 IMAGE: Sonia casts her vote from the New Delhi parliamentary constituency in the Lok Sabha elections, November 1989. Photograph: PTI Photo
---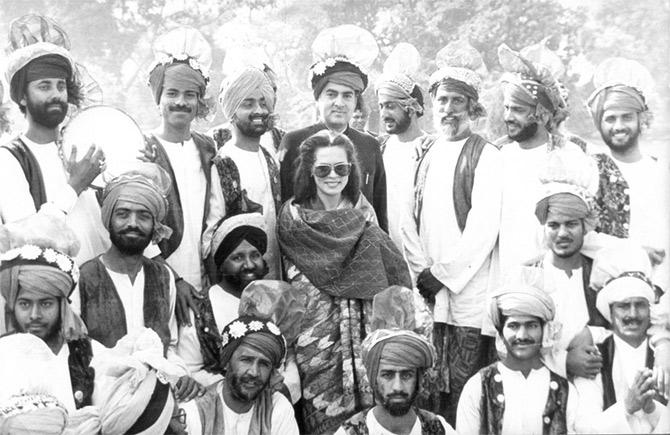 IMAGE: Rajiv and Sonia pose with a Punjab folk dance contingent that had called on them at the prime minister's residence in New Delhi, January 29, 1985.
---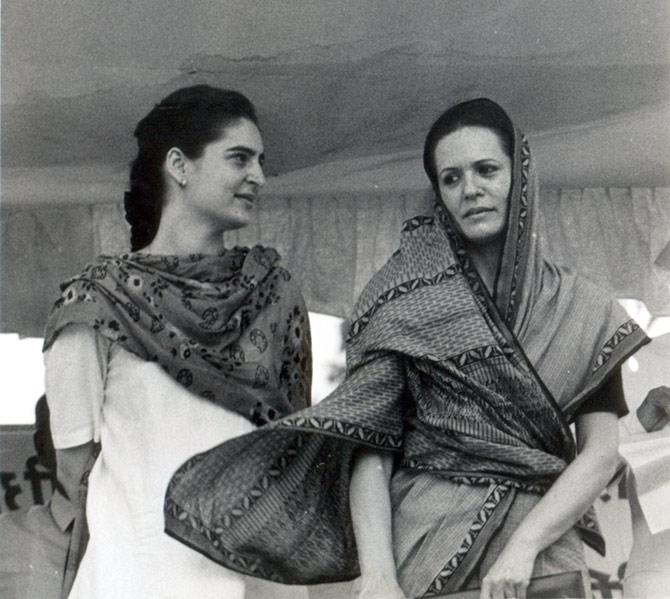 IMAGE: Sonia, accompanied by daughter Priyanka, attends her first public meeting after her husband's death in his constituency Amethi in August 1995.
---
IMAGE: Sonia campaigns for Bollywood star Govinda, her party's nominee from the Mumbai North constituency in the 2004 Lok Sabha elections, at Vasai.
The election results stunned the ruling BJP, and the Congress went on form the United Progressive Alliance with like-minded parties to rule the country for 10 years.
Photograph: Jewella C Miranda for Rediff.com.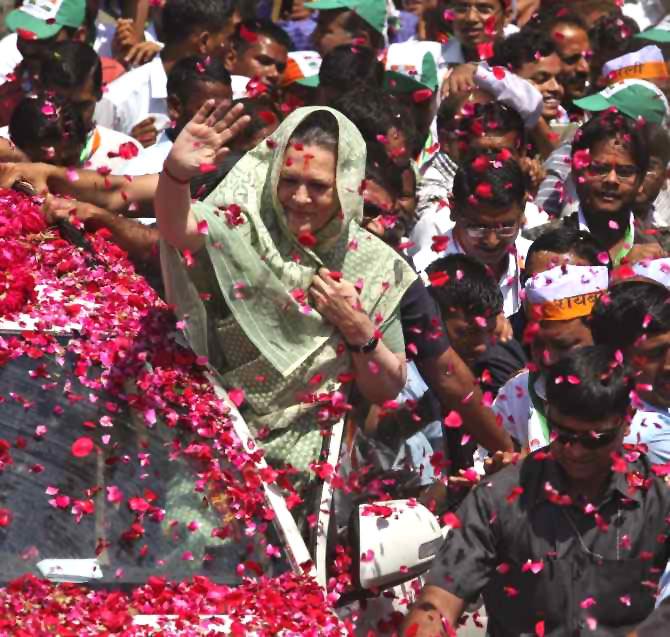 IMAGE: Sonia, the longest-serving Congress president, visits Uttar Pradesh for an election meeting.
---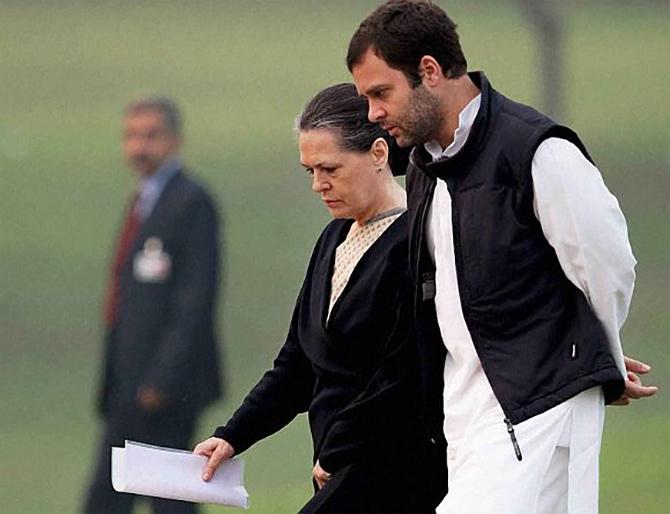 IMAGE: The Congress president with her son and heir apparent, party vice-president Rahul Gandhi, discuss strategy following the party's abysmal performance in the 2014 Lok Sabha elections.
Will the party overcome the worst phase of its existence?
Sonia believes it will.
Photograph: Reuters